While most leagues and competitions worldwide have stopped playing due to the coronavirus pandemic, Australian sports are still going strong, with both the Australian Football League (AFL) and National Rugby League (NRL) continuing to compete in empty stadiums Down Under.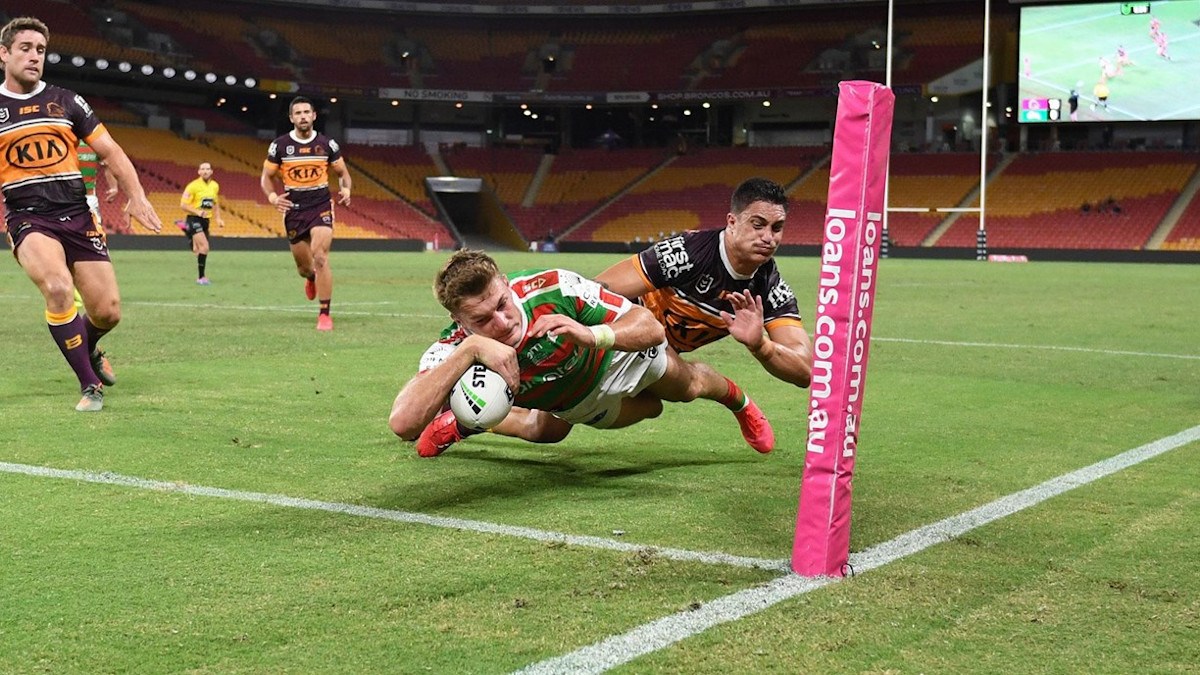 Both leagues are playing a full schedule of matches this weekend, though even they acknowledge that there's the looming possibility that COVID-19 could stop them in their tracks at any time.
AFL Adds Flexibility to Schedule
The AFL play began on Thursday after club executives met with medical officials and government representatives to talk about whether the league should go forward. While a government ban on gatherings of 100 or more people guaranteed that supporters wouldn't be at games, Australian Prime Minister Scott Morrison said it was up to the AFL whether or not it wanted to proceed with its season.
---
AFL Odds (Round 1)
Essendon (-209) vs. Fremantle (+170)
Adelaide (-140) vs. Sydney (+115)
GWS (-178) vs. Geelong (+150)
Gold Coast (+198) vs. Port Adelaide (-240)
North Melbourne (+102) vs. St. Kilda (-120)
Hawthorn (+106) vs. Brisbane (-124)
West Coast (-270) vs. Melbourne (+220)
Odds via FanDuel Sportsbook
---
And so, the first weekend of matches is underway. The AFL has already shortened its schedule from 22 matches to a pure 17-game round-robin in an effort to provide flexibility if, and when, the league needs to halt play.
"We don't know how many games we will get into this 153-game journey before we have to pause," AFL CEO Gillon McLachlan told the BBC. "We embark on this journey with clear instruction from the government that all industry and all parts of society need to keep moving forward, and we simply cannot stand still."
Plans are already in place for dealing with any positive coronavirus tests, with McLachlan saying the league would "stand down for a minimum of 30 days" if a player tested positive.
"I know we have got players in quarantine," McLachlan told 3AW radio on Friday. "I know there are no players or officials from tonight's game that are pending tests."
NRL Moves Into Second Week of Play
The NRL is in the second week of its season, and is now playing its matches in empty arenas as well. The NRL is the only rugby competition still active in Australia, as the league and state governing bodies have postponed all other rugby league matches until at least May.
"Community rugby league doesn't have the ability to enforce the same social distancing procedures as the elite game," NRL executive Luke Ellis said in a statement. "That's why, in partnership with our state bodies, we have chosen to err on the side of caution."
The NRL is also taking its own unique steps to combat the coronavirus. TMZ reported that each match employs a special washer whose job it is to keep the rugby ball as clean as possible.
---
NRL Odds (Round 2)
New Zealand Warriors (+360) vs. Canberra Raiders (-440)
Sydney Roosters (-178) vs. Manly Sea Eagles (+162)
Cronulla Sharks (+172) vs. Melbourne Storm (-190)
Wests Tigers (-108) vs. Newcastle Knights (-104)
Gold Coast Titans (+215) vs. Parramatta Eels (-245)
Odds via FanDuel Sportsbook
---
The NRL and AFL offer a rare opportunity for American sportsbooks to provide action to bettors. While potential betting on chess or other sports will require regulatory approval, many sportsbooks had already cleared the Australian leagues, with major operators like DraftKings and FanDuel offering a menu of game odds from the NRL, AFL, and A-League (Australia's top soccer league).