Two of the top six seeds on the women's side of the 2022 Australian Open lost on Thursday, with two other seeded players also falling on a day that busted the women's draw wide open.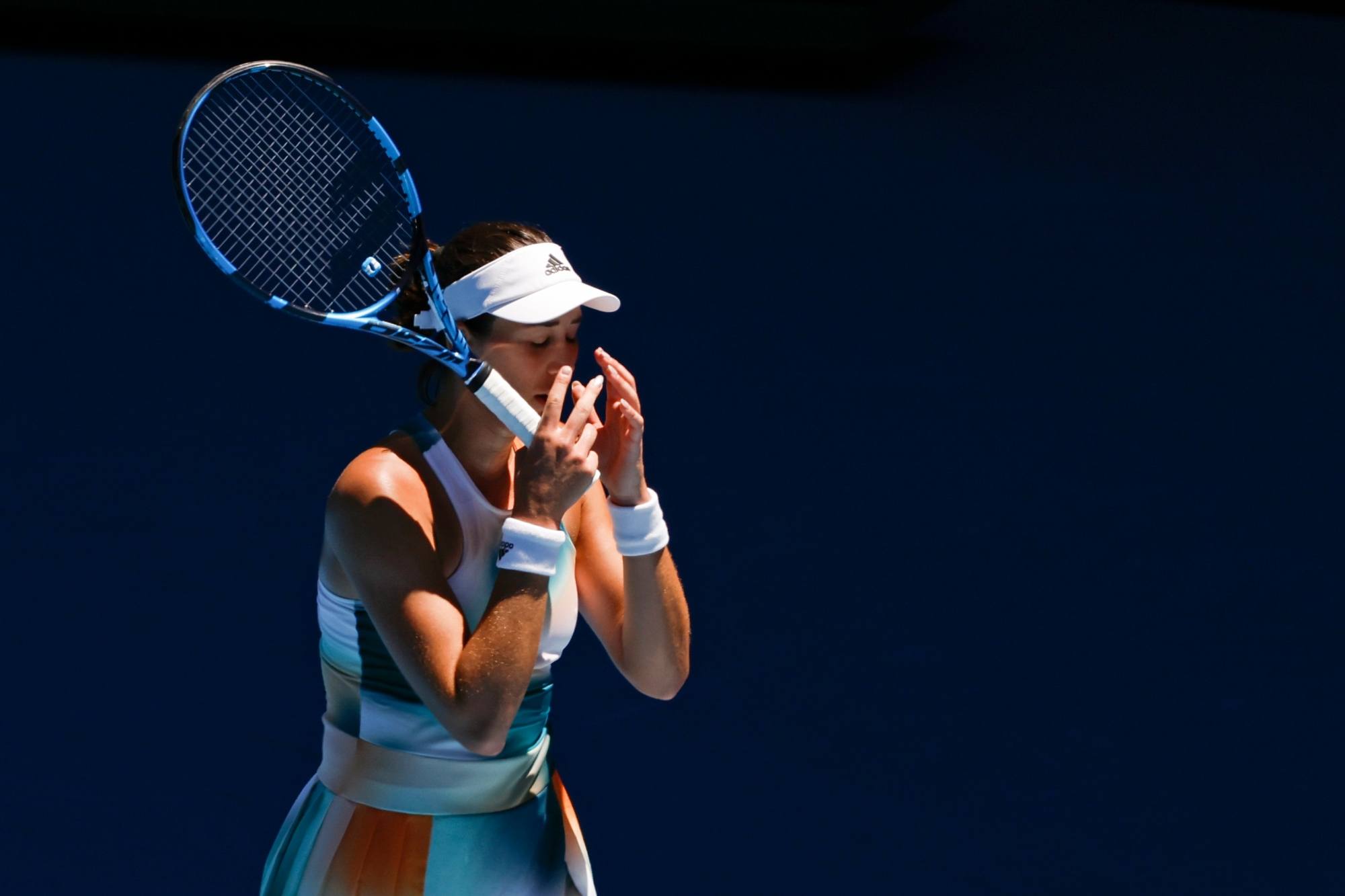 No. 3 seed Garbine Muguruza lost her second-round match to France's Aliza Cornet, falling 6-3, 6-3 in Rod Laver Arena.
Sabalenka survives, still looking for serve
Muguruza never found her stride against Cornet. The two-time Grand Slam winner never saw a single break-point, and was uncharacteristically sloppy throughout the two sets.
Muguruza expressed disappointment in her form, blaming some of her struggles on the COVID-19 pandemic.
"It's been a pretty stressful start of the year also with my team. They all got COVID before coming here," Muguruza said after the loss. "It was hard for me for the preparation to come to the [Australian Open], swing and play and perform well. That was tricky a little bit. Physically here I wasn't also feeling my best."
The sixth-seeded Anett Kontaveit went down just as easily, losing 6-2, 6-3 to Danish 19-year-old Clara Tauson. There was nearly a third major upset, as No. 2 seed Aryna Sabalenka dropped the first set to Wang Xinyu before coming back to win 1-6, 6-4, 6-2.
Sabalenka double-faulted nine times in her first two service games, finishing with 19 double faults for the match.
"I was thinking a lot on my serve," Sabalenka said after her first-round match, another three-setter in which she double-faulted 12 times. "I tried to control everything, and that's not how it works. I have muscle memory, and I just have to trust myself."
No. 12 seed Elena Rybakina and No. 17 seed Emma Raducanu also lost on Thursday. World No. 1 Ashleigh Barty remains the +210 favorite to win the Australian Open ahead of Naomi Osaka (+550), Iga Swiatek (+700), and Simona Halep (+700).
Medvedev blasts Australian Open chanters
On the men's side, favorite Daniil Medvedev held off a spirited challenge from the talented Nick Kyrgios, winning 7-6 (7-1), 6-4, 4-6, 6-4 to advance to the third round. Kyrgios showed less of his typical antics than usual and expressed deep respect for his opponent.
"He just has so much belief in his game," Kyrgios said of Medvedev after their match. "He's just so confident right now. To be honest, I threw everything I could at him."
Medvedev had complaints after the match: not for Kyrgios, but for the Australian Open crowd. Many fans have begun shouting the "siuuu" chant that Cristiano Ronaldo uses to celebrate scoring a goal. Multiple players have complained about its sudden popularity at a major tennis tournament.
🗣 "Those who are doing it 𝐩𝐫𝐨𝐛𝐚𝐛𝐥𝐲 𝐡𝐚𝐯𝐞 𝐚 𝐥𝐨𝐰 𝐈𝐐"

Daniil Medvedev doesn't hold back with his scathing assessment of the Australian Open crowd 😬#AusOpen | @DaniilMedwed pic.twitter.com/TvG66zwIQN

— Eurosport UK (@Eurosport_UK) January 20, 2022
"I guess some people just have a low IQ," Medvedev said of the chants on Eurosport.
Medvedev stands as the +140 favorite to win the men's championship, with Alexander Zverev (+330) and Rafael Nadal (+500) his chief rivals.
In other men's action, Andy Murray saw his Australian Open run come to an end with a 6-4, 6-4, 6-4 second-round loss to Japanese qualifier Taro Daniel. He then suggested that if his form doesn't improve, he might not be back for more tennis in 2023.
"This is a really important year for me for a number of reasons, and I want to perform well in the big events," Murray said afterward. "You know, making the second round of Slams is not something I find particularly motivating. I want to be doing better than that."