Rafael Nadal can break the all-time record for Grand Slam tournament wins if he captures the Australian Open title on Sunday. But he'll need to get past a hot Daniil Medvedev, who can make history of his own and continue to build an impressive resume if he captures the title in Melbourne.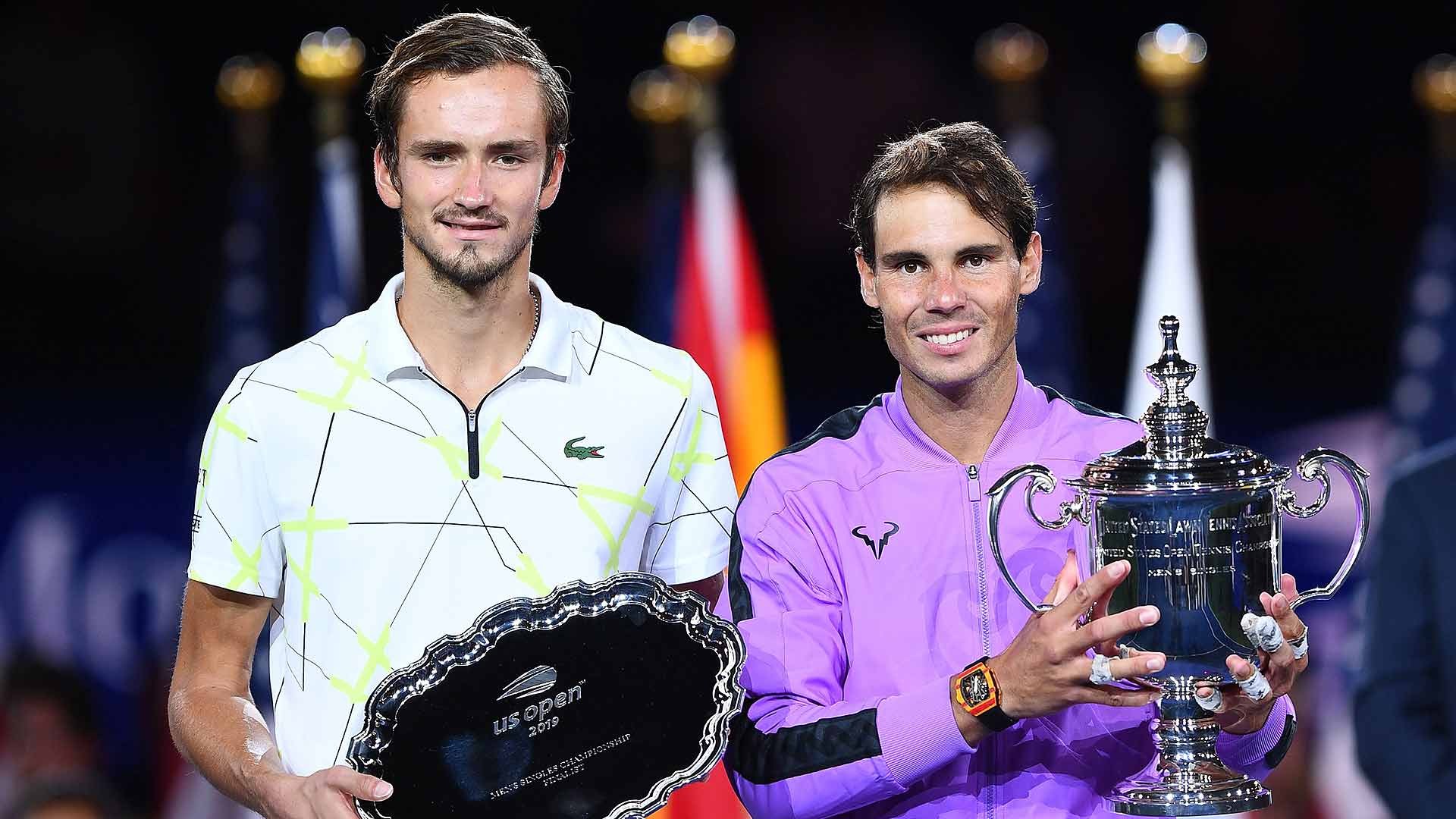 Medvedev comes into the Australian Open final as a -180 favorite over Nadal, according to FanDuel Sportsbook.
Medvedev earns fine for semifinal outburst
The Russian beat Stefanos Tsitispas 7-6 (7-5), 4-6, 6-4, 6-1 in his semifinal to advance. Medvedev can now become the first man in the Open Era to win his first two Grand Slam titles in back-to-back majors, having won the 2021 US Open.
However, his victory over Tsitispas didn't come easily, or without controversy. Medvedev argued with the chair umpire, complaining that Tsitsipas' father was coaching his son in Greek from the stands.
"Are you mad? His father can coach every point? Are you stupid?" Medvedev yelled at chair umpire Jaume Campistol. "Can you answer my question? Oh my god, you are so bad, man. How can you be so bad in the semifinal?"
Medvedev later apologized for his outbursts. However, he still earned a $12,000 fine as a result of his code violation.
After the win, Medvedev focused more on the upcoming clash with Nadal than his anger during the semifinal.
"I'm going to play again against one of the greatest," Medvedev said. "I'm going to play somebody going for the 21st Slam. I'm ready."
Nadal gets chance at second Australian Open title
Nadal faced little trouble in his own semifinal, beating Matteo Berrettini 6-3, 6-2, 3-6, 6-3 to advance to the Australian Open final for the sixth time. However, Nadal has only won the tournament once in his career, with that win coming back in 2009.
"For me, it's all about the Australian Open more than anything else," Nadal said after his win. "I have been a little unlucky in my career with some injuries. I played some amazing finals with good chances…I feel very lucky that I won once. I never thought about another chance in 2022."
With a win, Nadal would break his tie with Novak Djokovic and Roger Federer for the most Grand Slam titles in men's tennis history. All three men currently hold 20 major championships in their illustrious careers.
Regardless of who wins, they won't be Australian – something that will come as a change of pace this year. Locals have already won two of the major titles at this year's Australian Open.
First, No. 1 seed Ashleigh Barty won the women's title, defeating American Danielle Collins on Saturday 6-3, 7-6 (7-2) to cap a dominant display. Barty didn't drop a single set during the tournament, and became the first Australian to win an Australian Open singles title since 1978.
Later, the enigmatic Nick Kyrgios and partner Thanasi Kokkinakis took a wild card entry and rode it to a men's doubles championship, beating Matt Ebden and Max Purcell 7-5, 6-4 in the final on Saturday. That marked the first time since 1997 that an Australian pair won the men's doubles title at the Australian Open.