Atlanta Hawks small forward De'Andre Hunter had a swollen knee, so the team sent him for an MRI which revealed a partial tear in his meniscus. Hunter opted for surgery, so the Hawks will lose him for the rest of the playoffs.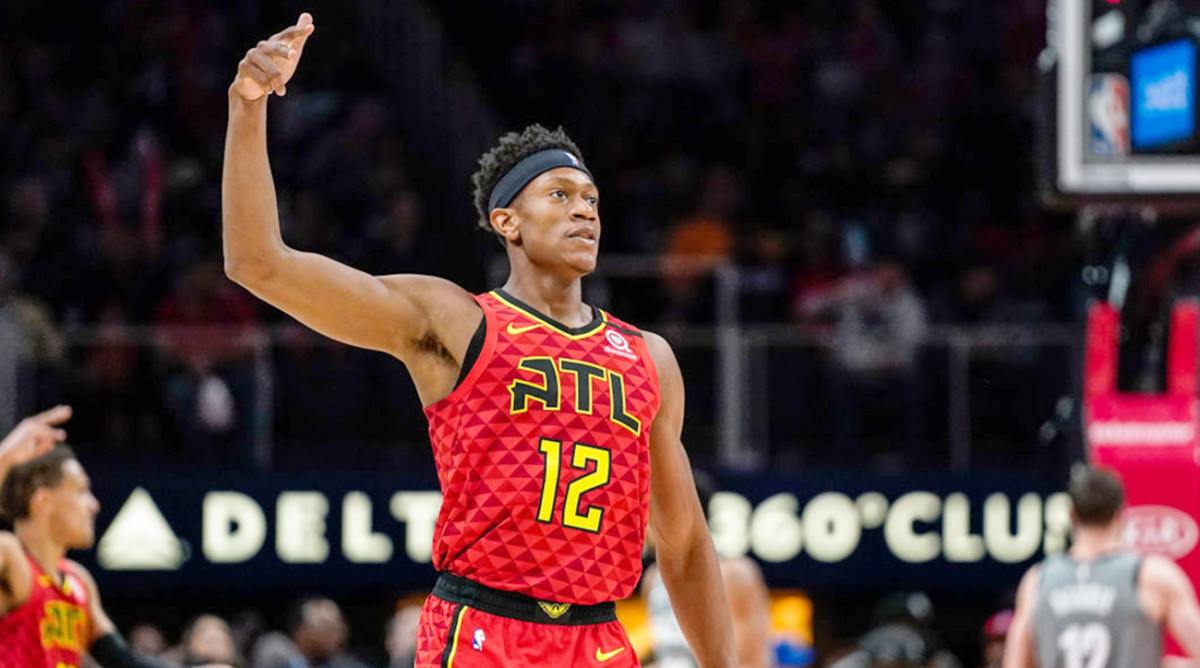 Hunter averaged 10.8 ppg against the New York Knicks in the first round. He also shot 52.5% from 3-point range.
Hunter experienced pain and swelling in his right knee, so he tipped off the training staff prior to Game 1 of the Eastern Conference semifinals against the #1 Philadelphia 76ers. He missed 50 games with the Hawks this season with a different knee injury.
"We're being cautious with him," general manager Tony Schlenk told local Atlanta beat reports. "We don't want to do anything with him that would jeopardize long-term effects on his knee. It's walking that fine line between living in the moment and my job, which is projecting five or 10 years down the line to do what's best for the franchise."
In an official statement, the Hawks said Hunter is flying out to Los Angeles to have his knee operated on by a specialist.
Hunter fades sophomore slump
The Hawks selected Hunter with the fourth overall pick in the 2019 NBA Draft. Hunter played his collegiate ball at Virginia, where he won the 2019 March Madness college basketball championship.
Along with Trae Young, the Hawks attempted to piece together a championship team through the draft with a pair of talented young players. Young made a big splash from the get-go, but it took Hunter half of his rookie season before he finally found his sea legs.
Many NBA players suffer a sophomore slump, but Hunter made a noticeable improvement between his rookie year and his second season in the league, despite a lingering knee injury.
"We are certainly a better ball club when De'Andre is out on the floor with us because he just does so many things," said Hawks head coach Nate McMillan about Hunter. "Not only can he defend multiple positions, but he's also an option on the offensive end of the floor."
Hunter averaged 15 points, 4.8 rebounds, and 1.9 assists during 23 regular-season games. He improved his scoring by nearly three points per game. He also improved his overall shooting from 41% to 48.4%, and shot nearly 10% better from the free-throw line with 85.9%.
Next man up: Solomon Hill or Tony Snell?
Cam Reddish would be the natural pick to sub in for Hunter, however, Reddish is still rehabbing an Achilles injury of his own. That means Nate McMillan will head to his deep bench to find the next man up. Hunter will be tough to replicate. McMillan likes Hunter's swingman ability, which allows him to defend either an opposing guard or forward.
Backup Solomon Hill (4.5 ppg, 3.0 rebounds) started in the first two games against the 76ers, but he barely made an impact, averaging 3 ppg. He played only eight minutes in Game 2 after logging 25 minutes in Game 1's surprise victory. Little-used Tony Snell (5.3 ppg, 2.4 rebounds) saw just seven minutes of court time against the 76ers and didn't score a single point in either game.
Backup shooting guard Kevin Huerter, who is now averaging 17.5 ppg this series, also gobbled up some of Hunter's minutes. McMillan went with a triple-guard offense of Young, Huerter, and Bogdan Bogdanovic at different times against the 76ers. It worked in Game 1, but they were overpowered by Joel Embiid in Game 2.
The Hawks' small-ball lineup, anchored by Capela and John Collins, failed to slow down Embiid, who crushed their short-handed frontline for 40 points.
Check out more coverage of the 2021 NBA Playoffs.