DeAndre Hopkins — a standout wide receiver from the Arizona Cardinals — will sit out the first six games of the 2022 NFL season after testing positive for performance-enhancing drugs even though he denies using banned substances.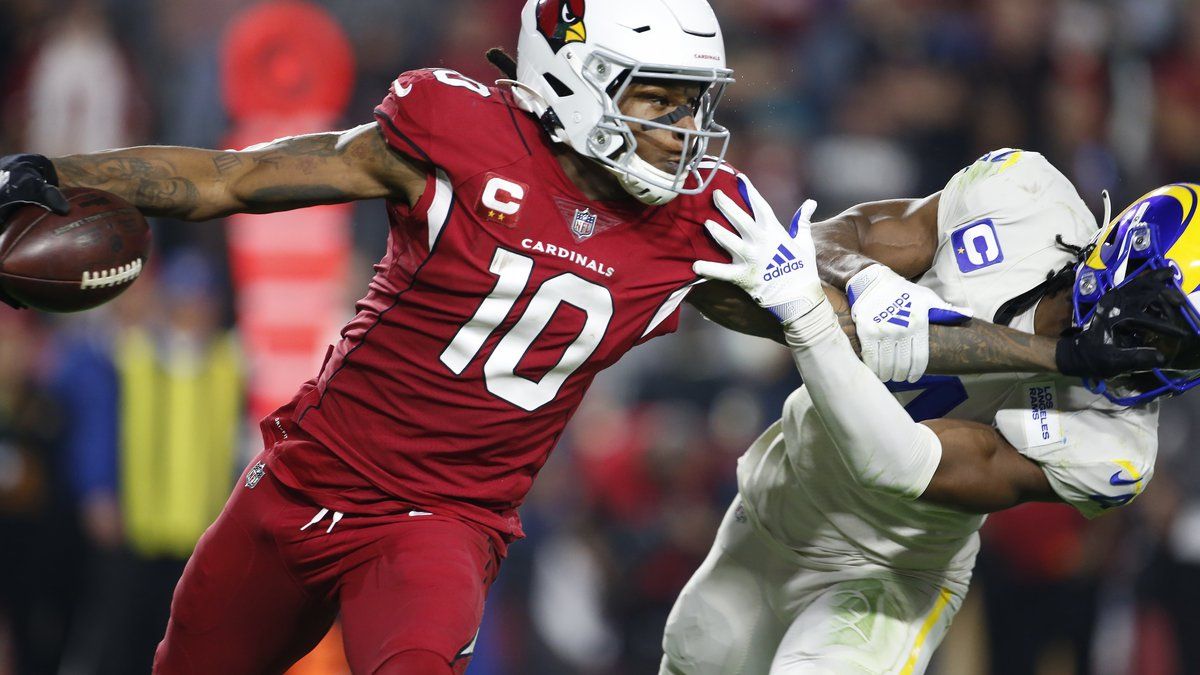 Hopkins drew a red flag for PEDs during a test administered in November 2021. In a social media post on both his Instagram and Twitter accounts, Hopkins denied any wrongdoing.
"In my 10-year career, I have never tested positive for using performance enhancing drugs," posted Hopkins. "To learn that my November test came back with trace elements of a banned substance, I was confused and shocked. I am very mindful of what I put in my body and have always taken a holistic approach, so I am working with my team to investigate how this could've happened. But even as careful as I have been, clearly I wasn't careful enough. For that, I apologize to Cardinals fans, my teammates, and the entire Cardinals organization. I never want to let my team down."
Hopkins ended his brief statement with an intention to do his own investigation into the mix-up involving PEDs.
"I fully intend to get to the bottom of this," added Hopkins. "As soon as I have more information, I will share it."
See you Week 7. pic.twitter.com/rHTofEx7jK

— Deandre Hopkins (@DeAndreHopkins) May 3, 2022
Iron man Hopkins
Prior to the 2021 season, Hopkins missed just two games during the first eight seasons of his career, which included seven with the Houston Texans between 2013 and 2019 before joining the Arizona Cardinals in during a surprise trade in 2020.
Last season, Hopkins appeared in just 10 out of 17 games. He missed three games with a hamstring injury in early November. In Week 14, he suffered a torn ACL and missed the final four games of the season and the postseason.
Hopkins caught a career-low 42 passes for 572 yards last season, but still found the end zone eight times. In 2020, he appeared in all 16 games with the Cardinals, but caught just six touchdowns. Over his nine-year career, Hopkins recorded 789 catches for 10,581 yards and 68 touchdowns. He tossed one touchdown pass on a trick play with the Texans in 2019.
The 2021 Cardinals started the season 7-0 and were the last undefeated team remaining in the league. They struggled in the second half of the season with a 4-6 clip over their final 10 games, finishing the season at just 11-6. Without Hopkins in the lineup, the Cards dropped four out of their final five games, including surprising losses against the Detroit Lions and Seattle Seahawks.
The Cardinals qualified for the playoffs as an NFC wild-card team, but were dominated by the LA Rams 34-11. The passing game definitely missed Hopkins.
Kyler Murray drama
The Cardinals faced another potential PR disaster when news about Hopkins broke yesterday. The team was already dealing with an unhappy gunslinger and starting quarterback in addition to the Hopkins PED scandal.
After the blowout loss against the Rams in the wild-card round, quarterback Kyler Murray erased all mentions of the Arizona Cardinals on his social media accounts. The scrubbing left fans and the media to speculate that Murray wants out of Arizona, but Murray's camp insists it's just part of the negotiating process because he wants a hefty raise and contract extension.
The Cardinals have gone out of their way to appease Murray, which included a somewhat secret trade that brought wide reciever Marquise "Hollywood" Brown to Arizona. The two are best friends and former teammates at Oklahoma, where Murray won the Heisman in 2018.
Without Hopkins for the first six games, the Cardinals need all the help they can get at the wideout position. Hollywood Brown provides them with another big-time playmaker. When Hopkins returns in October, the Cardinals will have a dangerous wide receiving tandem.
The Cardinals are +2500 odds to win Super Bowl 57, according to a recent update by the Circa Sportsbook in downtown Las Vegas.