The Loyola Chicago Ramblers (17-3), who made headlines as a Cinderella team during 2018 March Madness, earned a ranking in the AP Top 25 college basketball poll for the first time since 1985. Meanwhile, Drake tumbled out of the top 25 after their undefeated season came to an end. Kansas also continued their dive as the Jayhawks plummeted out of the top 25 for the first time since 2008.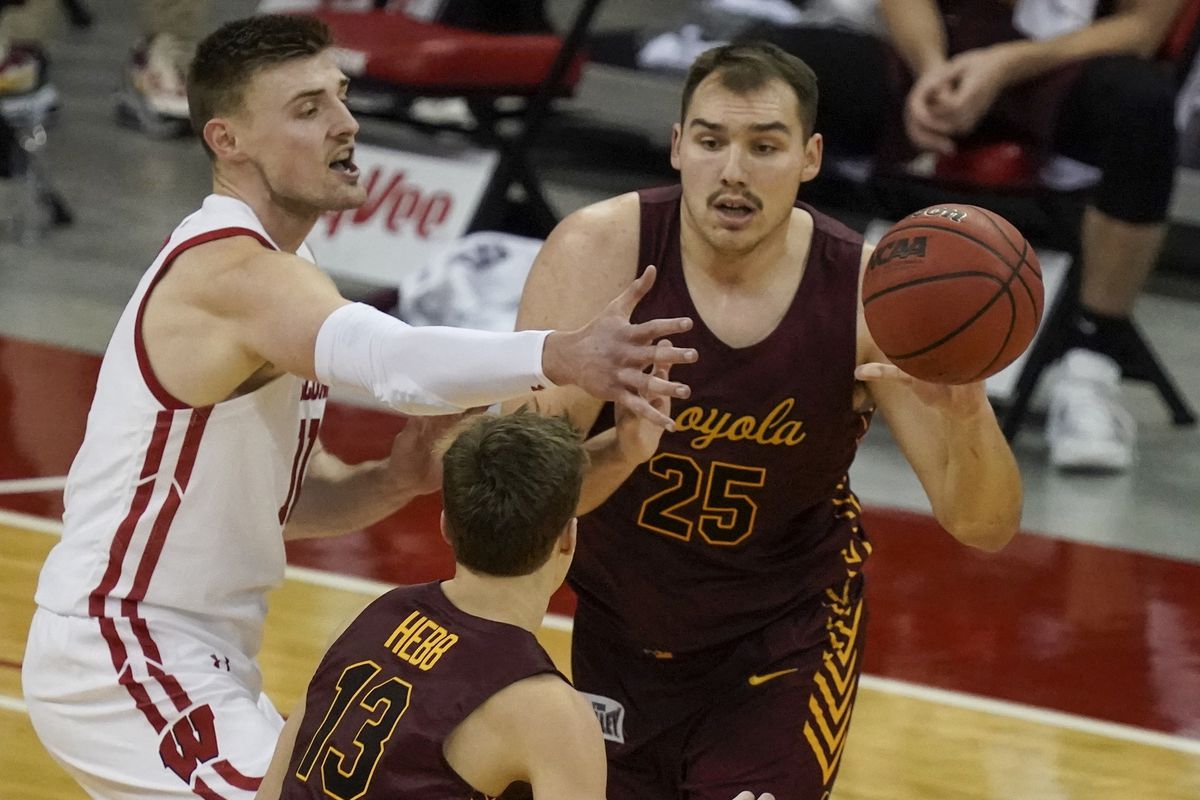 #1 Gonzaga (18-0) and #2 Baylor (17-0) continued their undefeated seasons and retained their positions at the top of the AP poll. Baylor and Gonzaga have been jockeying for the top spot with each other for the past two seasons, so that storyline has become a little stale.
All of the fun stories are at the bottom end of the AP poll and involve the bubble teams that are on the cusp of finally cracking the top 25, or teams on a downslide that are fighting to stay in the poll.
---
AP TOP 25 POLL – BOTTOM TEAMS
| | | | |
| --- | --- | --- | --- |
| RANK | TEAM | RECORD | LAST WEEK |
| | | | |
| --- | --- | --- | --- |
| #20 | USC | 15-3 | N/A |
| #21 | Wisconsin | 14-6 | #19 |
| #22 | Loyola Chicago | 17-3 | N/A |
| #23 | Oklahoma State | 12-5 | N/A |
| #24 | Purdue | 13-7 | #24 |
| #25 | Rutgers | 11-6 | N/A |
---
This week, four teams that were on the bubble last week entered the poll. They include #20 USC (15-3), #22 Loyola Chicago, #23 Oklahoma State (22-5), and #25 Rutgers (11-6).
UCLA, Florida, Kansas, and Drake lost their rankings after a rough week. This week's bubble teams include Colorado, San Diego State, Xavier, UCLA, FSU, Louisville, and Belmont.
Ramblers Streak Reaches 10
Who didn't love watching Loyola Chicago get hot in March Madness and advance all the way to the Final Four with just the #11 seed? It's been three years since that magical season, but the Ramblers are back on everyone's radar after they earned the token mid-major spot in the backend of the top-25 rankings. Loyola Chicago debuted at #22 after they bubbled the poll last week.
Loyola Chicago improved to 12-1 in the Missouri Valley Conference. They swept multiple two-game series against conference foes during their streak, including Northern Iowa, Bradley, Missouri State, and Evansville.
Defense has been the key for Loyola Chicago. They held opponents to 50 or fewer points five times during their 10-game winning streak. Overall, the ramblers allow 56.3 ppg.
Cameron Krutwig is only 6-foot-9, but he plays center for Loyola Chicago. The senior leads the team in scoring, averaging 15.5 points and 6.1 rebounds per game. He's shooting 60.6% from the field. He also knows his limitations and attempted zero 3-pointers all season. During a 13-point victory over Evansville, Krutwig scored 20 points and hauled down 11 rebounds. He also blocked three shots in one of his best games of the season.
Krutwig is the only player averaging double digits for the low-scoring Ramblers. He averages nearly twice as much as the team's second-best scorer. Tate Hall, a 6-foot-6 senior guard, averages 8.7 ppg, but he's been struggling with just 22 points in the last five games, including a zero-point dud in the Ramblers' last win over Evansville.
Loyola Chicago is +4000 odds to win 2021 March Madness, and the Ramblers are +900 odds to advance to the 2021 Final Four.
Falling Out: Kansas, Drake
Drake's perfect season ended and the vicious voters gave them the boot despite an 18-1 record. Then again, the Missouri Valley Conference isn't exactly impressing anyone with only four winning teams. Biased voters are only impressed when you beat teams like Indiana or Missouri, but not Indiana State or Missouri State.
Valpo upset Drake with a 17-point victory on Sunday. The Bulldogs' 18-game winning streak came to an ugly halt. Finicky voters used the loss as an excuse to boot Drake from the Top 25.
Kansas' freefall continues after a 91-79 loss against #17 West Virginia. They were ranked #23 before last week's demotion. The Jayhawks are now 3-5 in their last eight games after starting the season 10-2. On Monday night, Kansas bounced back with a huge 18-point victory over #23 Oklahoma State. They'll need the boost before playing Iowa State for a home/away series on Thursday and Saturday.
Oh, how the mighty have fallen. Then again, it's good to see one-and-done schools and elite programs like Duke and Kansas have bad seasons and fall out of the rankings. I'd like to see more mid-major schools get some love in the top 25. But, that will never happen so long as the corrupt NCAA continues its monopoly on collegiate sports and favors the major conferences. The game is rigged against small schools, and the top 25-poll doesn't help the little guys like Loyola Chicago and Drake. Instead, it props up third-rate Big Ten schools like Purdue, who have seven losses, yet rank #24.