With two outs in the top of the ninth of Game 4 of the ALCS, Red Sox pitcher Nathan Eovaldi threw a curveball to Astros catcher Jason Castro that could have ended the inning. Instead, umpire Laz Diaz called it a ball, extending what would become a seven-run frame for Houston and resulting in a 9-2 victory for the Astros.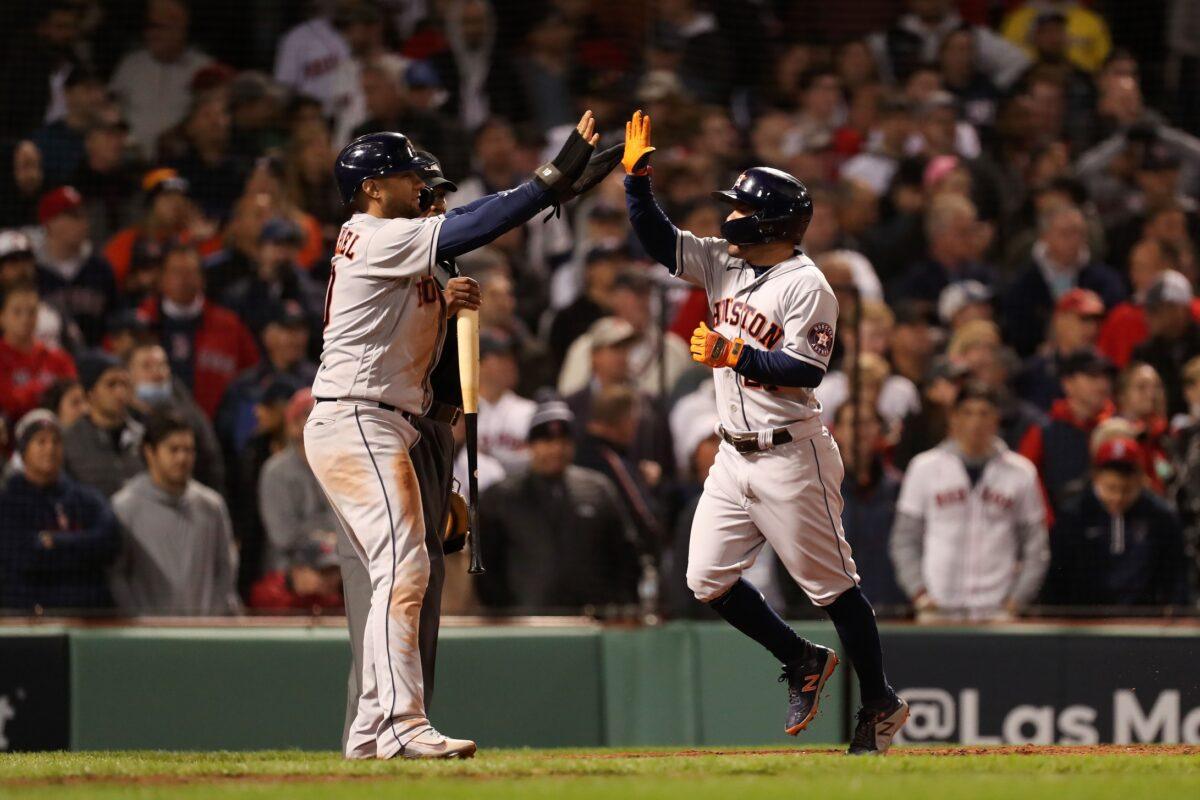 That allowed Houston to tie up the series at two games each heading into Wednesday's pivotal Game 5 at Fenway Park.
Red Sox find fault with Diaz strike zone
Eovaldi thought his pitch was a strike, but the borderline call could have gone either way. And plenty else went wrong for the Red Sox in the rest of the ninth as the Astros' onslaught continued.
"I'm not going to get thrown out of this game, but we thought that pitch was a strike and he disagreed with us, but that's a tough job," Red Sox manager Alex Cora told reporters after the loss. "If it's a strike, it changes the whole thing, right, but I think we had chances early on."
Boston went 0-for-9 with runners in scoring position in Game 4, slowing what had been a prolific postseason offense. The Red Sox found plenty to complain about regarding Diaz's strike zone throughout the game — on both offense and defense — with designated hitter JD Martinez arguing a third inning strike three call.
"There's going to be those at bats where I felt like our batters were being very selective up there," Eovaldi told reporters. "They were having quality at bats, and a 1-0 count that turns into a 1-1 or a 2-0 count, it changes the at bat a lot."
Game 1 starters return for another ALCS showdown
The Astros benefited from 7.2 innings of scoreless relief pitching in Game 4. Five pitchers combined to stifle the Boston offense after starter Zack Greinke went just 1.1 innings and allowed two runs.
"I'm just glad that we didn't quit," Houston manager Dusty Baker said after the win. "What a job our bullpen did."
Game 5 of the ALCS features a rematch of the pitching battle in Game 1. The Red Sox will send out left-hander Chris Sale (5-1, 3.16 ERA), who's struggled in his first two postseason starts. In Game 1, Sale went just 2.2 innings, giving up five hits but only one run. Sale says he knows the importance of getting one last win in Fenway.
"Big game, obviously," Sale told reporters. "Going back to Houston is guaranteed now. So taking this last one at home right before we get on that plane and head down to Houston will be big."
Framber Valdez (11-6, 3.14 ERA) also threw only 2.2 innings in Game 1 of the ALCS, giving up two earned runs on six hits. He'll also be looking to improve on that performance to help give some relief to the taxed Houston bullpen.
FanDuel Sportsbook rates the Red Sox as a slight -122 favorite over the Astros (+104) on Wednesday. But Houston will likely take over that favorite status at home, which is why the Astros are a -128 pick to win the ALCS and advance to the World Series.