Aaron Judge from the New York Yankees smacked two home runs on Friday night — including a grand slam in the bottom of the eighth inning — to become the first player to reach 40 home runs this season. Judge also joined an elite group of Yankee greats — Babe Ruth, Mickey Mantle, and Roger Maris — as the only members in pinstripes to hit 40 home runs by the end of July.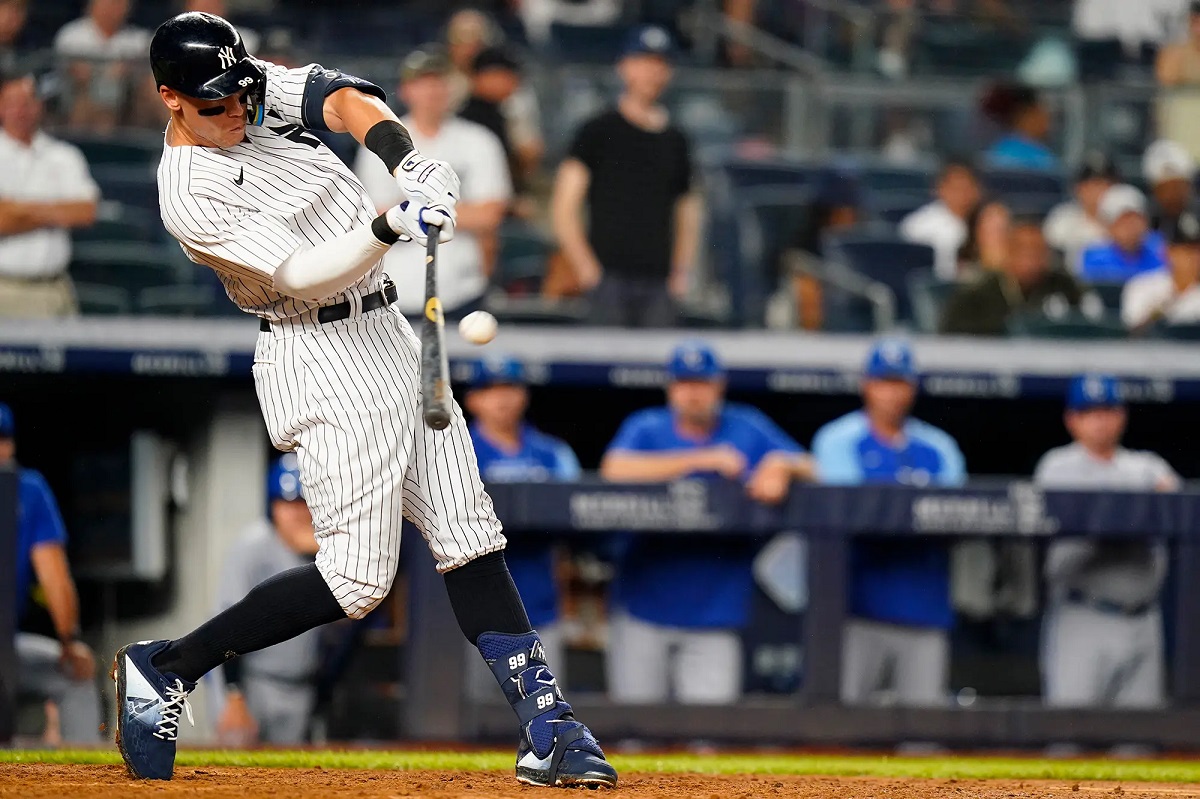 With a pair of home runs on Friday night in the Bronx, Judge set a new team record with nine multi-home run games this season. Yes, when Judge gets hot, he hits home runs in bunches.
"Just takes the magic wand and does his thing," said Yankees starting pitcher Gerrit Cole.
Judge was previously tied the record with eight multi-home run games in a season with teammate Gleyber Torres, Alex Rodríguez , Mickey Mantle, and Babe Ruth.
Any time you can get your name on the same list as Hall of Famers Ruth and Mantle, then you're archiving something truly special.
Judge is the betting favorite at -200 odds to win the 2022 AL MVP. Shohei Ohtani — the superstar two-way phenom from Japan — of the LA Angels is +175 odds, but there's rampant speculation he could get traded before next week's deadline. The New York Mets and Atlanta Braves are among the favorites to land Ohtanti in a trade.
41 Home Runs.

It isn't even August. pic.twitter.com/LDiWaCc7Ho

— New York Yankees (@Yankees) July 30, 2022
Judge: First to Hit 40 HRs
If Judge can remain healthy and maintain his current home run pace, he could finish the season with 66 home runs. That would more than secure the team record. To avoid any asterisk controversy, Judge could pass Babe Ruth and his initial record of 60 home runs before the 154th game of the season. Maris eclipsed the Babe with 61 home runs in the final game of the 162-game season in 161.
Judge connected on his 40th home run of the season in the third inning. He demolished #41 in the inning to put the Yankees ahead 11-5. With the win, the Yankees improved their MLB-leading best record at 68-33.
"Just like any other time," said Judge.
"He's amazing," said Yankees manager Aaron Boone. "He's just doing some really special things."
On Thursday evening against the Royals, Judge hit home run #39 to break a 0-0 tie in the bottom of the ninth inning. That marked a third walk-off home run of the season for Judge, who entered this year without ever achieving that feat.
Judge also put his defensive skills on display. In the first inning, he robbed MJ Melendez of a short-porch home run in right field. Judge used every inch of his 6-foot-8 frame to reach over the outfield wall and record an out.
"Hitting a homer is still above robbing one for me right now, but it's still fun," added Judge.
Flight 99 cleared for takeoff. pic.twitter.com/th8w1susCg

— New York Yankees (@Yankees) July 29, 2022