San Antonio Spurs assistant head coach Becky Hammon became the first woman to coach an NBA team after the Spurs' legendary sideline patroller Gregg Popovich was ejected against the Los Angeles Lakers Wednesday night.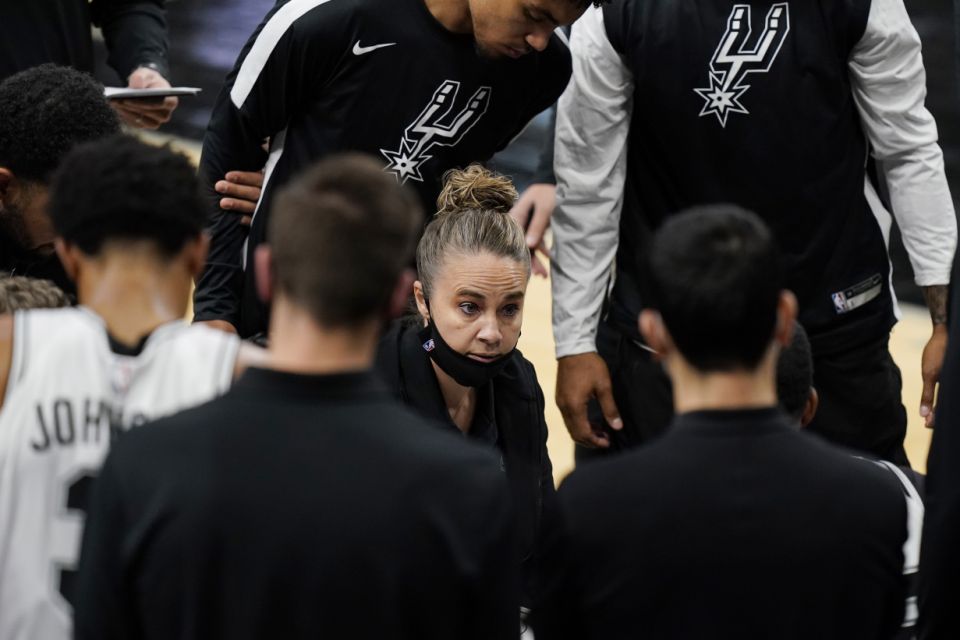 The Spurs would eventually lose 121-107, though Hammon doesn't take the official loss. Popovich was tossed in the second quarter when he received two consecutive technical fouls when protesting a no-call on Spurs' star guard DeMar DeRozan's drive.
"It was business as usual," Hammon said of carrying the clipboard during the postgame interview. "They're used to hearing my voice in practice. The guys are great. The guys are a non-issue; their attitudes and approach are always great with me. I did not walk into the arena, thinking I would be coaching tonight, but that's the way things go, and you roll with it."
Spurs assistant Becky Hammon filled in for an ejected Gregg Popovich.

She's believed to be the first woman to act as head coach during an NBA regular-season game. pic.twitter.com/VyQqVNaPhc

— ESPN (@espn) December 31, 2020
Hammon, 43, is a former WNBA All-Star who joined the Spurs coaching staff in 2014. She was the NBA's first full-time assistant and promoted to Popovich's top assistant in 2018.
LeBron James, on Becky Hammon's big moment: "It's a beautiful thing just to hear her barking out calls, barking out sets. She's very passionate about the game. So congrats to her and congrats to the league."

— Jeff McDonald (@JMcDonald_SAEN) December 31, 2020
She has interviewed for head coaching slots for several NBA teams since then, including being a finalist for the Indiana Pacers' job this past offseason.
"Becky played, and any player who knows the history of women's basketball knows what she meant to the sport," DeRozan said after the game. "You don't think twice about it. She's one of us. When she speaks, we are all ears."
Big time @BeckyHammon 🙌🏽 https://t.co/cKyw5fAGAX

— Stephen Curry (@StephenCurry30) December 31, 2020
"I love Becky to death. We are really, really close. She texts me on holidays to ask about my daughter, and I ask about her kids. I appreciate her," said Spurs point guard Dejounte Murray. "She is setting an example for every woman out there."
This wasn't Hammon's first opportunity; in Nov. 2019, Popovich was ejected, and the team decided to go with a combination of her services with assistants Tim Duncan and Will Hardy helping.
The Spurs (+210) and Lakers (-250) will tip-off again at 5 p.m. Friday in San Antonio. Popovich is slated to resume his duties.