Although Steph Curry led the 2022 NBA MVP race for most of this season, two elite big men emerged as the new betting favorites with Joel Embiid at the top of the board at +200 odds, and Nikola Jokic at +300 odds to win the MVP in back-to-back seasons.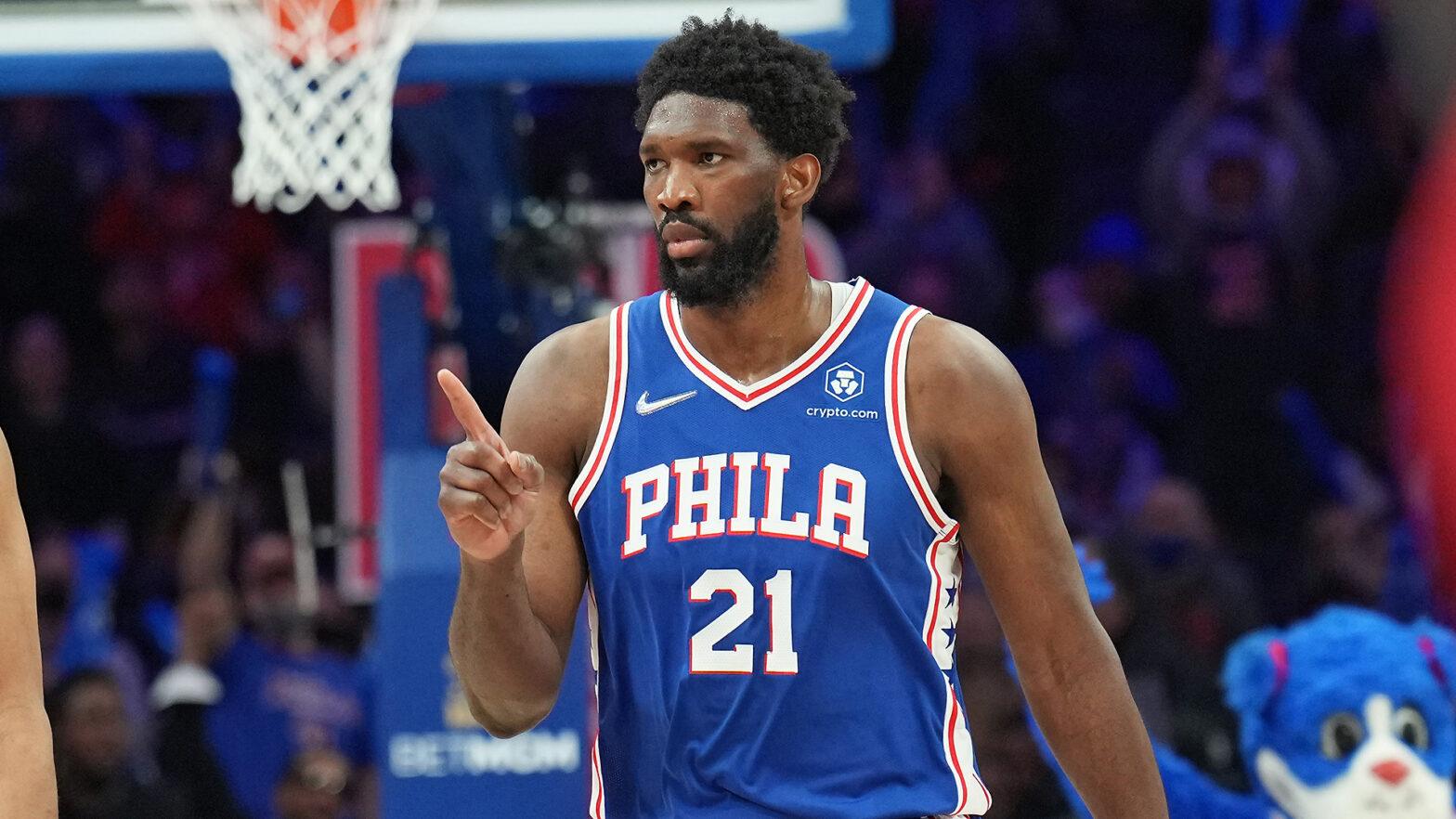 Just two weeks ago, Curry was the betting favorite to win his third MVP at +180 odds. However, he's been stuck in the mud in one of the worst shooting slumps of his career. He showed signs of emerging from his deep slumber over the weekend during a five-game winning streak with the Golden State Warriors.
---
| | | | |
| --- | --- | --- | --- |
| | Now | 1/22/2022 | 11/11/2021 |
| Joel Embiid | +200 | +600 | +1500 |
| Nikola Jokic | +300 | +550 | +1500 |
| Giannis Antetokounmpo | +370 | +250 | +650 |
| Steph Curry | +400 | +180 | +300 |
| Ja Morant | +1100 | +1000 | +2200 |
| Devin Booker | +1500 | +4500 | +5000 |
| Chris Paul | +3000 | +4500 | +10000 |
| Kevin Durant | +3500 | +2200 | +500 |
| DeMar DeRozan | +5000 | +4500 | +70000 |
| Luka Doncic | +5000 | +4500 | +800 |
| LeBron James | +8000 | +4500 | +4000 |
| James Harden | +8000 | +10000 | +4000 |
| Trae Young | +35000 | +4500 | +15000 |
---
After a slow start, Jokic is attempting to become the fourth player in the last decade to win the MVP in consecutive seasons. LeBron James won back-to-back MVPs in 2012 and 2013 with the Miami Heat. Steph Curry was named the MVP in back-to-back seasons in 2015 and 2016. Giannis Antetokounmpo won the MVP in 2019 and again in 2020.
MVP odds bump: Embiid and Jokic
Embiid began the season at +1500 odds to win the MVP. Without Ben Simmons, who has yet to suit up for the 76ers this season, the 76ers will ride or die with Embiid this season. He's up for the challenge and has been crushing it this season. During a sizzling run in January, Embiid averaged 34.0 points, 10.5 rebounds, and 5.1 assists per game. He increased his scoring average to 29.1 ppg this season for second-best in the NBA. His PER rating of 31.48 is ranked #3 in the NBA.
At the start of January, Embiid began the new year with five consecutive games scoring in which he scored 31 points, and finished the month scoring 31 plus in 12 out of 14 games.
Embiid exploded for 50 points in 27 minutes against the Orlando Magic, which set off a sick run of four games. He followed up with 40 points against the Clippers, 38 points against the Spurs, and 42 points against the Pelicans.
Embiid was +600 odds to win the MVP two weeks earlier, but oddsmakers finally took note of his dominating January after the Philadelphia 76ers took over the #2 seed in the Eastern Conference. He improved to +200 odds as the outright favorite.
Due to injuries to Jamal Murray and Michael Porter, it's a one-man band in Denver with Jokic. He averages 25.9 points, 13.8 rebounds, and 7.8 assists per game for the Nuggets this season. His PER rating is ranked #1 in the NBA at 33.51, which makes him the most coveted fantasy player.
It was a bountiful January for Jokic with seven triple-doubles, including four in a row, which is why his MVP odds improved to +300. At the start of the season, Jokic was a mid-tier shot to win another MVP at +1500 odds.
Wee ones for MVP: Curry, Morant, Booker, CP3
Curry has been in the doldrums since he broke Ray Allen's record for the most 3-pointers in NBA history. Perhaps Allen consulted with a witch doctor who concocted a voodoo spell on Curry's right hand? Despite the slump, the Golden State Warriors won five games in a row and got their groove going with Klay Thompson back in the lineup. Curry slipped to +400 odds, but was as high as +180 two weeks ago.
We love Ja Morant from the Memphis Grizzlies and picked him as our MVP in OG's NBA Midseason Awards. Morant recently made his first NBA All-Star team, but saw his MVP odds slip a bit to +1100 in the last two weeks.
The problem with the Phoenix Suns is that both of their guards are worthy of consideration for MVP, but it's always problematic when teammates compete for the MVP because they often split the votes. That's why save your money and fire away on someone else instead. In the big-man heavy MVP race, Booker and Paul are backcourt mates fighting for the same air.
Paul saw the biggest bump in his odds during an 11-game winning streak by the Suns. He was +10000 at the start of the season, just +4500 two weeks ago, and +3000 right now.
Booker is one of the hottest shooters in the NBA not named Embiid. His odds are currently at a season-best of +1500 versus +4500 two weeks earlier.