With three weeks remaining in the regular season, Nikola Jokic from the Denver Nuggets is the consensus favorite to win the 2021 NBA MVP. You can back Jokic to win the MVP at -360 odds over at DraftKings, while Joel Embiid from the Philadelphia 76ers is the closest competitor at +340 odds.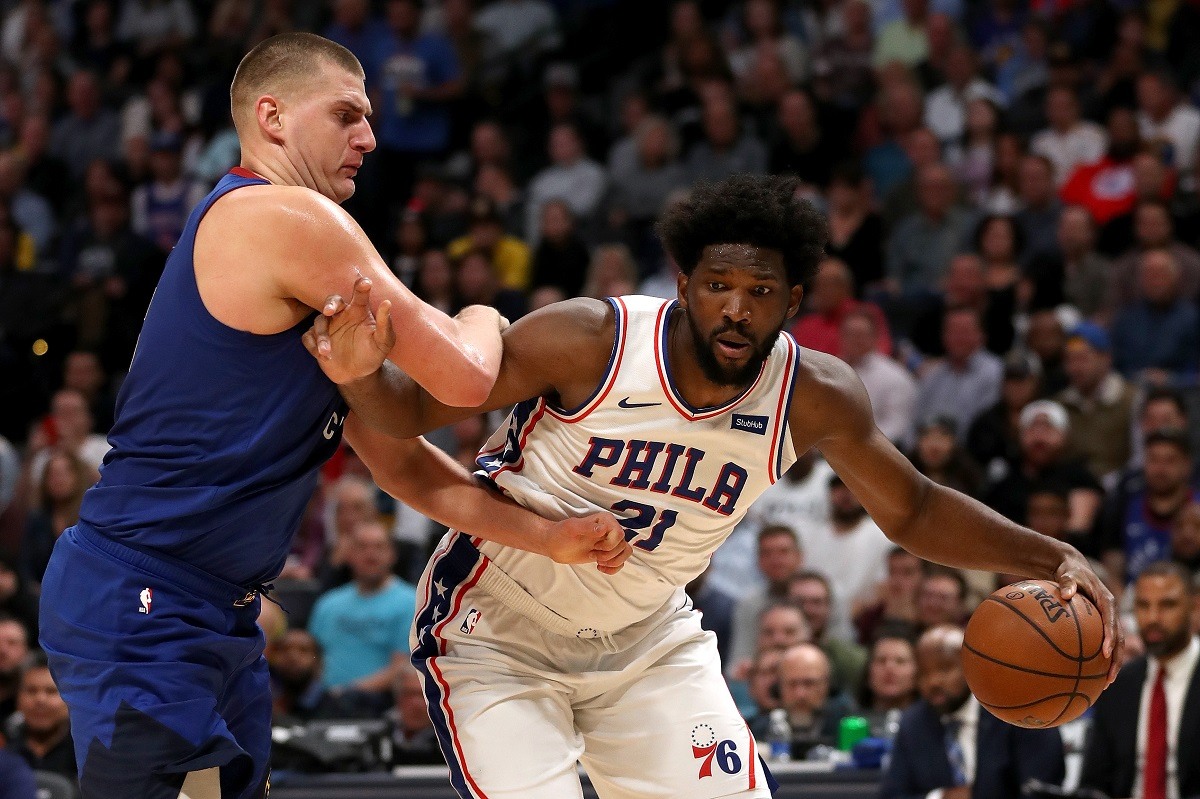 Luka Doncic started the season as the favorite to win MVP at +500 odds, but he saw his numbers slip since the season started. He was +1200 last month, but has slipped to +4500 odds.
---
| | | | |
| --- | --- | --- | --- |
| | 4/20/2021 | 3/6/2021 |   12/25/2020 |
| Nikola Jokic | -360 | +450 | +1400 |
| Joel Embiid | +340 | +200 | +2000 |
| Steph Curry | +1700 | +2000 | +1000 |
| Giannis Antetokounmpo | +2000 | +1600 | +600 |
| James Harden | +2500 | +2500 | +1300 |
| Damian Lillard | +3300 | +2000 | +1600 |
| LeBron James | +4500 | +250 | +600 |
| Luka Doncic | +4500 | +1200 | +500 |
---
LeBron James and Giannis "Greek Freak" Antetokounmpo were the other two favorites at the start of the season, They were both MVP co-favorites at +600 odds. With just a dozen or so games remaining, James is still out with a severe ankle sprain and saw his MVP odds plummet. Antetokounmpo has had a steady decline throughout the season, but he's still a long shot at +2000 odds.
Joker Back on Top
The Joker leads the Nugs with 26.4 points, 11.1 rebounds, and 8.7 assists per game. He's the top in the NBA with a 31.65 ERA. He's also averaging 41.6% from 3-point range Overall, Jokic tallied 15 triple-doubles this season.
Jokic looked like the league's MVP when he dropped 47 points in a heroic double-overtime victory over the Memphis Grizzlies. He narrowly missed a triple-double with 15 points and eight assists. The 47-point eruption tied a career-high.
"Life is about a bunch of little moments and Nikola's got around 56 little moments this year where he's shown he's the MVP," said Denver head coach Michael Malone. "Tonight was a character win."
Jokic, the favorite at +340 odds, is attempting to become the first center to win the NBA MVP in over 20 years. Shaquille O'Neal was the last center to lock up an MVP award back in the 1999-2000 season.
"It's really good for big men," said Jokic. "I'm just glad the world doesn't put the bigs aside. We're still popular."
Embiid Leads First-Place Philly
The Philadelphia 76ers (39-19) currently hold down the #1 seed in the Eastern Conference after picking up ground on the Brooklyn Nets when James Harden went down with a hamstring injury.
The 76ers lost to the Phoenix Suns by three points last night, but Embiid almost tied the game on an 85-foot buzzer-beater, which would've been the sickest last-second shot in NBA history. Chris Paul missed a free throw and Embiid snagged a rebound and in one motion, he tossed a one-handed missile that went nearly the entire length of the court before rimming out.
'When I threw it, it looked good," explained Embiid.
"That shot was in-and-out," added Paul. "I ain't never seen anything like it."
"That was a heck of a display of a throw right there," said Cameron Johnson from the Suns.
Embiid's averaging a career-high 30.1 points, 11.3 rebounds, and 3.2 assists per game. He missed 18 games and a couple of weeks of action with a bruised knee bone.
Embiid was on a tear, averaging 32.3 ppg before his injury in early March. At that point, he took over the lead for MVP at +200 odds. As soon as he went down, his numbers tailed off and Jokic's improved.
Embiid would have to go on a Steph Cury-like tear and drop 40-plus every night for the rest of the season if he wants to close the gap on Jokic. Right now, you can back Embiid at +340 odds to win the MVP and pull off a crazy upset over Jokic.
Joel Embiid was THIS CLOSE to sending it to OT in incredible fashion. 🤯 pic.twitter.com/gw6eFGiml8

— NBA (@NBA) April 22, 2021
Curry Heater
No one is hotter than Steph Curry right now. Curry recently put together a double-digit string of 30-plus point games and had a five-game stretch in which he scored 42-plus four times, including a 53-point outburst. His epic spree has been blowing the minds of his teammates and his head coach, Steve Kerr.
"It really is an art," said Kerr. "What he's doing is amazing to watch. Nobody in the history of this game has ever done what he's doing right now."
Curry recently torched the Philadelphia 76ers for 49 points on 10 3-pointers in a clutch win for the Golden State Warriors, who currently sit on the playoff bubble in the Western Conference.
"I don't know if I've ever seen anything like the run he's on," said Sixers head coach Doc Rivers.
After the recent spurt, Curry took over the NBA scoring lead with 31.1 ppg. He also saw his MVP odds slightly improve, though he's still a long shot to win at +1700 odds.