Steph Curry has been on fire for the Golden State Warriors, averaging nearly 40 points per game over his last nine games since the start of April. However, the hot Curry might finally cool down after spraining his ankle in the fourth quarter in a loss against the Boston Celtics.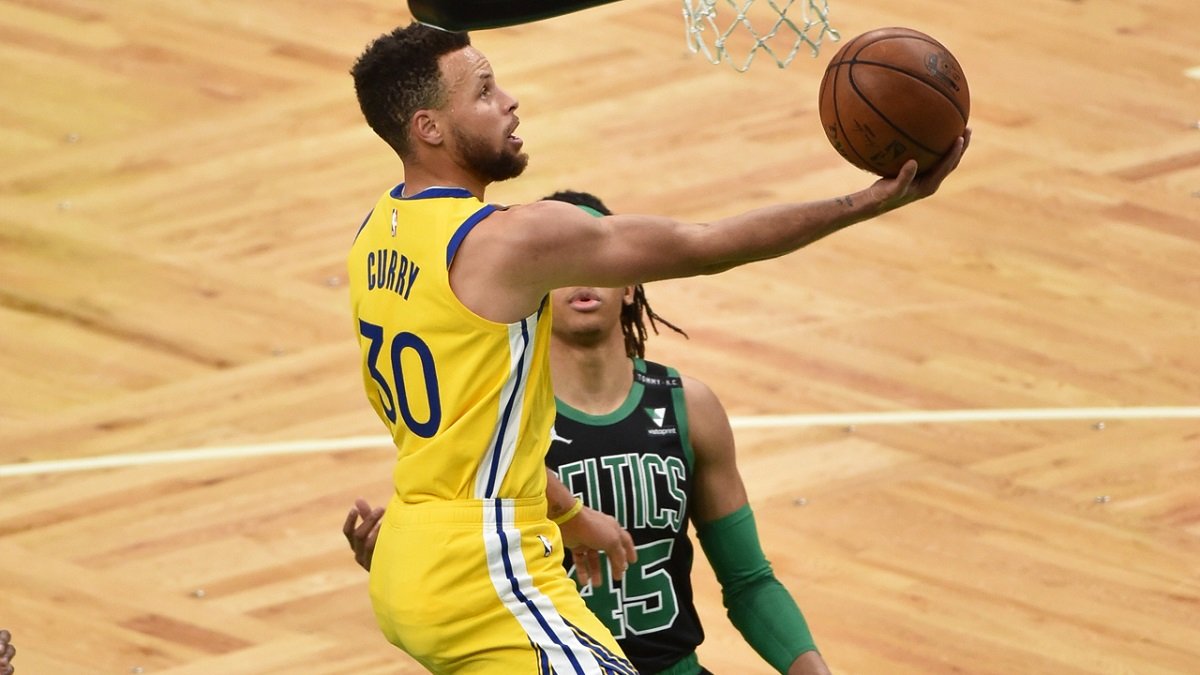 According to head coach Steve Kerr, Curry will be a game-time decision on Monday night against the Philadelphia 76ers.
"He's just Steph Curry," said Kerr. "It's not just the skill level, it's the confidence and the bravado. It's the willingness to fail and not think twice about it. He goes for it every time, every play. Competes. Not afraid of failure and trusts his skill, because he's worked his whole life for this, and he's just at the peak of his powers."
After Curry's recent surge, he's currently ranked #2 in NBA scoring with an average of 31 ppg. He only averaged more than 30 points in a game once in his career, during a sensational 2015-16 season in which he won his second MVP award.
Curry made headlines last week when he passed Wilt Chamberlain for first place on the Warriors' franchise all-time scoring mark.
Spicy Curry Time
Curry is on a heater. He dropped 40-plus in four of his last seven games, including a 53-point outburst in an upset win over the Denver Nuggets last Monday night. He knocked down 10 3-pointers in that win.
Curry got hot at the end of March and tallied at least 30 points per game in his last 10 contests. He's the first player over 30-years old to pull off that high-scoring output since Kobe Bryant went on a heater in 2012.
"There are a lot of adverse things in the world a lot bigger than watching Steph Curry shoot treys," said Boston Celtics coach Brad Stevens. "The smallest part of me enjoys it. I just hate competing against him. But man, do I love watching him.
Curry most recently dropped 47 points in a loss against the Celtics, including 11 treys. If he hadn't sprained his ankle, he might've dropped 50.
"I have supreme confidence," said Curry. "I've been blessed with a very special skill set that I'm trying to continue to master and hone and get better at. And that's showing, the work is showing, so I'm trying to obviously sustain that for this season because it's required for us to get to where we want to go."
In the last four games, Curry knocked down 10 or more 3-pointers three times. In the month of April, he's shooting 49.2% from downtown.
On Deck: 76ers, Wizards, Nuggets, Kings
The Golden State Warriors (28-29) are fighting for a spot in the Western Conference playoffs. The Warriors are currently on the bubble and ranked #9 overall in the West. If the season were to end right now, the Warriors would have to play the San Antonio Spurs in a play-in tournament game, which is now a part of the new format for the NBA playoffs.
Despite Curry's sizzling scoring streak, the Warriors went only 5-5 in their last 10 games. They had won four in a row before the Celtics tripped them up over the weekend.
The Warriors still gave two more games left in a five-game road trip. They meet the top-ranked Philadelphia 76ers (39-17) on Monday and then play the struggling Washington Wizards (23-33) on Wednesday. Over the weekend, they return home to San Francisco and play the Denver Nuggets (36-20) on Friday and the Sacramento Kings (23-34) on Sunday.
Check out more highlights and installments of NBA High Guys.