Tom Izzo's Michigan State squad boasts five returning starters from last year's Final Four team, including the nation's top point guard, Cassius Winston, which is why the Spartans enter the 2019-20 college basketball season as the favorite to win the March Madness championship at 6/1 odds.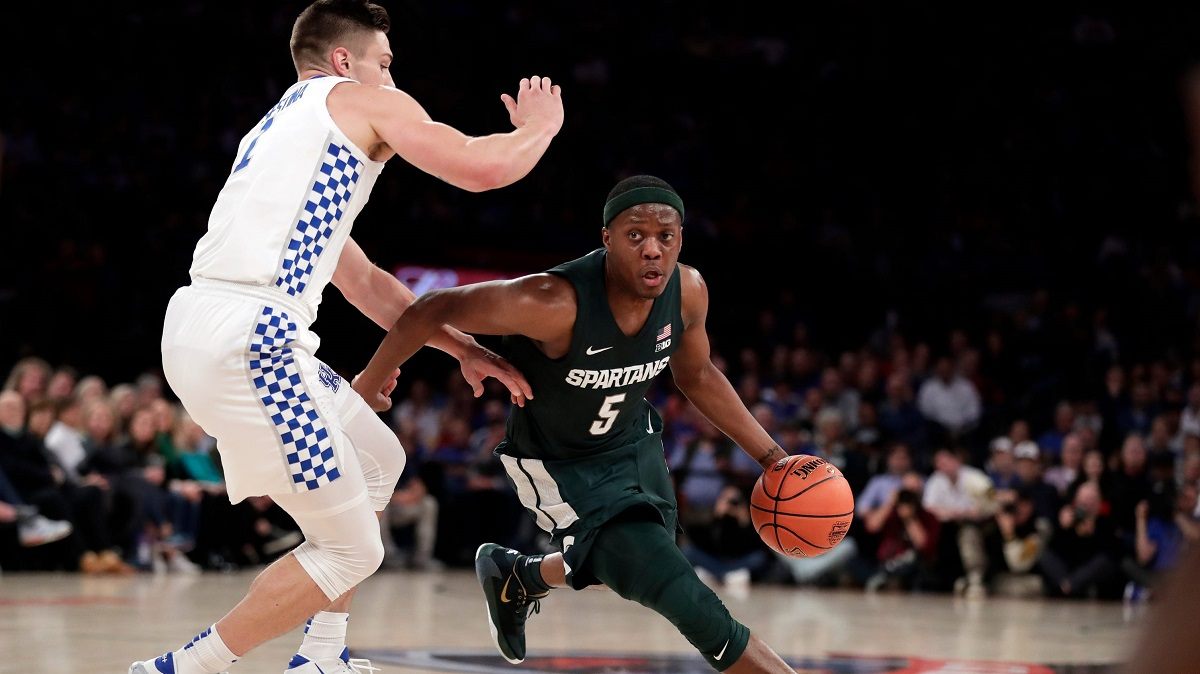 Kentucky and Kansas are the second favorites with 8/1 odds each, according to William Hill.
Last season, Kansas came into the 2018-19 preseason as the #1 ranked team in the AP College Basketball Pool. This season, the pollsters tapped Michigan State with the preseason #1 ranking, and they ranked Kansas #3 behind Kentucky at #2. Bill Self's squad at Kansas are 8/1 odds to win the 2020 March Madness championship.
The big dogs in the ACC, Duke and North Carolina, round out the Top 5 on the board. Roy Williams and the Carolina Tar Heels are 10/1 odds to win their third title since 2009. Meanwhile, Coach K and Duke are 12/1 odds to win their third title since 2010.
MARCH MADNESS CHAMPIONSHIP ODDS:
Michigan State Spartans 6/1
Kentucky Wildcats 8/1
Kansas Jayhawks 8/1
North Carolina Tar Heels 10/1
Duke Blue Devils 12/1
Florida Gators 14/1
Louisville Cardinals 16/1
Memphis Tigers 18/1
Villanova Wildcats 20/1
Gonzaga Bulldogs 20/1
Virginia Cavaliers 25/1
The defending champions, Virginia Cavaliers, are 25/1 odds to become repeat March Madness winners. History is against Tony Bennett and Virginia. Ever since UCLA and John Wooden won seven consecutive championships between 1967-1973, Duke and Florida are the only two schools to win back-to-back March Madness championships.
There hasn't been a repeat champion in men's college basketball since Billy Donovan led the Florida Gators to back-to-back titles in 2006 and 2007. In the early 1990s, Coach K and Duke won March Madness in 1991 and 1992.
Sparty Party
You can never count out coach Tom Izzo when it comes to March Madness. Even when Michigan State is having a bad year, they're still a threat. But this year, Michigan State is the odds-on favorite to win another title for the Spartans.
Last season, Izzo guided the Spartans to his eighth Final Four since he took over the team in the mid-1990s.
It's rare to have all five starters return for a top-notch hoops program, especially in the one-and-done era. Point guard Cassius Winston could have gone pro, but he returned to East Lansing for his senior season. The Spartans' floor leader led them in scoring, averaging 18.8 points and 7.5 assists per game.
Josh Langford averaged 15 ppg last season, but he's poised to have a breakout year as soon as he returns from a foot injury in January. Michigan State's other returning starters include Aaron Henry, Xavier Tillman, and Thomas Kithier.
Michigan State started the season on the wrong foot with a 69-62 loss to #2 Kentucky in the Champions Classic at MSG. Winston dropped 21 points in the loss. Despite the loss to Kentucky, Michigan State's odds have not changed.
"It is a very difficult thing to play that kind of competition this early," said Izzo.
Michigan State got picked off by Texas Tech in the 2019 Final Four, and they're on a mission to return to the Final Four with an ultimate goal of winning the championship. Between Winston and Izzo, it's hard to bet against the Spartans. Michigan State is the clear betting favorite to win the 2020 March Madness tourney, at 6/1 odds.
One-and-Done BBN
The era of Kentucky's dominance with one-and-done superstars is about to come to an end. For now, they continue to have one of the best incoming crops of potential NBA stars.
Coach John Calipari is seeking his first title for Kentucky since 2012. He's had the benefit of attracting top talent, but even a new batch of five-star recruits every season isn't enough to win a championship. But, maybe this is his year? Kentucky is only 8/1 odds to win the 2020 edition of March Madness.
This year's blue chippers for Big Blue Nation include Tyrese Maxey from Texas.
Kentucky got off to a good start with a victory over Michigan State in the Champions Classic at MSG. Maxey came off the bench, and dropped 26 points. Maxey also hit a huge three-pointer to secure a victory for Kentucky.
"I wanted him to come in firing," said Calipari.
Considering the high volume of top-level NBA players that played at Kentucky, Maxey had one of the best freshman debuts in recent memory.
UNC and Duke
In the last decade, Duke or North Carolina have won four March Madness basketball championships. The basketball gods have been kind to the ACC. Toss in Virginia's victory last season, and that's five ACC teams to win the championship since 2009. Plus, UNC was a runner up in 2016 after losing to Villanova by only three points.
Duke no longer has their trio of super frosh with Zion Williamson, RJ Barrett, and Cam Reddish. But that's okay, because Tre Jones stuck around for his sophomore season, and he's the "veteran" old guy on a team that rosters four more top frosh, including Cassius Stanley, Wendell Moore, Matt Hurt, and Vernon Carey. Hurt, Carey, and Stanley all started against Kansas, and they each posted double digits in points.
"One of the main things I have to learn how to do is sub," joked Coach K. "Last couple years might bring in one guy. All of a sudden there are three guys. Not sure I did a good job, but it worked."
UNC lost four key players, including Coby White, Like Maye, Cam Johnson, and Nassir Little. That's okay, however, because they have Rechon "Leaky" Black back this season. "Leaky" only scored 2.5 points per game in limited action last year, but he has a chance to make an impact this season as a starter.
Roy Williams added a couple of senior transfers to his lineup that includes Christian Keeling (18.7 ppg with Charleston Southern) and Justin Pierce (14.9 ppg with William and Mary). His two blue-chip freshman include Cole Anthony and 6-foot-10 big man, Armando Bacot. Cole is the son of UNLV star and former Knicks point guard, Greg Anthony.
Rock Chalk Jayhawk
Kansas started the season with a 68-66 loss to Duke at Madison Square Garden in the Champions Classic.
"That was a game either team could have won multiple times," said Kansas head coach Bill Self. "It's a learning experience. Not sure a game, win or lose on November 5, will count much in March."
Devon Dotson averaged 12.3 points per game in his freshman season. He's the focal point of the Kansas offense this season, and led the Jayhawks in scoring with 17 points against Duke.
Kansas' big man, 7-foot center Udoka Azubulke, played only seven games last year after his season ended prematurely with wrist surgery. In his previous 45 games, he averaged over 13 points and seven rebounds.
Kansas lost last season's top scorer, Dedric Lawson (19.4 ppg), who is currently in the NBA D-League. Between Dotson and Azubulke, Bill Self has a good core to build around. Kansas comes into this season as a favorite, with 8/1 odds to win the 2020 March Madness championship.