In the 2019 Final Four games, #3 Texas Tech's smothering defense shut down #2 Michigan State 61-51, while Kyle Guy scored six points in the final nine seconds for #1 Virginia, including three points on a controversial foul call, to defeat #5 Auburn 63-62.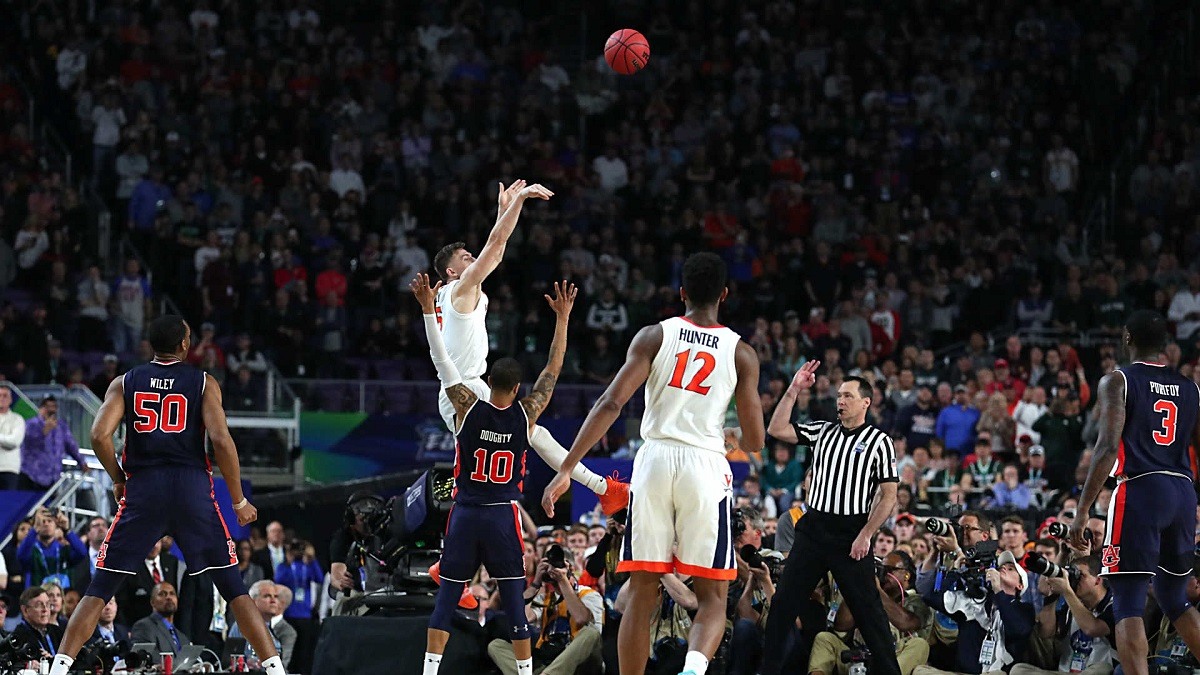 Texas Tech will meet Virginia in the national championship game on Monday night at US Bank Stadium in Minneapolis, Minnesota. Neither team has won a college basketball title before.
Texas Tech defeated Gonzaga in the Elite 8 to appear in the school's first Final Four. Virginia needed overtime to defeat Purdue in the Elite Eight. Tony Bennett's Cavaliers appeared in its third Final Four, and only first since the end of the Ralph Sampson era.
At the 2018 March Madness, #16 UMBC knocked out top-seed Virginia in a historic loss. Virginia became the first-ever #1 seed to lose to a #16 seed.
Inside of a year, Virginia went from the most-embarrassing loss in the history of their program to a chance to win the national championship.
Texas Tech 61, Michigan State 51
Michigan State came into this game as a 2-point favorite, but bookmakers expected a low-scoring game against Texas Tech's relentless defense.
Michigan State's freshman Aaron Henry found himself in foul trouble with two quick whistles. The Spartans struggled to score in the first half with only 21 points. Their lack of scoring, combined with tough defense from Tech, ultimately doomed Michigan. Tech pulled away in the second half and Tom Izzo's squad shot better in the second half, but they couldn't keep up with Tech.
Tech harassed Cassius Winston all night long. The best point guard in the country finished with a 4-for-16 shooting clip. He went a perfect 6-for-6 from the free throw line and finished with only 16 points.
Kenny Goins and Xavier Tillman combined for 18 points per game this season, but Tech held them to only seven with Goins shutout completely.
The Spartans did a good job at shutting down future NBA lottery pick Jarrett Culver and Davidi Moretti. However, grad transfer Matt Mooney stepped up and led all scorers with 22 points.
"Mooney is obviously very, very talented," said head coach Chris Beard. "But the thing that impressed me tonight was his courage. Wanting to make those big plays in the moment."
The sharpshooting Mooney went 4-for-8 from thee-point land.
Culver finished with only 10 points, but he played excellent defense on Winston and McQuaid all night. Michigan State struggled from three-point land and hit only 7-for-24. Winston, McQuaid, and Goins combined for 5-for-19.
Virginia 63, Auburn 62
During the second half, Virginia tried to pull away with a ten-point lead and the score at 57-47. Little did they know they'd go cold the next 5 minutes and 15 seconds and not score a single point, yet still pull out a victory.
With 5:30 remaining, both of Auburn's top scorers, Bryce Brown and Jared Harper, were having quiet nights until  Brown knocked down back-to-back three-pointers to help ignite a rally by the Tigers. Auburn clamped down on defense and didn't allow a bucket from Virginia for five-plus minutes. During that whirlwind comeback, Brown drilled four treys and Auburn seized the lead 61-57.
Virginia, desperate for a basket, turned to Kyle Guy. The junior guard hit a three-pointer from the corner to cut the lead to a single point.
Harper missed the back-end of a one-and-one. Auburn led 62-60 with seven seconds remaining. The next two plays were the source of controversy. Virginia should have been called on a double dribble advancing the ball, but the referees missed it.
On a final three-point attempt by Kyle Guy, the officials called a foul on Samir Doughty as time almost expired. With 0.6 remaining on the clock, officials awarded Guy three free throws. Guy knocked down the first two to tie the game at 62-62. Bruce Pearl called a timeout to ice the shooter. Guy connected on his third and final free throw to put Virginia ahead 63-62.
"I just literally told myself that we dream of these moments," said Kyle Guy. "And to be able to make one happen was special."
Guy finished with 15 points. Ty Jerome led Virginia with 21 points and 9 rebounds. De'Andre Hunter added 14 points.
Jared Harper had an off night with only 11 points. Brown scored all 12 of his points during the late offensive flurry by the Tigers. Overall, they were 6-for-16 from three-point range.
Samir Doughty came off the bench to lead Auburn in scoring with 13 points. Virginia's defense shutdown Malik Dunbar with zero point. Dunbar and Marjel Purifoy combined for 0-for-7 from beyond the arc.
Gene Steratore breaks down the crucial foul call. pic.twitter.com/qFyetJmt59

— CBS Sports (@CBSSports) April 7, 2019