On International Amateurs Signing Day, the New York Yankees snatched up one of the premier prospects from Latin America in this century when they signed 16-year old Jasson 'El Marciano' aka 'The Martian' Dominguez to a deal that included a $5.1 million bonus.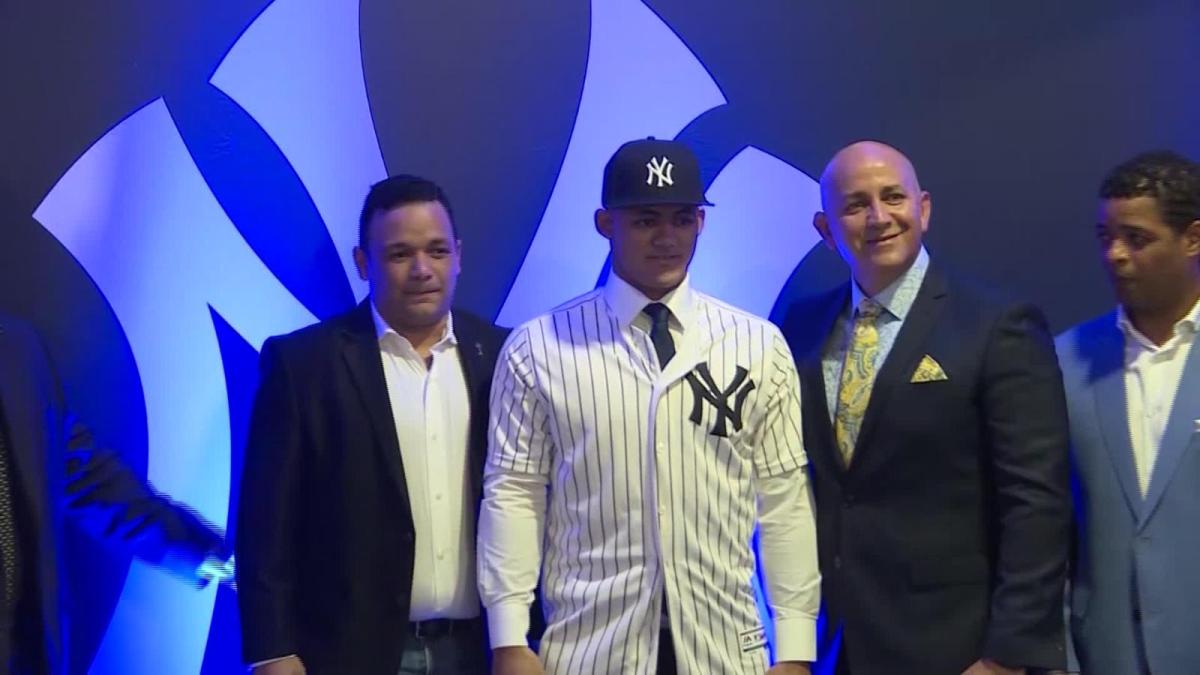 The power-hitting switch-hitting centerfielder from Valverde, Dominican Republic is a five-star prospect with an exit velocity of 110 mph. Local scouts compared him to All-Star Mike Trout, but even better.
"He's like Trout," said one anonymous general manager. "And Trout wasn't even close to being this good at 16."
Another international scout compared the young Dominguez more to Yankees legend Mickey Mantle, who was the ultimate five-tools player with extreme power and blistering speed.
"It's like Mantle," said one scout. "He's not 6-foot. He's a switch-hitter. He's got crazy power. He's fast as s–t. He loves to play ball."
Another scout avoided pegging Dominguez into a baseball hole. Instead, he felt he had a physique (5-foot-11 and 195 pounds) more like a powerful running back like Maurice Jones-Drew.
Other teams such as the Texas Rangers, LA Angels, and Tampa Rays were also interested in signing Dominguez. The Yankees won out as the highest bidder.
El Marciano
Dominguez was only 13-years old when he arrived at a baseball academy ran by Ivan Noboa. It didn't take long before his coaches and teammates nicknamed him "El Marciano", which means "The Martian".
"Jasson has a game similar to Mike Trout, " said his trainer Ivan Noboa. "Except that he's a switch-hitter. It's a little bit unfair to put them next to each other. It's a heavy weight to carry. But if someone can do it, it's him."
Dominguez is freakishly fast. Scouts clocked him with a 6.3 second 60-yard dash. Even though he's only 16, he posted a better time than the fastest prospect from the MLB 2019 Draft, Mo Hampton, who is headed to LSU to play cornerback.
The New York Yankees allotted 95% of their international bonus money to Dominguez. They have only $300,000 leftover to sign other potential prospects. It's apparent that the organization went all-in on The Martian.
The Martian is only 16, so he will be unable to play in the Yankees organization for at least a full season. If Dominguez wants to go to school, the Yankees will cover his tuition with a special scholarship worth $250,000.
Felix Dominguez, Jasson's father, named his son after Jason Giambi. The elder Dominguez loved the New York Yankees especially the Yankees 1B power hitter. He and his wife settled on Jasson to pay homage to Giambi, but with an additional "s".