The New York Yankees made the first significant addition of MLB trade deadline season on Wednesday night, as they traded for Kansas City Royals outfielder Andrew Benintendi.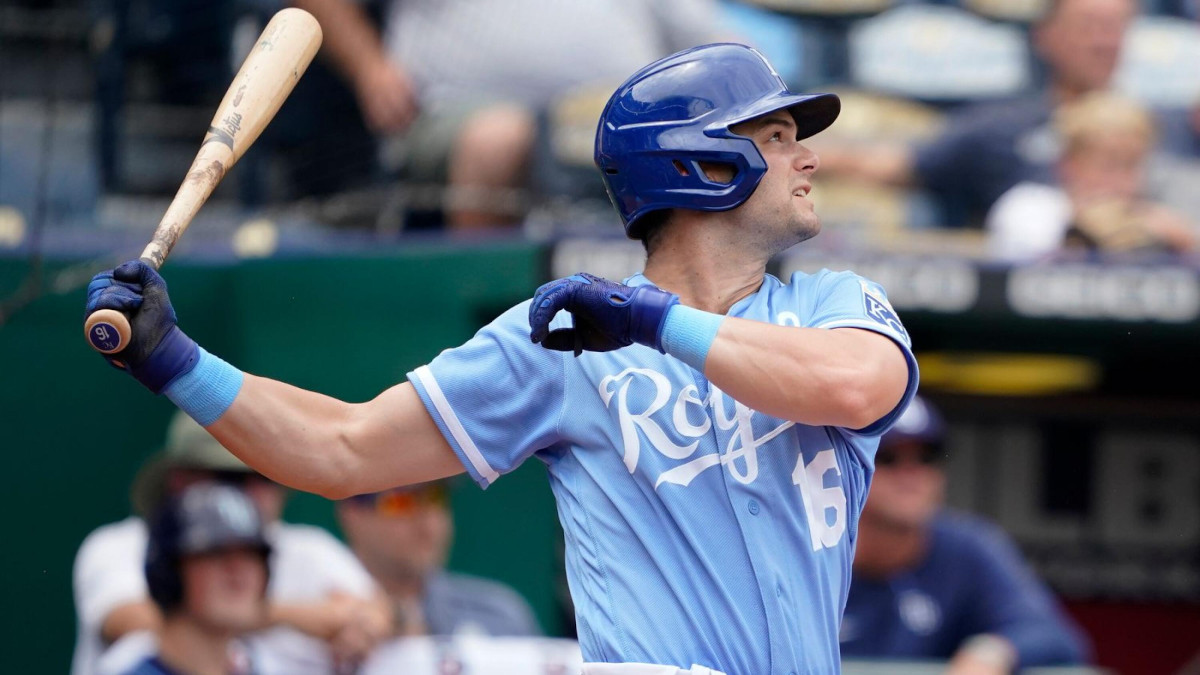 The Yankees sent three minor league pitching prospects – Beck Way, Chandler Champlain, and TJ Sikkema – to Kansas City in exchange for Benintendi.
Benintendi adds lefty bat to Yankees lineup
The 28-year-old Benintendi made his first All-Star Game appearance this year. He is hitting .320 with three homers and 39 RBIs so far this season. While Benintendi isn't hitting for the modest power numbers he usually produces – he hit at least 13 home runs in each of his past four full seasons – he is hitting for the highest average and on-base percentage (.387) of his career.
"He's a really good player," Yankees outfielder Aaron Judge said of Benintendi. "I've had a chance to play against him for quite a few years when he was playing over in Boston. I've seen him do a lot of impressive things."
Adding a left-handed bat that can hit for average could add balance to a Yankees lineup that seems heavy on home run hitting. For New York manager Aaron Boone, however, it's just about getting another great bat in his lineup every night.
"It's fake news that we've got too many power hitters in the lineup, too many sluggers," Boone told reporters. "We've got savages in the lineup, really good hitters. Benintendi is a great hitter, gets on base at a really high clip, hits from the left side, so, yeah, gives you some balance."
Any move that the Yankees make is designed with the postseason in mind. At the moment, New York leads the AL East by 11.5 games with a 66-33 record, making the Yankees a virtual lock to earn a playoff spot and a first-round bye. FanDuel Sportsbook lists the Yankees as a +330 co-favorite alongside the Los Angeles Dodgers to win the World Series this year.
Vaccination status still in the air
That does make one aspect of the Benintendi trade interesting for the Yankees. When the Royals traveled to Toronto earlier this month, Benintendi was among 10 Royals players who stayed behind because they never obtained a COVID-19 vaccination.
The Yankees believe that Benintendi is open to getting a vaccine, according to an ESPN report. That could be crucial if New York plays the Blue Jays in the playoffs. In addition, the Yankees play in Toronto again from Sept. 26-28. No Yankees missed the team's earlier trips to Toronto this year.
Benintendi says he didn't discuss his vaccination status with the Yankees before the trade.
Andrew Benintendi on his vaccination status/plan: "I'm still positioned in the same spot. I'm open minded about it. I'm not against it. But time will tell."

Benintendi said that getting vaccinated was not something he had to agree to before getting traded.

— Lindsey Adler (@lindseyadler) July 28, 2022
"I'm still positioned in the same spot. I'm open minded about it," Benintendi said, according to The Athletic's Lindsey Adler. "I'm not against it. But time will tell."
As for the Royals, the Benintendi trade will likely be the first of many ahead of the trade deadline. Kansas City controls several desirable players who the team could trade for prospects, including two-time All-Star Whit Merrifield and relief pitchers Josh Staumont and Scott Barlow.