The New York Yankees are shutting down their star pitcher Luis Severino for two weeks after a shoulder inflammation diagnosis, and he's expected to miss a start on Opening Day.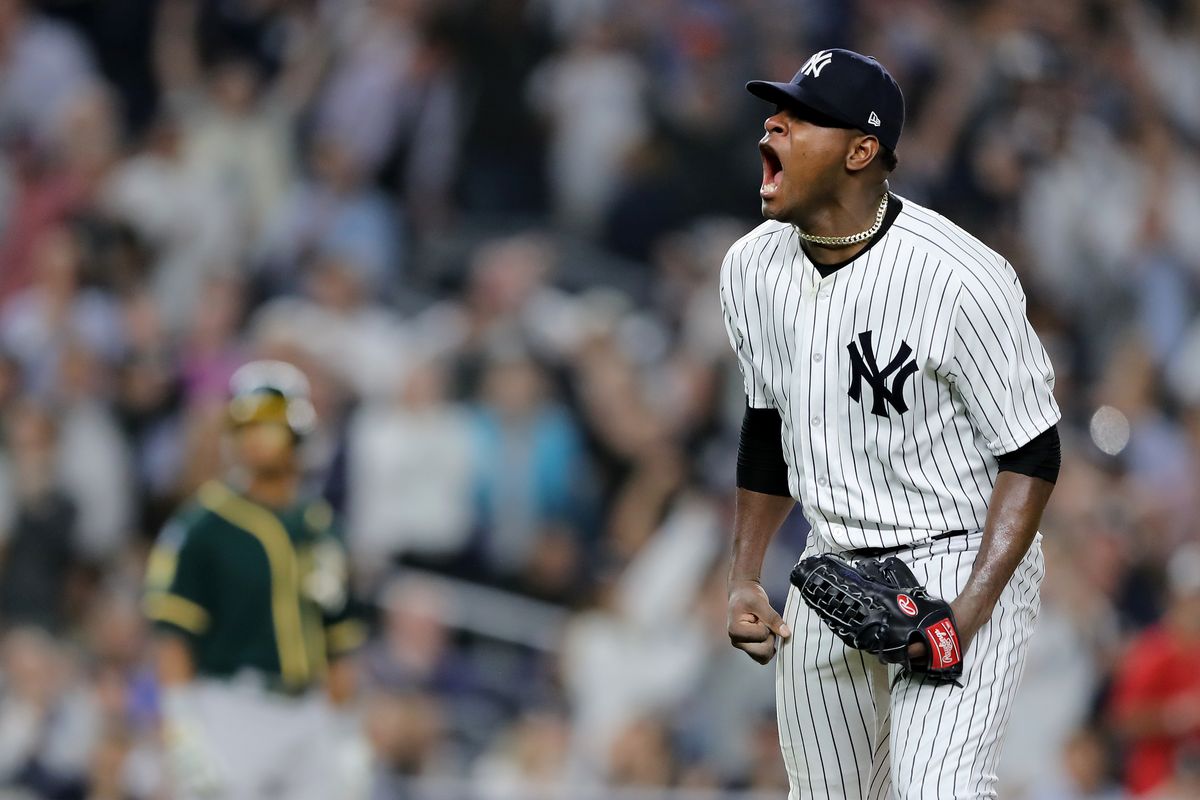 Severino, 25, went 19-8 last season with a 3.39 ERA and 1.14 WHIP. He recently signed a four-year contract extension worth $40 million.
At this point, the media circus in New York City is wondering whether or not general manager Brian Cashman will stand pat, or make a bold move and sign one of the numerous free agent pitchers on the market.
Dallas Keuchel (76-63 record and 3.66 ERA) is the best arm on the market and he's a left-hander. Keuchel has postseason experience with a World Series win with the Houston Astros two seasons ago. However, all signs point to the Yankees dealing with the injury in house. The Yankees have one of the better starting rotations in baseball. Their depth also includes three young pitchers who saw action last season: Luis Cessna, Jonathan "Johnny Lasagna" Loaisiga, and Domingo German.
Sweet Five
The Yankees have a strong starting five with three young arms in reserve. Severino is the top dog in a rotation that includes lefty James Paxton, Masahiro Tanaka, JA Happ, and CC Sabathia.
Sabathia will miss Opening Day because he's recovering from minor surgery. The Yankees club house leader will retire after this season. He should probably start on Opening Day, but he will not be ready in time.
Tanaka, the Yankees Ace for several seasons, will probably get the ball on Opening Day. Manager Aaron Boone has not named a starter yet. Paxton could be in consideration, but he's essentially the new guy. Paxton is playing in his first season in pinstripes after the Mariners traded him to the Bronx.
Out of Gas Sevy
Severino looked like a different pitcher in the second half of the season. He ran out of gas. In the playoffs, he went 0-1 in two starts with a 7.71 ERA.
The Yankees do not want to repeat last season's mishandling of Severino. They took the cautious approach this time around and shut him down for two weeks. They will reevaluate him, but if he's not 100% they will not rush him back into the rotation.
The Yankees have World Series aspirations this year and will need their Ace to pitch his best in postseason. The sore shoulder at the start of Spring Training might mean the Yankees give him more rest during the regular season. That means more opportunities for their young arms like Luis Cessa, Domingo German, and Johnny Lasagna. They started 23 games last season and went a combined 5-10 last season in spot starts.
Is Dis Da Year?
Is this the year the Yankees break through and win the World Series? The team will be gunning to win a title for CC Sabathia before he retires at the end of the season. The Bronx Bombers are also chasing a home run record that they set last season. Aaron Judge is healthy right now and he's already bashed several home runs in Spring Training.
The Yanks recently shored up their bullpen after David Robertson left in free agency. The Yankees signed relievers Adam Ottavino and Zach Britton. They join the dynamic duo of setup man Dellin Bettances and closer Aroldis Chapman.
According to the South Point Casino and Sports Book in Las Vegas, the Yankees are 9/2 odds to win the 2019 World Series.