Giancarlo Stanton went 0-for-7 with five strikeouts in Sunday's 8-7 loss by the New York Yankees to the Baltimore Orioles, prompting even more boos from Yankee fans who are quickly tiring of the slugger's poor start.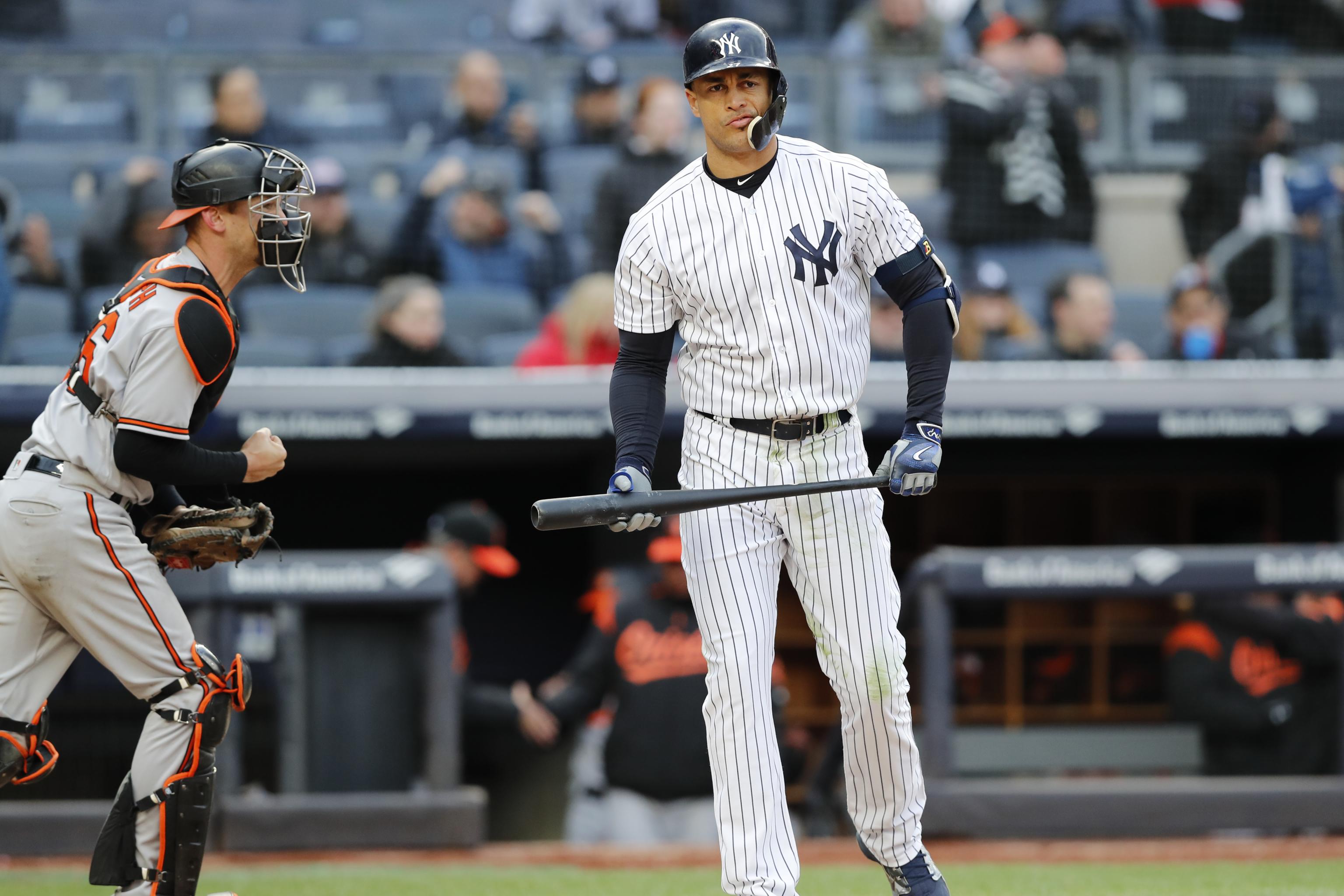 Although the season is only 10 games old, Stanton has already accomplished a major league first. He is the first player in the live ball era (since 1920) to have two five strikeout games without a hit in the same season. Stanton's fifth strikeout came in the bottom of the 12th inning, ending the extra inning loss.
Strikeouts Mounting for Stanton
While Stanton has three homers so far this season, that's about the only good thing that can be said about his first 10 games as a Yankee. The outfielder has struck out 20 times in 48 plate appearances, and is hitting just .167 so far. That's not what New York fans thought they would be getting when they signed last year's NL MVP, as Stanton hit .281 with 59 home runs and 132 RBI for the Miami Marlins last season.
"You've just got to look at it as a bad week," Stanton said after the game. "The season's much longer than a week. A couple good games…I can turn it around and help us win."
Whether talking about players like Stanton who can't seem to get out of their way, or those off to incredible starts like the Angels' Shohei Ohtani, there's a tendency from fans to overreact to small sample sizes. But the Yankees might not want to put too much stock into Stanton's slow start. For instance, they can just look at last year, when he was batting just .226 in his first 14 games before he turned things around to put together one of the best offensive seasons in recent memory.
Teammate and fellow power bat Aaron Judge agreed, saying that it would only be a matter of time before everyone forgot about Stanton's early struggles.
"We're going to look back on this in August and laugh about it," Judge said after Sunday's loss. "It's just all about us and making adjustments like I know he will. He's done it his whole career."
Yankees Still Have High Expectations
Stanton's poor performance has been part of a mediocre opening couple of weeks for the Yankees, who entered the year as the favorite to win the AL East. At the moment, they stand at 5-5, 3.5 games behind the Boston Red Sox (8-1). While it's far too early to worry about such a small deficit, Boston's advantage could grow this week, as they host the Yankees for a three game series starting on Tuesday.
Bookmakers are one group that won't overact to a slightly slower than expected start for the Yankees. While some books have marginally lengthened their odds on New York, Ladbrokes still has the Bronx Bombers as an 11/2 choice to win the World Series, just behind the favored Houston Astros (5/1). The Yankees also remain an even money choice to win the AL East, just ahead of the Red Sox (23/20).