As has become customary over the past few years, jockey Hugh Bowman let Winx settle from her outside draw, ranging up on the far outside about mid-pack near the halfway mark of the 2000 meter turf race (just less than 1 1/4 mile), where she stormed home in her usual fashion at odds of less the 1/9.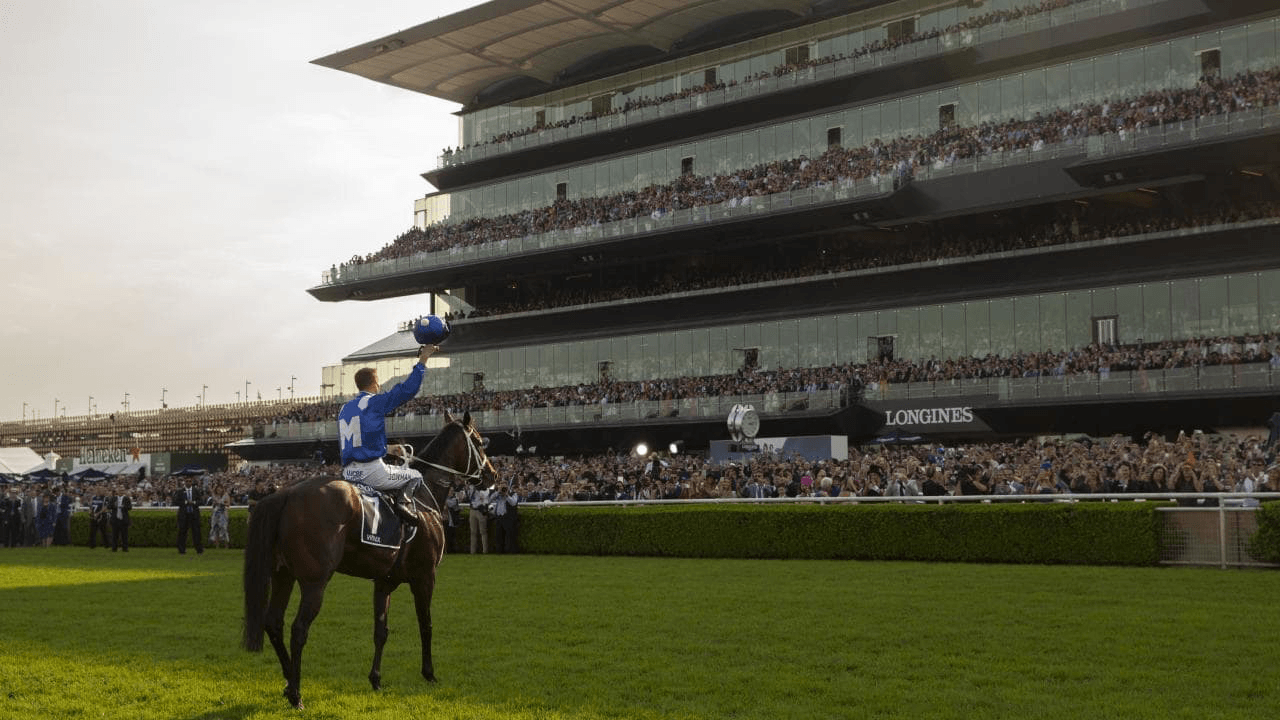 In the end, Winx, the remarkable Australian super horse, was merely laughing at her eight overmatched rivals, speeding up as if she were a sports car, shifting into high gear at the finish to the delight of a 40,000-strong throng of admirers as she crossed the finish line.
It had come to be what fans were expecting, and what the seven-year-old "Wonder from Down Under" continued to deliver without fail.
In the final race of her career Saturday, the Queen Elizabeth Stakes at Royal Randwick, near Sydney, Winx secured her 33rd straight victory, setting a world record not soon to be forgotten, let alone eclipsed.
Thanks for the Memories
At Royal Randwick Saturday, many in the crowd wore blue, the colors of her owners, to honor the horse they believe is one of the all-time greats. After the race, Winx took a farewell jaunt around the track saluting the fans. Then she was greeted near the winner's enclosure by the other riders and horses for her sendoff.
 "I'm just a small cog in the wheel," trainer Chris Waller said after the race, holding back tears of elation in front of Australian television cameras. "It's a thrill to see a horse like this. [I] don't think about winning, just doing your job."
Racing commentators noted after the race that Winx is boosting the sport and creating a legacy through which she'll  always be remembered as "the champion who never let us down."
After Winx's canter around the track with Bowman waving to buzzing race goers with a recording of "Simply the Best" blaring in the background, he told reporters:
"This horse has captured the hearts of a lot of people around the globe. There is really nothing more for me to say. I mean, she just showed you what she is capable of doing."
Questioning Winx's Greatness?
The only challenge to Winx's remarkable legacy is from those in other parts of the world who wish they had a chance to see her compete in a different racing environment — the daughter of Street Cry never raced outside of Australia.
Will the decision to stay home be detracting from her reputation because former Aussie champs such as Phar Lap in 1930's and Black Caviar earlier this decade did win races abroad?
Waller addressed that in an interview with Racing NSW:
"Do I have a regret that we've never taken on other horses in other parts of the world? Well, yes, of course I do," Waller said. "She's beaten everything that's come to Australia to take her on. She's beaten everything from Australia. She doesn't do it by a length, she does it with authority."
But as he saw it. the stress of travel halfway across the globe wasn't worth the risk.
"She could beat the best horses in the world more often than not," Waller insisted, "but the travel and strain might break her heart. She's one of those horses that puts everything she has into it. Do we want heartbroken horses when they're three or do we want longevity? You [reporters] are getting longevity and I hope you're enjoying it."
For Winx's complete record on the racetrack, click here.
Winx's next career will be as a mother. Her owners have yet to decide which stallion, local or international, she might be bred to. Race fans are anxiously awaiting the decision and looking forward to seeing her offspring on the track.
Assessing her career as a broodmare, meanwhile, provides something for race fans to look forward to several years in the future.