No. 1 seed Ashleigh Barty defeated Angelique Kerber 6-3, 7-6 (7-3) to advance to her first Wimbledon final, where she'll take on No. 8 seed Karolina Pliskova on Saturday.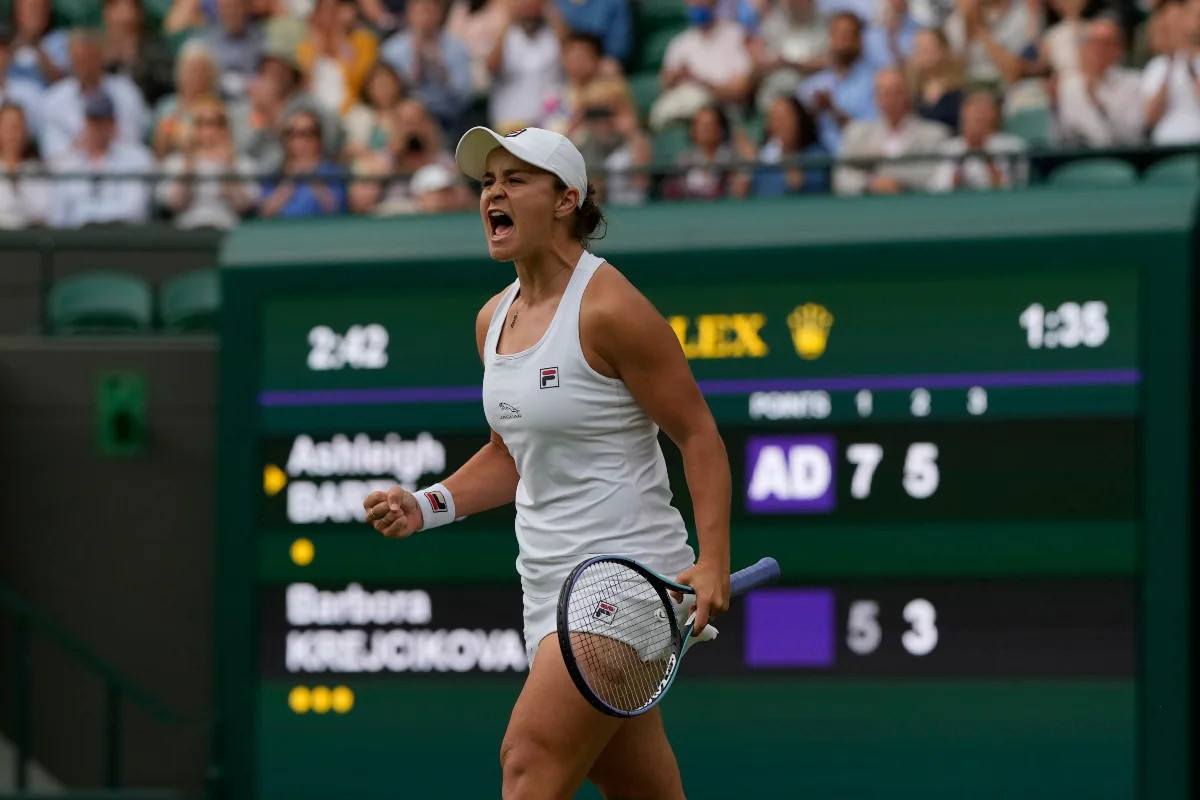 Both women have already made their best career Wimbledon runs, with Pliskova looking to win her first Grand Slam title.
Barty continues comeback from hip injury
Barty looked to be in control during the first set, but Kerber staged a comeback, taking a 5-2 lead in the second. Kerber nearly won the set right there, taking Barty to deuce before the Australian held serve. Barty followed that up with a break to get back in the set, eventually winning the match via a tiebreak.
"I've had ups and downs and everything in between and I wouldn't change one day or one moment or one, kind of, road that we've taken in my path and my journey," Barty said after the win. "It's been incredible. It's been tough. There have been so many things that led to this point."
Barty dropped out of the French Open due to a hip injury, but has since recovered to play some of the best tennis of her career over the past two weeks.
"Everything had to be spot on to give myself a chance to play pain-free and to play knowing that I could trust my body," Barty said. "If you told me a month ago we'd be sitting in this position, I really wouldn't have thought that we would even get close."
Barty will come into the Wimbledon final as a -275 favorite over Pliskova (+220), who took three sets to get past No. 2 Aryna Sabalenka.
Sabalenka makes first Wimbledon final
It was Sabalenka who jumped out to the early lead in their semifinal, thanks to an aggressive, high-risk style that paid dividends in the first set. But Pliskova held on and eventually capitalized on her chances, breaking once in both the second and third sets on her way to a 5-7, 6-4, 6-4 victory.
"It was just super important to stay in the game, stay focused," Pliskova said after her win. "That's what I did."
Now, Pliskova says she's looking forward to facing Barty, who she has played seven times before. Barty leads those meetings 5-2.
"Of course, she makes you feel a bit ugly with the game she's playing," Pliskova said of the matchup with Barty. "At least I have a feeling about the game overall with her, which is important. Definitely there's going to be chances."
Barty has the opportunity to become the first Australian woman to win Wimbledon since Evonne Goolagong did so in 1980. Barty has worn an outfit as a tribute to Goolagong throughout the tournament, and says she's well aware of what a win on Saturday would mean.
"To kind of give myself a chance to create some history, almost in a way that's a tribute to her, is really exciting," Barty said.