With quarterback Joe Flacco's career in Baltimore seemingly over, attention now turns to where the soon to be 34-year-old signal caller will play next season. Flacco injured his hip on Nov. 4 against the Steelers and was replaced by rookie Lamar Jackson. When he recovered from his injury, though, coach John Harbaugh decided to stick with Jackson.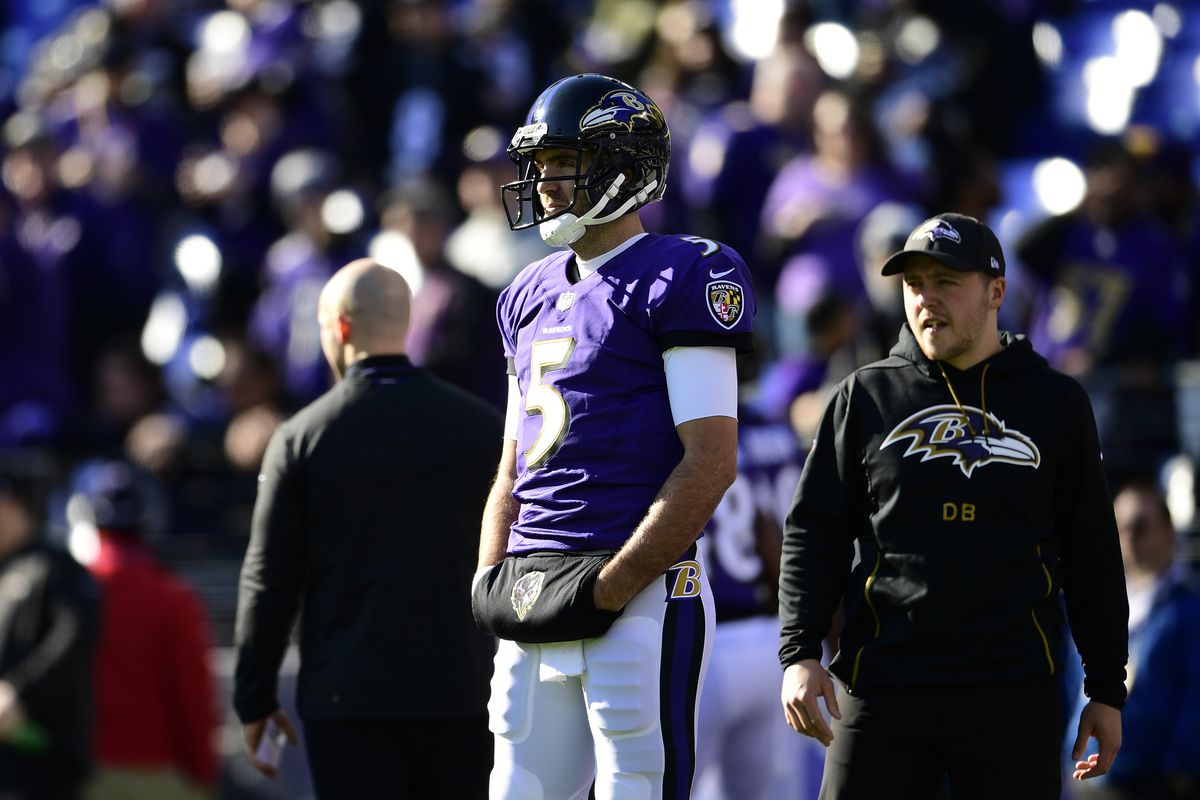 Oddsmakers at Bovada believe he'll be in a Washington Redskins uniform next season. They have made them the +220 favorite.
The Redskins lost starter Alex Smith to a broken leg and a serious infection that could have resulted in amputation. Fortunately the infection was contained and cured, but his return to football is up in the air. The team also lost its backup Colt McCoy when he suffered a broken leg.
The Jacksonville Jaguars are next at +240. They are likely to release starter Blake Bortles and will focus on a quarterback in April's NFL Draft. They will want a veteran to mentor whoever they get and be a bridge until the rookie is ready. That was pretty much what happened in Baltimore, and Flacco might not want to relive that experience again, but if the Ravens can trade him, he might not have a choice.
Other Possible Suitors
Miami and Oakland are at +400 and could also be a potential landing spot for Flacco. The Dolphins fired coach Adam Gase and are in the process of hiring his replacement. Whoever the new head man is, might not want Flacco, but again if Miami doesn't have to give up a lot to get the veteran, they might be stuck with him. It would be an upgrade from what the QB situation was in South Florida. Ryan Tannehill wasn't the answer, and the team might take a chance on Flacco.
The Raiders seems like a less likely destination for Flacco, but people have gone mentally insane trying figure out the mind of Jon Gruden. Gruden apparently isn't happy with Derek Carr, and could be shopping him around. Acquiring Flacco would seem like a lateral move, though. But again no one knows what is rattling around the coach's head. He was the same person who traded away Khalil Mack and Amari Cooper.
The other possibility would be the New York Giants. Eli Manning is an aging quarterback who has had spurts of ineffectiveness. They are listed at +550 to take Flacco. Coach Pat Shumur, however, denied being in the market for a replacement.
"Yeah, I want all our players to be back," Shumur said. "I really do. I believe experience matters."
Advantages/Disadvantages to Flacco
The biggest plus for getting Flacco is getting an experienced quarterback who is a Super Bowl MVP. Teams that have an immediate need to fill can put him right in the starter's spot and have a capable signal caller. If a team has a rookie that they want to bring along slowly, Flacco has proven he will mentor them, like he did with Jackson in Baltimore.
A down side to Flacco is his age and diminished skills. Never thought of as a premier passer, he has seen his stats decline through the years. He might be able to win some games, but getting a team deep into the playoffs looks unlikely.
Another disadvantage is his salary. If Baltimore tries to deal him, whoever takes him is on the hook for three years at $18.5 million annually. Some teams might wait and see if the Ravens waive him, then try and get him for a cheaper price.