It's generally assumed the Cleveland Browns will be taking a quarterback with the first overall pick in the 2018 NFL Draft on April 26. Which signal caller they'll take is still up for debate, but internet sportsbooks have placed odds on who bettors believe will receive the first invite to join the Browns.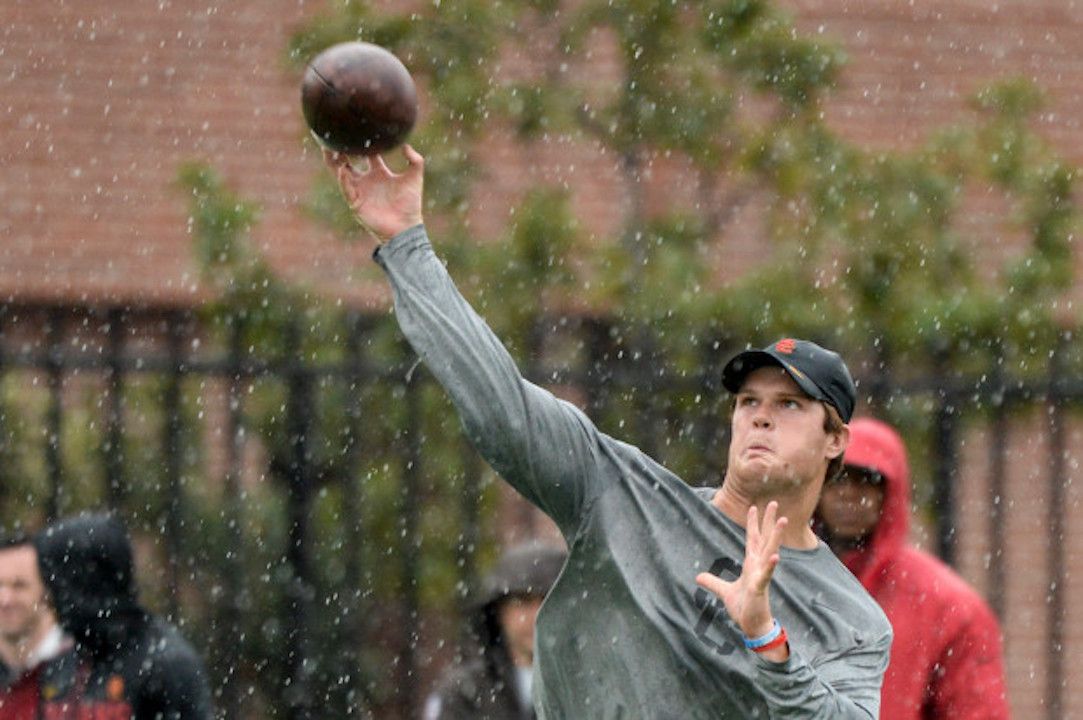 Sites such as Bovada and Topbet are offering several prop bets on the draft, with popular wagers being offered, for example, on which player will be selected on which pick number in the first round. Other available bets include over/unders on how long it takes for certain players to be selected.
USC quarterback Sam Darnold is the consensus No. 1 pick according to draft experts, and the sportsbooks are reflecting as much. Topbet has Darnold at even money, while the next quarterback is UCLA's Josh Rosen at +250. Wyoming's Josh Allen follows at +800.
Running Back in Top Pick Mix
While it's probably a good bet that the first player in the draft to go is a quarterback, there is one running back in the mix who could steal the show as a No. 1 selection. Penn State running back Sequon Barkley was so impressive at the NFL Scouting Combine that he could vault ahead of Darnold and be Cleveland's top pick. The Browns also have a No. 4 selection, so they could be willing to lock down Barkley while taking a gamble that one of those top-quality quarterbacks will still be available.
This gives the team a chance to have two top picks, something that hasn't happened since the 1992 Indianapolis Colts. No team since 1958 had had two top 5 picks in the draft up to that point.
The Browns, who finished the 2017 season at 0-16, have the No. 1 and No. 4 picks. In 2016 they were 1-15. But the Browns have blown opportunities with high picks before, and have had 24 starting quarterbacks since 1999.
Barkley, however, says he would have no problem playing in Cleveland.
"Any team that wants me and is blessing me with the opportunity to play for their franchise is a blessing to me," Barkley said. "You grow up as a little kid dreaming to play in the NFL and you have the opportunity and a team is going to pick you be it the Browns or the Giants or whomever I am going to come in ready to work."
While Darnold's fate appears to be close to certain, other quarterbacks are still wondering where they will end up. At one point, UCLA's Rosen was competing with Darnold to be the first QB picked, but issues with his attitude scared some scouts away.
Multi-Position, Multi-Sport Prospects
The Bruins standout is still projected to be a top pick, but the question of who will take him when hasn't been answered. Topbet has the over/under on where he'll be picked at 4.5 places. The over pays +115, while the under comes in at -145.
Some players aren't even sure yet what position they'll be playing, as it could depend on the team that selects them. Louisville's Lamar Jackson had been steered toward playing as a wide receiver, but he's insisting that he's there to be an NFL quarterback. And having had strong performances at the combine, teams are listening, which  has sportsbooks asking where will he end up in the draft.
Some believe he may fall out of the first round class of selections. Topbet has a yes bet on being picked in the first round at -250, while the no is +190.
The most unusual bet is where a pair of Oklahoma athletes get drafted in different sports. Bovada combined quarterback Baker Mayfield and basketball guard Trae Young in an unusual parlay. Who will get taken higher in their respective drafts. Mayfield is the favorite at -400, while Young is at +250.