Jay Gruden knows that he is basically coaching for his job this season with the Washington Redskins. And oddsmakers don't believe he'll make it to the end of the season.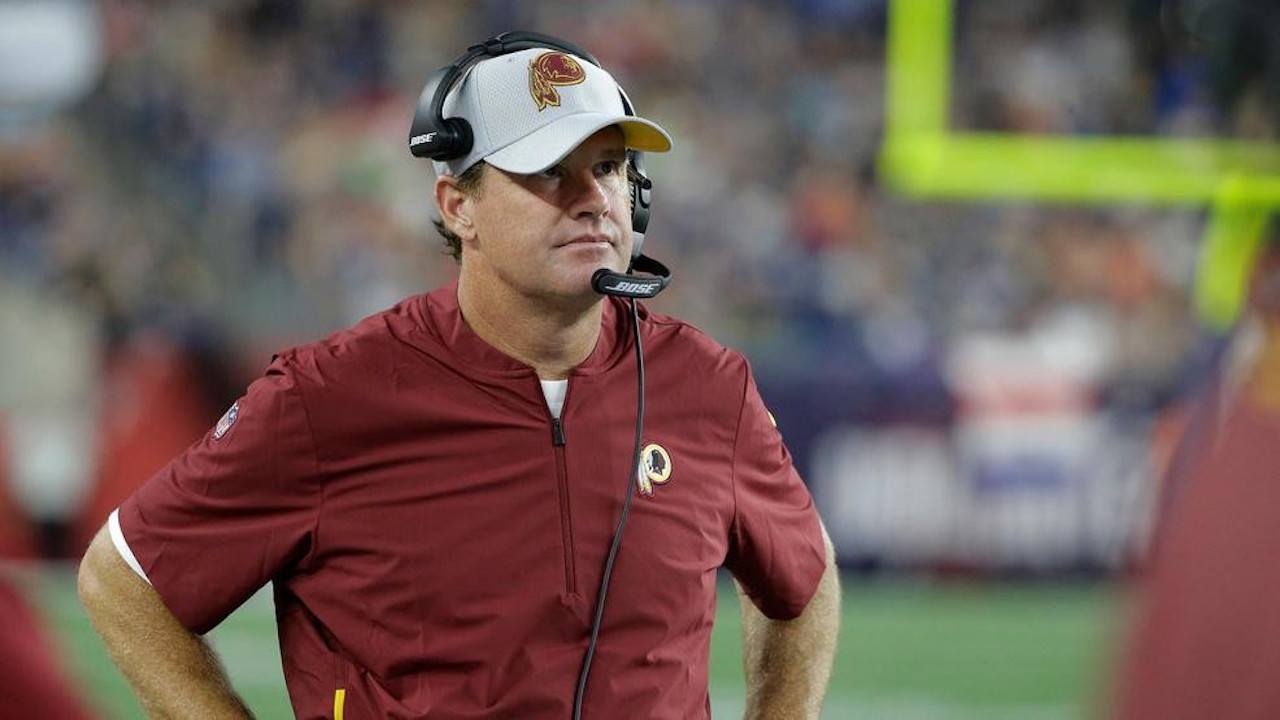 Gruden is the 3/1 favorite according to Bovada. Pat Shurmur of the New York Giants is next at 7/1, while Detroit's second-year coach, Matt Patricia, is third at 10/1.
First NFL Coach to be Fired

Coach                           Team                            Odds

Jay Gruden                   Washington                   3/1

Pat Shurmur                 NY Giants                      7/1

Matt Patricia                 Detroit                           10/1

Bill O'Brien                   Houston                        12/1

Dan Quinn                    Atlanta                          12/1

Doug Marrone               Jacksonville                 15/1

Jason Garrett                Dallas                           15/1

Mike Zimmer                 Minnesota                    15/1

Adam Gase                   NY Jets                        20/1

Brian Flores                  Miami                           20/1

Mike Tomlin                   Pittsburgh                    20/1

Ron Rivera                    Carolina                       20/1

Source: Bovada
Usually, teams wait until at least midseason to make a head coaching change. Last season, the earliest firing was Hue Jackson of the Cleveland Browns. Along with offensive coordinator Todd Haley, he was let go at Week 8.
Gruden Knows Fate
By Gruden's own admission, he knows this could be his last year with the Redskins. The 52-year-old has been with Washington since 2014, but in that time, has only made the playoffs once. The team was eliminated in the Wild Card game by the Green Bay Packers in 2015.
"I've been fortunate they gave me another opportunity," Gruden said. "They could've made a change Year 1 after going 4-12, but they chose to stick with me. If we miss the playoffs, I won't be here next year."
That doesn't appear likely. The Redskins are -800 not to make the playoffs, and +550 to make the postseason. The team finished 7-9 last year, and the Westgate Las Vegas SuperBook actually has their over/under win total for 2019 at six.
Team President Bruce Allen seemed to do a little foreshadowing this summer when he talked to the Associated Press about the team.
"Our goal is to win," Allen said. "We all have a record, and the record's the record. We, at the end of the season, throughout the organization, we evaluate everything we do. It's not an always pleasant evaluation when the results aren't what you want them to be, but there's some logical and rational thinking behind every decision we try to make."
Handicapping Contenders
Shurmur is next on the list, and with the Giants looking more and more like a team in rebuilding mode, they might want a new coach as well as new players. Quarterback Eli Manning could be replaced by rookie Daniel Jones, and running back Saquon Barkley is an established player, but there are several areas the team needs to upgrade at, especially the offensive line.
New York is a -700 not to make the playoffs, and their over/under win total is six. Management might not have the patience to keep Shurmur if the team struggles early.
Houston's O'Brien is another coach that could be shown the door. The team underachieved last year, finishing 11-5, but losing to Indianapolis in the Wild Card playoffs. If the team doesn't make a deeper run in the postseason, O'Brien will likely be shown the door, but it probably wouldn't happen until the end of the season, and there should be at least one coach gone by then.