This is one comeback by FitzMagic that won't happen. Washington Football Team quarterback Ryan Fitzpatrick dislocated his hip in the first game of the season and hoped he could return at some point this season after rehabbing the injury, but the team announced he will go under the knife to have season-ending surgery.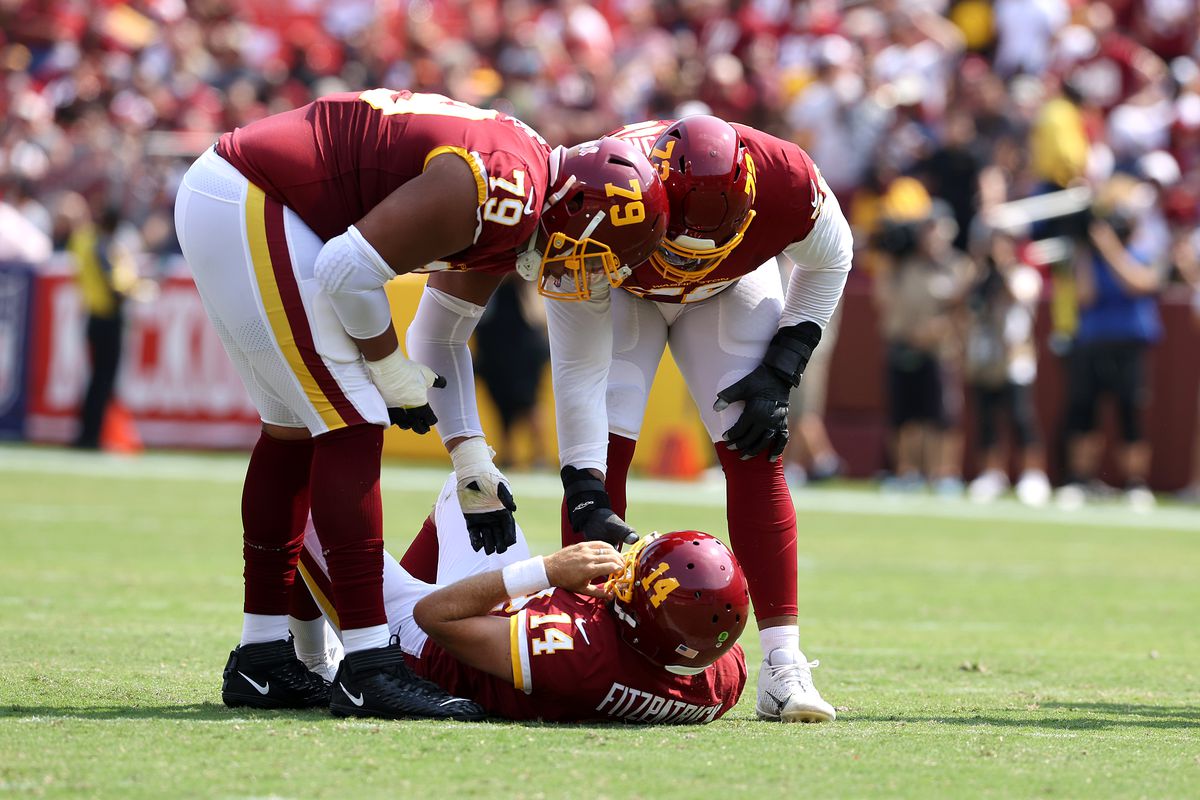 Fitzpatrick suffered the initial hip subluxation injury early in the second quarter of the season-opener against the Los Angeles Chargers. He completed only three passes for 13 yards before the injury knocked him out of the game. At the time, the team expected Fitzpatrick would miss several weeks and return by midseason.
FitzMagic's comeback thwarted
In the last few weeks, we've learned the hip injury was more severe than the team and Fitzpatrick originally thought. His rehab hadn't begun because he experienced pain and swelling in the hip and groin area. As a result, Fitzpatrick decided to undergo arthroscopic surgery. With only five games remaining, he's officially dunzo for the season.
Fitzpatrick signed a one-year deal with Washington in the preseason and was pumped to play for his ninth team in 17 seasons in the NFL. Head coach Ron Rivera hoped that Fitzpatrick could help lead the WFT to a playoff berth in a lackluster NFC East, especially with Dallas QB Dak Prescott returning from a dicey ankle injury.
This injury could potentially end Fitzpatrick's career. The Harvard grad turned 39-years old in November and very few teams will take a flier on an aging quarterback with a bad hip. Of course, you can never rule Fitzpatrick out from conjuring up just a little more FitzMagic to let him play one more season in the NFL. But if he returns next year, it will most likely be a backup role with Washington or elsewhere.
Playoff-bound WFT?
After starting the season 2-6, Washington won four games in a row to improve to 6-6 thanks to backup quarterback Taylor Heinicke. They are currently in the playoff hunt with a tiebreaker win over the San Francisco 49ers. If the season were to end today, WFT would earn the #6 seed in the NFC. FiveThirtyEight estimates that Washington has a 51% chance to qualify for the postseason.
Washington has five games remaining on the schedule and all five are divisional battles, including two games against the Dallas Cowboys and two more against Philadelphia Eagles, plus a season-ending tilt against the New York Giants at MetLife Stadium in Week 18.
An NFC East divisional title seems like a long shot for Washington, but it's possible with two games against the Cowboys in the next three weeks. FiveThirtyEight has Washington as a 17% chance to win the NFC East.
Washington opened as a +4 home dog against Dallas this upcoming Sunday.