What had been a tightly contested game turned into a laugher in the seventh inning, as the Washington Nationals scored six times against the Houston Astros to run away with Game 2 of the World Series on Wednesday night.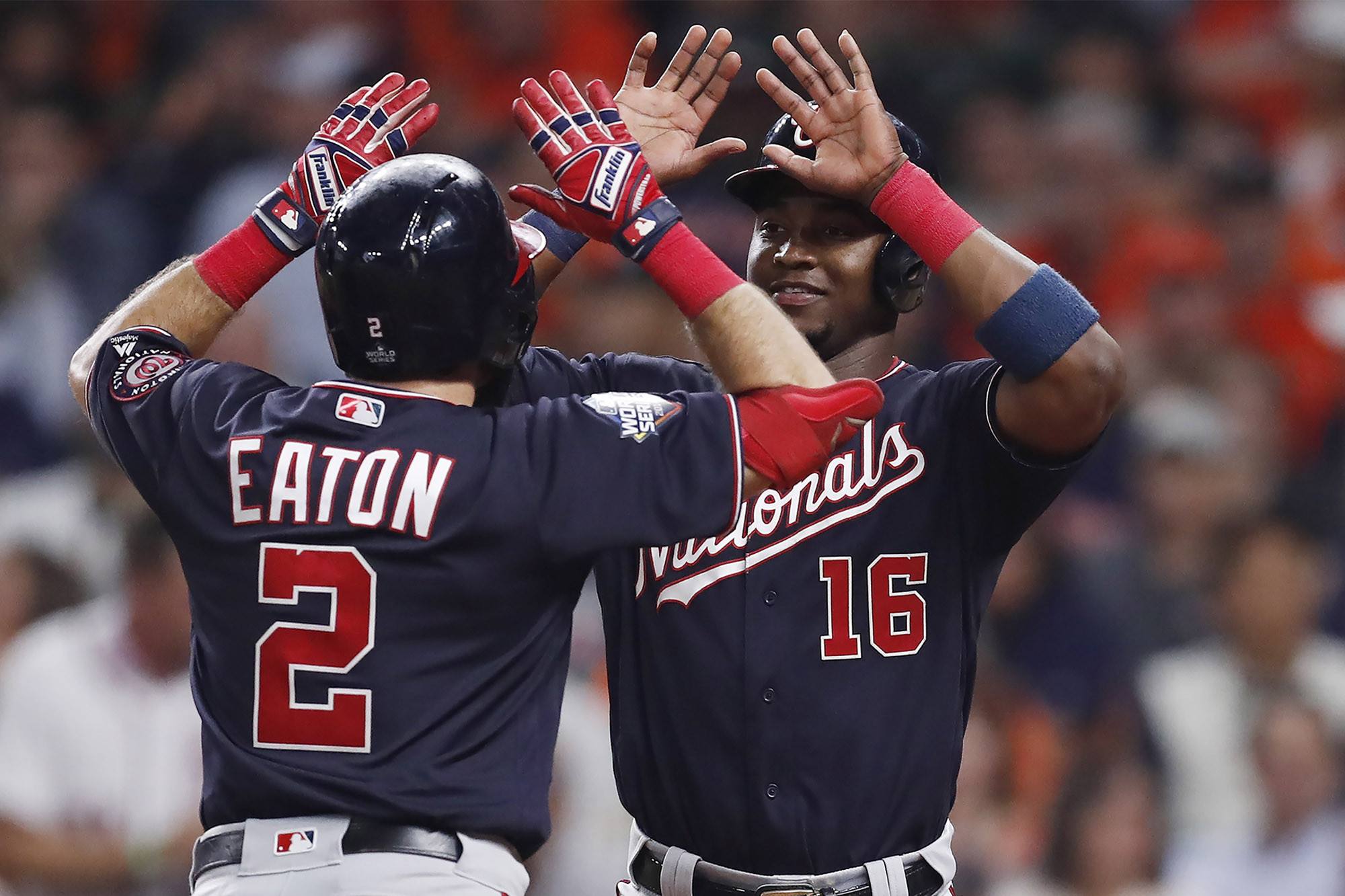 Washington took advantage of Houston misplays to break open the game, one they would go on to win by a 12-3 score.
Starters Settle in After First Inning
The victory wasn't as easy as that final score might make it seem. With Stephen Strasburg and Justin Verlander on the mound, many were expecting a low-scoring pitching duel. Instead, both teams scored in the first inning, with a two-run Anthony Rendon double matched by a home run from Alex Bregman in the bottom of the inning to leave the score tied at 2-2 after one frame.
Both pitchers would settle in from there, and at the end of six innings, the score remained tied at two. But in the top of the seventh, everything went wrong for the Astros in a single inning that severely damaged their World Series title hopes.
The scoring started with a solo shot from Kurt Suzuki that broke the deadlock. Victor Robles then worked a walk, ending the day for Verlander.
Reliever Ryan Pressly didn't fare any better. A walk to Trea Turner was followed by a sacrifice bunt, after which Rendon flied out to center, and for a moment, it looked like Houston might get out of the inning down only a single run.
Nationals Take Advantage of Sloppy Play
After an intentional pass to Juan Soto – the first intentional walk that Houston handed out all season – Howie Kendrick reached back on an infield single, allowing a run to score. Asdrubl Cabrera brought home two more runs on another single, after which a wild pitch and another sloppy infield single by Ryan Zimmerman scored two more runs.
By the time the seventh inning was over, the score was 8-2 Washington, and the game was effectively over.
According to a report by USA Today, the Astros held a players-only meeting after the loss to talk about the team's play, with Verlander and Jose Altuve taking the lead.
"Those two said everything that needed to be said," Houston outfielder Josh Reddick told reporters. "There was nothing left that needed to be said."
Astros shortstop Carlos Correa said that given the season Houston had, the team is far from panic mode.
"Not a lot of teams win 107 games a year," Correa told reporters. "This is a special team; this is not just a random team. If there's a team out there that can do it, it's us."
The Nationals not only have a two-game lead, but they're also heading home to Washington for the next three contests. Rendon offered a warning for those who might attend the World Series in D.C. – perhaps even intended for Houston, which is used to playing in a controlled environment.
"Probably going to be a little frigid, might be a little cold," Rendon said. "So bring your jackets and your beanies."
Washington is now a firm favorite to win the World Series, with FanDuel Sportsbook listing them as a -280 favorite over the Astros (+225). However, the Astros are a slight favorite in Game 3, when they'll send Zack Greinke to the mound against Washington's Anibal Sanchez. Houston is a -140 pick to win on Friday evening, while Washington is listed at +122.