The Washington Nationals rode a strong performance by starter Stephen Strasburg to take Game 6 of the World Series 7-2 over the Houston Astros.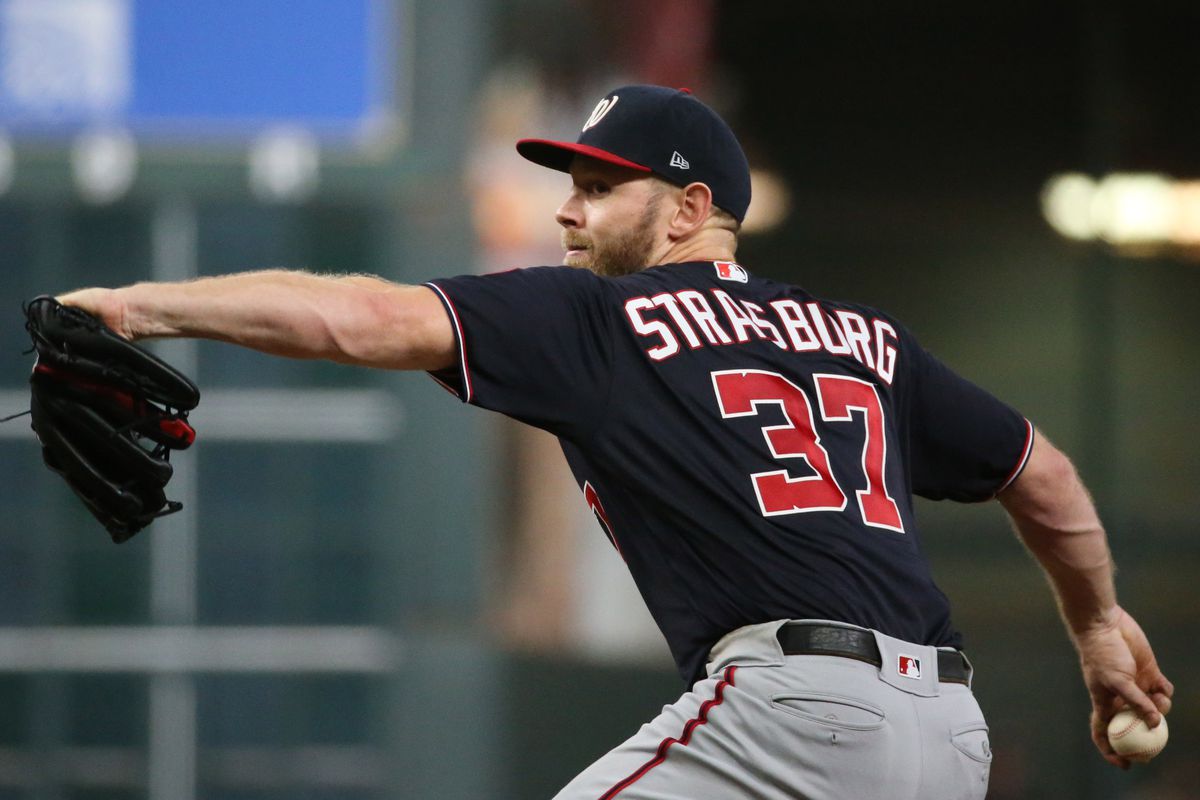 The win tied the series at three games each, forcing a decisive Game 7 on Wednesday night in Houston.
Strasburg Recovers After Tipping Pitches
Strasburg gave up two runs in the first inning on a flurry of hard-hit balls by the Astros, including a home run from Alex Bregman. Word soon came down from Jonathan Tosches, Washington's manager for advanced scouting, that Strasburg might be tipping his pitches. Given the magnitude of the situation, he immediately got word to the dugout, where Strasburg was able to make the necessary adjustments.
"He had more confidence knowing that he didn't feel like they knew what was coming," Nationals pitching coach Paul Menhart told reporters. "Probably one of the more dominant pitching performances you're going to see in a must-win situation."
Sure enough, Strasburg settled in and was never again seriously threatened in the game. He would go 8.1 innings, allowing just the two runs on five hits while striking out seven to pick up his second win of the series.
The Nationals offense was led by Anthony Rendon, who went 3-for-4 with a home run and five RBIs to spark a Washington offense that had managed just three runs in three home games.
That also helped continue one of the oddest streaks in postseason baseball history. This is the first ever World Series to see the road team win the first six games. It has never happened in any best-of-seven series in the NBA or NHL, either. Consequentially, no team has ever won the World Series without winning at least one game at home, something the Nationals would accomplish by taking Game 7 on Wednesday.
"We're going to continue to try to ride this wave as long as possible," Rendon told reporters after the game. "Maybe they enjoy our park, and maybe we enjoy their park. We're not going to ask questions, we're just going to try to go out there and just have some fun."
Scherzer to Start Game 7 for Nationals
Game 7 features a pitching matchup with plenty of intrigue. Max Scherzer will get the start for Washington, just three days after being scratched from Game 5 due to sever neck and back spasms. However, he was able to throw on Tuesday before Game 6, and even warmed up at one point, though he did not enter the game.
"I feel good. Cortisone shot worked," Scherzer said after Game 6. "Really felt like it's subsided. Even when I was warming up tonight, I felt really good So I'm good to go."
He'll be opposed by Zack Greinke for the Astros, setting up the first ever Game 7 in World Series history in which two former Cy Young Award winners will take the mound against each other. Given that Houston has limited Greinke's innings during the postseason, it's also likely that we could see a lot of the Astros bullpen – likely even including Game 5 starter Gerrit Cole.
Houston will come into Game 7 as a favorite, but as with most baseball matchups, they're only being given a slight nod. At FanDuel Sportsbook, the Astros are a -138 pick to win the World Series on Wednesday night, while the Nationals are a +120 underdog.