Heading into Week 3 of the fantasy football season, Teddy Bridgewater (New Orleans Saints) is an obvious waiver wire pickup after starting QB Drew Brees went down with a thumb injury. RB Raheem Mostert (San Francisco 49ers), WR Deebo Samuel (San Francisco 49ers), and WR Demarcus Robinson (Kansas City Chiefs) are also worthy additions due to their high-octane offenses through the first two weeks of the season.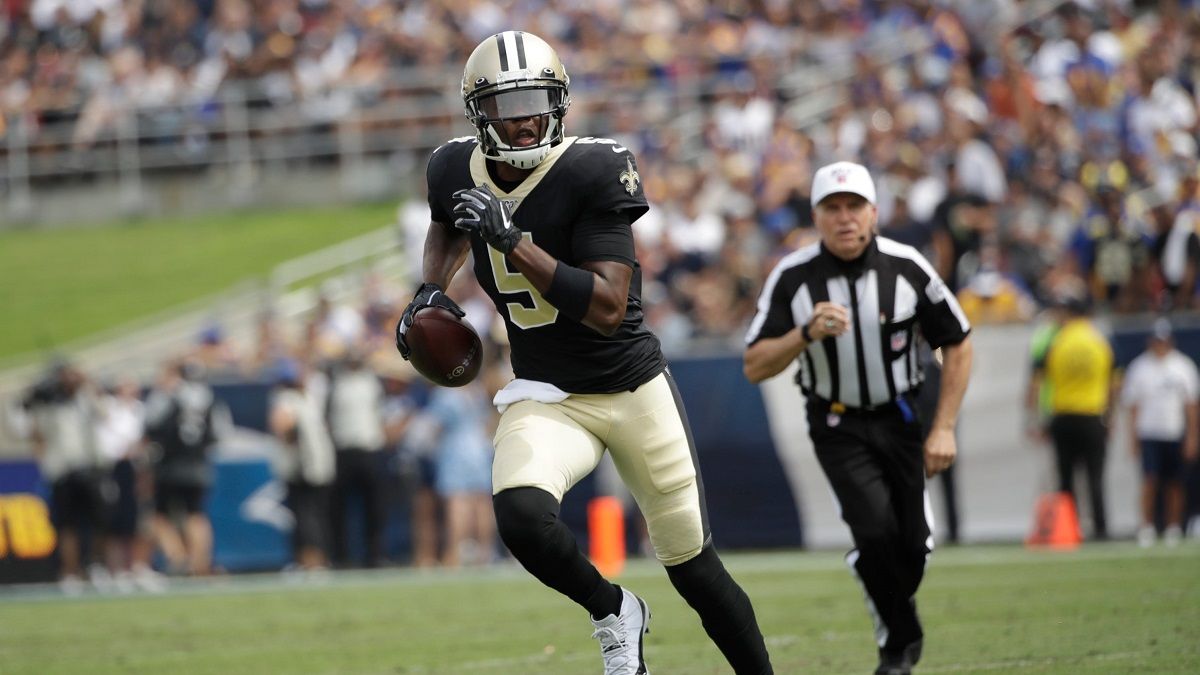 In addition, Will Dissly has emerged as the best tight end you never heard about. The TE for the Seattle Seahawks scored a pair of touchdowns on throws from Russell Wilson.
Week 3 Waiver Wire Pickups:
Raheem Mostert (RB, San Francisco)
Demarcus Robinson (WR, Kansas City)
Teddy Bridgewater (QB, New Orleans)
Deebo Samuel (WR, San Francisco)
Will Dissly (TE, Seattle)
The 49ers are looking strong right now after a 2-0 start. Under Jimmy G, the offense is flowing with plenty of opportunities to run up fantasy football scores with journeyman running back Mostert, and rookie wideout Samuel.
With so many NFL QBs going down in the opening weeks of the season, the team with the most capable backup will be able to ride out an injury storm. New Orleans is no stranger to hurricanes, but luckily, the Saints have Teddy Bridgewater to help brace themselves after losing Drew Brees for at least six weeks.
Backup QB Scramble: Bridgewater, Rudolph, Jones
The New Orleans Saints are lucky to have Bridgewater as a backup to Brees. Then again, the Saints knew the 40-year old Brees was no spring chicken, so they wanted to have a capable backup ready to roll if Brees went down.
Bridgewater didn't look good in relief of Brees (17-30, 165 yards, and zero TD). Then again, the zebras had it in for the Saints once again against the LA Rams. With a full week of practice under his belt, Bridgewater should look a lot more comfortable. After all, he's been training for this moment for the last two seasons.
Whenever you heard someone is a QB from Washington State, you know they can fling the ball. Mason Rudolph ran Mike Leach's Air Raid offense in Pullman, Washington, so you know he can pass. Rudolph (12-19, 112 yards, 2 TD, 1 INT) has a chance to succeed in a spot many others failed. Backups are only 11-14 starting in place of Big Ben over his banged-up career.
The New York Giants finally punted on beleaguered Eli Manning (2 TD, 2 INT, 57.8 percent completions) after an 0-2 start. Rookie Daniel Jones gets the start only three weeks into the season. Congrats to everyone who won the prop bet "Will Manning get replaced before/after the Giants bye week?"
The #LOLJets are doomed with another QB injury, and they don't have Teddy Bridgewater to bail them out. They lost starting QB Sam Darnold to mononucleosis (yes, mono) last week. Then, during an ugly loss to the Cleveland Browns on Monday Night Football, the Jets lost backup QB Trevor Siemian to a cringeworthy ankle injury. Third-stringer Luke Falk is untested, even though he completed 20-for-25 passes during garbage time.
Flex Time: Raheem, Demarcus, Dissly, and Deebo
Raheem, Demarcus, Dissly, and Deebo sounds like a new hip hop crew out of Staten Island. I'm sure if you get those four in a studio together, they can spit some mad rhymes. Right now, all four are on the radar of fantasy football nerds in search of a worthy flex addition.
Mostert is averaging 5.6 yards per carry in two games with the Niners. In Week 2, Mostert contributed 151 combined yards, including 83 rushing yards and three catches for 68 yards and a touchdown.
Dissly is no stranger to Seattle. The second-year tight end played his collegiate ball at Washington. He played in only four games last season as a backup to Luke Wilson. In a Week 2 victory over Pittsburgh, Dissly caught five passes for 50 yards and two touchdowns.
Kansas City has plenty of balls to go around for their WRs. Robinson and Mecole Hardman both filled in admirably for Tyreek Hill in Week 2. Hardman scored his first NFL touchdown, while Robinson caught six balls for 172 yards and two touchdowns against the Oakland Raiders.
Rookie Deebo Samuel has been on our radar as a sleeper WR since the preseason. After an uneventful debut in Week 1, Samuel led the Niners in receiving in Week 2 with five catches for 87 yards and a touchdown. Jimmy G threw 3 TD strikes and just one pick in a blowout against the Cincy Bengals.