It was a tumultuous weekend atop the AP Top 25 college basketball leaderboard, as the top three teams all lost at home. Still, despite losing to rival Virginia Tech in a thrilling 61-60 overtime heartbreaker on Saturday, Virginia found its way to the No. 1 spot for the first time since 1982.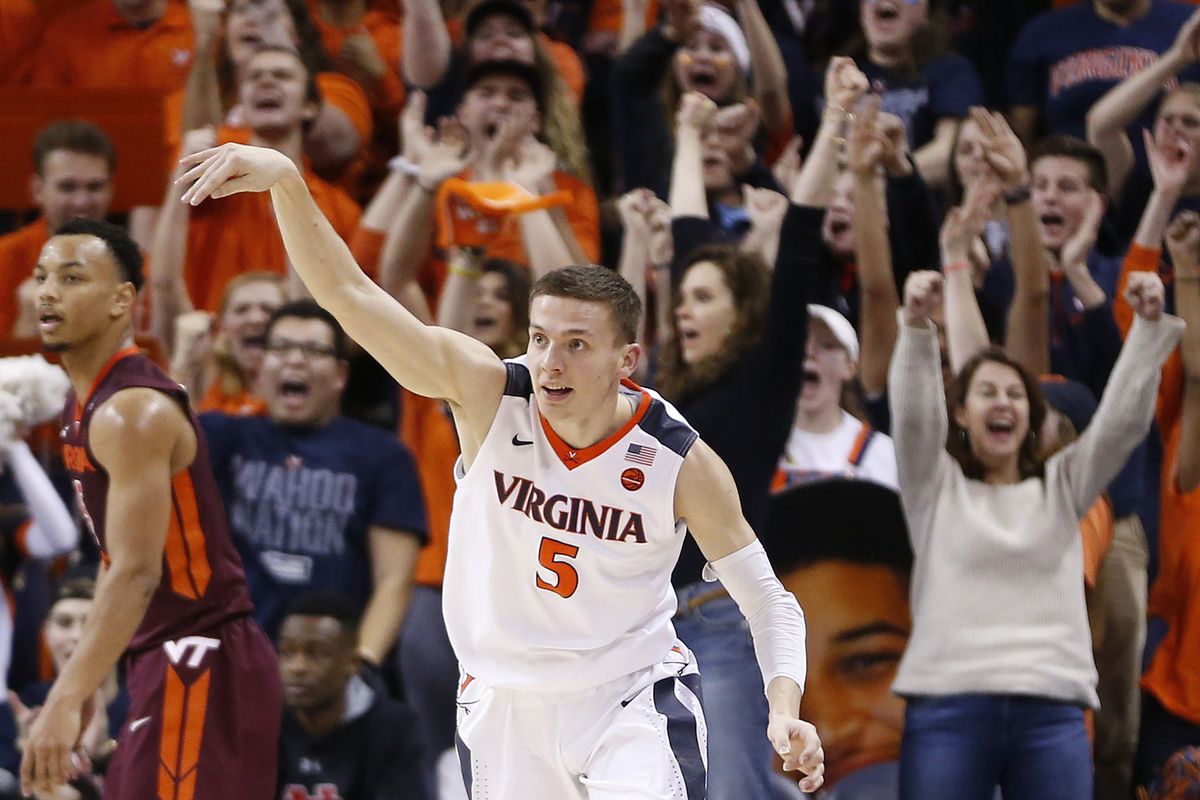 With the loss, Virginia moved past last week's No. 1 Villanova, who lost to St. John's, 79-75. Villanova slipped two spots after losing to the Red Storm, who hadn't won a Big East Conference game all season.
No. 3 Purdue lost twice, once at home on Wednesday to Ohio State, 64-63, and three days later on the road to Michigan State, 68-65, dropping the Boilermakers three spots to No. 6, while the Spartans climbed from No. 6 to No. 2.
More Poll Parity
Virginia hasn't been No. 1 since 1982, the senior season of 7'4″ Ralph Sampson, and the team's hold on the top spot is hardly a mandate by voters. Only 30 points separate them from Michigan State. The Cavaliers received 30 of the 65 first-place votes, while the Spartans got 21. Villanova garnered nine, and No. 4 Xavier collected the remaining five.
Coach Terry Bennett was trying to get his players not to focus on the ranking and worry more about upcoming opponents.
"I do not get too carried away with where we are," he told reporters. "I always say 'thus far,' and now we have to prove it again. Now we are going to get a chance to do it again and we are going to have to fight like crazy every game."
It's a big difference from Villanova's tight grip on the No. 1 spot. Three weeks ago the Wildcats were the best team in the country and had all but two first-place votes.
Now the picture is a lot cloudier. There was more movement between universities and less than 200 points separate the top five teams.
Odds To Win NCAA Championship
Though Virginia was tabbed the best team in the nation, they are not the sports books favorite to win the college basketball title. No. 2 Michigan State is now the top selection at 5/1. They opened the season at 20/1 and were the favorites early in the season. Villanova is 6/1 after beginning at 12/1. The Cavaliers are the third choice at 7/1 after being 30/1 in October.
The Spartans, though, would not get a top one or two seed. According to selection chairman Bruce Rasmussen they would be a No. 3 seed in a bracket preview released by the committee on Sunday.
The No. 1 overall seed would be Virginia, Rasmussen said in a statement. Villanova, Xavier and Purdue would be the other top teams.
"Despite UVA's loss Saturday, we felt that based on their 13 wins in the first two quadrants, they deserved to remain on top," he said. "Villanova bounced back with a good win Saturday, so we kept them second. Purdue had two tough losses to quality teams, while Xavier picked up two good road wins to solidify the fourth No. 1 seed and ultimately leap Purdue on the seed list."