Virginia is still No. 1 but Duke and Kansas cracked the top 10 of the Associated Press Top 25 poll and are starting to hit their stride with a little less than a month remaining before the NCAA Tournament begins.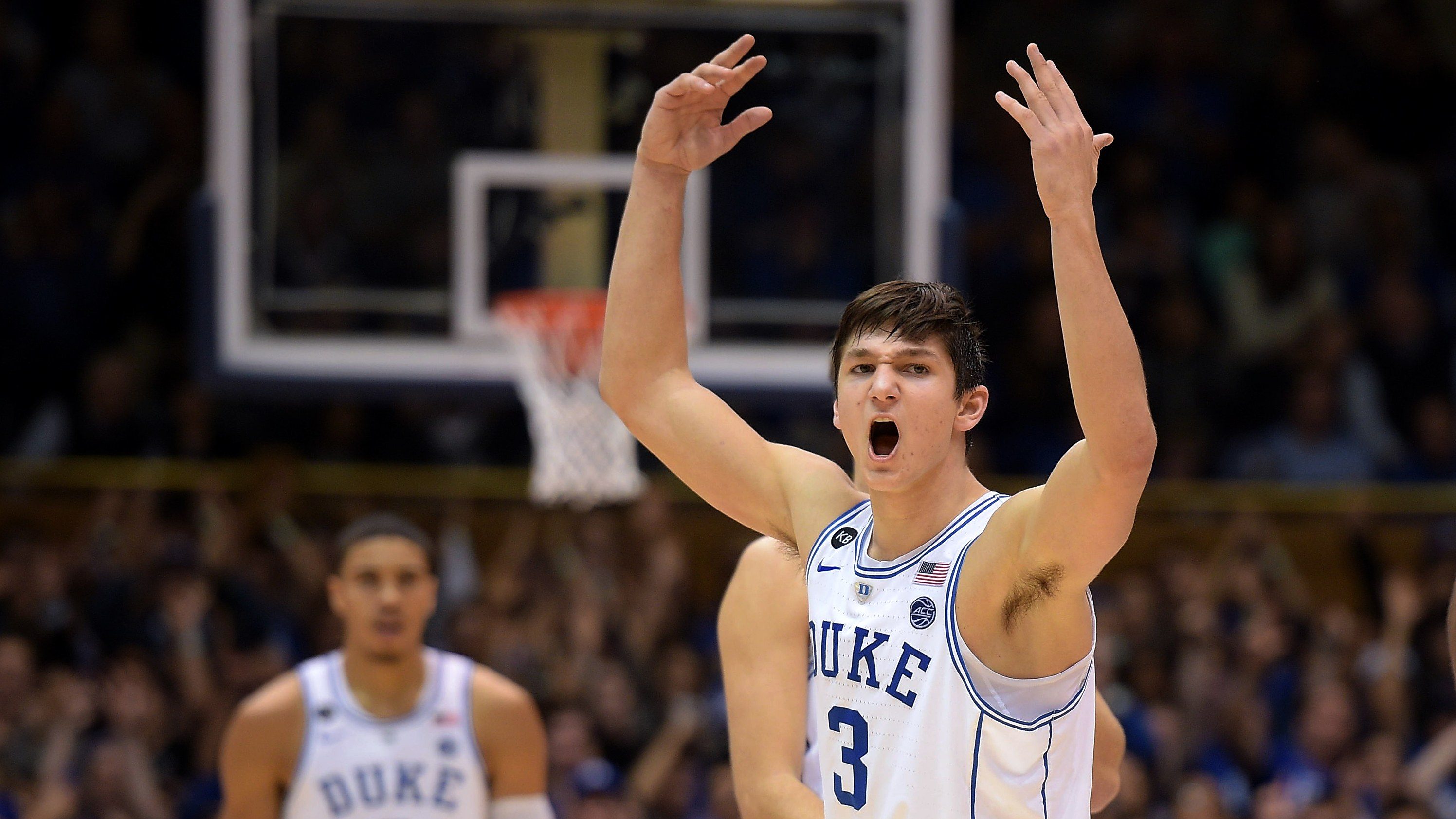 The Blue Devils shot up from No. 12 last week to No. 5. The Jayhawks climbed to No. 8 from No. 14.
The Nos. 1-4 remained unchanged. Virginia widened its lead at the top, garnering 42 first-place votes, as opposed to 30 seven days ago. Michigan State is No. 2, Villanova No. 3 and Xavier No. 4. The Wildcats defeated Xavier to keep its No. 3 spot.
The convincing, 95-79 victory at Xavier also gave Villanova a jump in the odds to win the national championship. They are now the favorite at 9/2. Michigan State is 5/1 and Virginia is 6/1.
Regaining Championship Form
Musketeers Head Coach Chris Mack was complimentary of Villanova after the humbling loss. Mack told reporters after the game the Wildcats certainly looked like they could win the title.
"I tip my hat," he said. "They played like a national championship team."
Another team that benefitted from a big road win was Duke. The Blue Devils went to Clemson, who was ranked one spot ahead of Duke at No. 11, and beat the Tigers, 66-57.
It was a big road win in conference, especially since the team is missing its leading scorer and rebounder, Marvin Bagley III. He is out with a knee sprain. Senior Grayson Allen said his teammates believe they can be dominant.
"We're becoming a team," he said. "We're coming together."
Getting Help From Others
While Duke's win was impressive there were a couple of losses by teams ahead of them that helped them crack the top 10. Cincinnati and Ohio State both had defeats that dropped them down the rankings.
The Bearcats suffered two losses last week. First they fell on Thursday to Houston on the road, 67-62. The Cougars are unranked and were considered a bubble team for the NCAA Tournament. Not anymore as the upset catapulted the 20-5 Kelvin Sampson squad to a projected 10 seed.
Cincinnati came into that game at No. 5 but the Houston loss, coupled with a defeat three days later at home against Wichita State, guaranteed they would drop. They did, falling six spots to No. 11.
It wasn't the largest decline. Ohio State began the week at No. 8, but two conference road losses to unranked Penn State and No. 22 Michigan plummeted them to No. 16. Michigan moved up five spots to No. 17.
Another team that took advantage of the losses was North Carolina. The Tar Heels were No. 9 in the preseason poll and was No. 10 in Week 12 before slipping out of the top 10. They won both of its games last week and now has a five-game winning streak with three games to go.