The 2015 Heisman Trophy winner, Derrick Henry, snapped off a 99-yard touchdown run for the Tennessee Titans against the Jacksonville Jaguars on Thursday Night Football.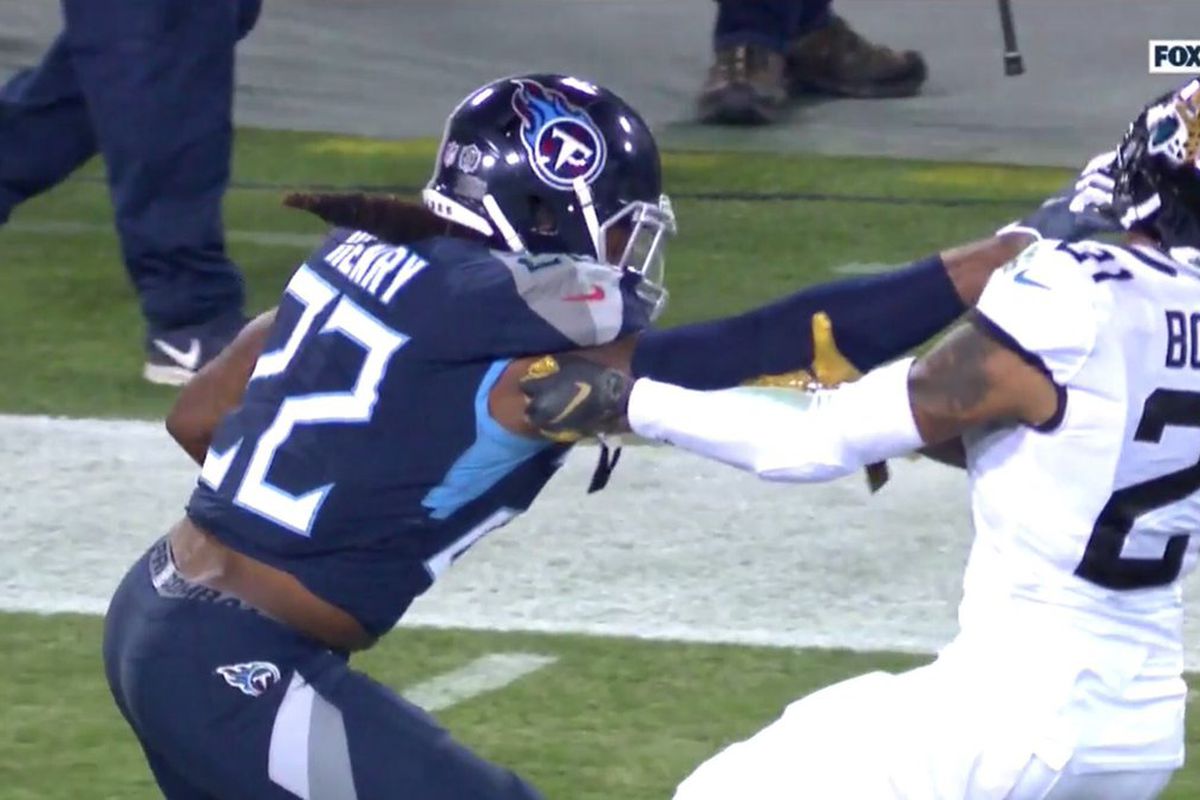 Henry scored four touchdowns in total and rushed for a monstrous 208 yards as the Titans defeated the Jags 30-9. In addition, Henry set a franchsie record for most rushing yards by a Titans player.
Henry's 99-yard run tied Tony Dorsett from the Dallas Cowboys for longest touchdown in NFL history. The 99-yard run was the longest touchdown in the NFL since 2011 (Victor Cruz's 99-yard touchdown pass from Eli Manning).
Music City Stiff Arm
Prior to tonight, Derrick Henry's longest run from scrimmage this season was only 14 yards. the third-year RB more than smashed his best effort with a 99-yarder.
Henry had already scored the Titans first touchdown in the first quarter. With 7:25 remaining in the second quarter, the Titans led the Jags 7-2. The Jags pinned the Titans back to the one-yard line. Quarterback Marcus Mariota handed the ball off to Derrick Henry and the rest is history.
The most remarkable thing about Henry's 99-yard scamper were the multiple stiff arms he threw at opponents. He totaled 81 yards after his first contact.
DERRICK HENRY WENT BEASTMODE!!! 😱😱😱

99 YARDS. #TitanUp

📺: @nflnetwork + @NFLonFOX
📱+💻: https://t.co/DJUityQHC9 pic.twitter.com/wOe7cktiyE

— NFL (@NFL) December 7, 2018
Henry unleashed two forceful stiff arms on players that failed to tackle him. Leon Jacobs and AJ Bouye to were unable to cut the right angle on Henry. Both were swatted away like flies as the accelerating Henry rumbled by them on the way to the endzone.
Heisman Henry
In 2015, Derrick Henry started at running back for the top-ranked Alabama Crimson Tide. As a junior, he rushed for 2,219 yards with an astonishing average of 5.6 yards per carry. Henry broke Herschel Walker's single-season SEC rushing record, which Walker set 34 years earlier at Georgia with 1,819 yards in 1981.
Henry finished his record-smashing season with 28 touchdowns. His longest run from scrimmage was 74 yards that season. His longest career run at Bama occurred in 2013 with an 80-yard touchdown run his freshman season.
Henry won the Heisman Trophy in 2015 edging out other finalists Deshaun Watson and Christian McCaffrey. Even though he had one year of eligibility remaining, Henry declared himself eligible for the NFL draft.
Nashville Bound
The Tennessee Titans drafted Henry in the second round with the 45th overall pick in the 2016 NFL draft. Henry was the second running back taken that year behind Ezekiel Elliot from Ohio State.
In three years with the Titans, Henry has 15 touchdowns and 1,708 rushing yards. In his first two seasons, Henry backed up DeMarco Murray.
Coming into the Thursday Night Football game against the Jaguars, Henry led the Titans in rushing with 474 yards and 5 touchdowns.
On his record-setting night, Henry exploded for 238 yards on 17 carries. He averaged 14 yards per carry. When the game was over, Henry rushed for four touchdowns including the 99-yarder. In the third quarter, Henry added two more scores including a 54-yard run. He even he waited for his teammates to rush down the field to join him in the endzone for a group celebration.
"Meet me in the end zone!" – @KingHenry_2 #TitanUp pic.twitter.com/78lxRSmxb9

— Tennessee Titans (@Titans) December 7, 2018
Earlier this season, during a surprise win against the New England Patriots in Nashville, Henry rushed for 58 yards and two touchdowns on only 11 carries.