Barring a disaster of unprecedented proportions, the United States won't lose to Iran in men's basketball on Wednesday. But the world will still be watching to see how the Americans bounce back from their shocking loss to France in the first game of the Olympic tournament.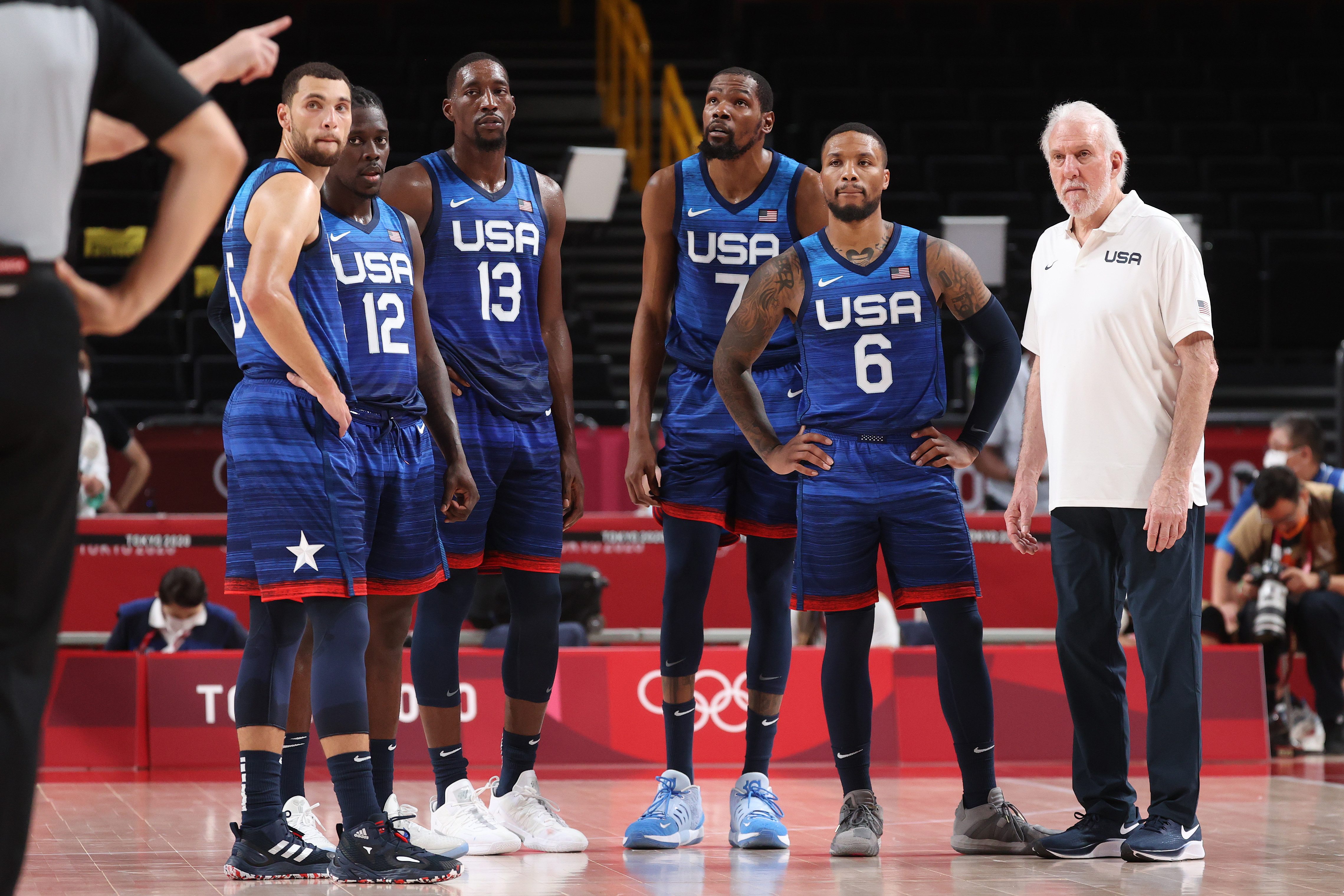 France defeated the United States 83-76 on Sunday, snapping a 25-game Olympic winning streak for Team USA.
Fournier leads France to historic upset
The United States last lost an Olympic men's basketball game back in 2004, when Argentina defeated Team USA 89-81 on its way to winning the gold medals.
The Americans held an eight-point lead over France with four minutes to go in the game. But the French team mounted a furious comeback, capped by an Evan Fournier 3-pointer that gave France the lead with about a minute to play. Team USA had the chance to retake the lead, but on its next possession, the United States missed five consecutive shots, including uncontested 3-pointers by Zach LaVine, Kevin Durant, and Jrue Holiday.
Fournier scored 28 points in the victory for France. Holiday led the United States with 18 points.
France came into the Tokyo Olympics as a definite medal contender. Team USA coach Gregg Popovich downplayed the loss, noting that the Americans have a far deeper and more talented roster than any other team in the men's basketball tournament.
"There's nothing to be surprised about," Popovich told reporters. "That sort of disses the French team, so to speak, as if we're supposed to beat them by 30 or something. That's a hell of a team."
Damian Lillard acknowledged that that loss was unexpected, but believes Team USA will still turn things around.
"I think we have a history of dominance and maybe not always blowing people out, but we have a history of winning," Lillard said after the loss. "I think that's why a lot of people will make it seem like the end of the world, but our job as professionals and this team and representing our country at the Olympics, we've got to do what's necessary and we still can accomplish what we came here to accomplish."
US faces Iran in must-win game
To be sure of advancement to the knockout stages, Team USA must now win its last two pool-play games. The team will go into both matchups as heavy favorites.
Dues paid. Inside 🇺🇸 #USABMNT practice ahead of Wednesday's #Tokyo2020 matchup with 🇮🇷 Iran (12:40 AM ET, Peacock)! pic.twitter.com/MVkssq0yTK

— USA Basketball (@usabasketball) July 27, 2021
That starts with the game against Iran. The Iranian roster features no NBA players, in stark contrast to the United States' roster of NBA stars. Iran dropped its first game 84-78 to the Czech Republic.
FanDuel Sportsbook rates the USA as a 39.5-point favorite over Iran. Given how much the United States will want to reassert its dominance, it may well cover that spread. But the real goal is winning gold, and that feels like a much less certain prospect than it did a few weeks ago. Team USA stands as the -250 favorite to win gold in men's basketball, ahead of Australia (+650) and Slovenia (+900).