Team USA suffered a devastating loss on Monday when Canada defeated the United States 1-0 in the semifinals of the women's soccer tournament. But the American women can still leave the Tokyo Olympics with a medal if they can get past Australia in Thursday's bronze medal match.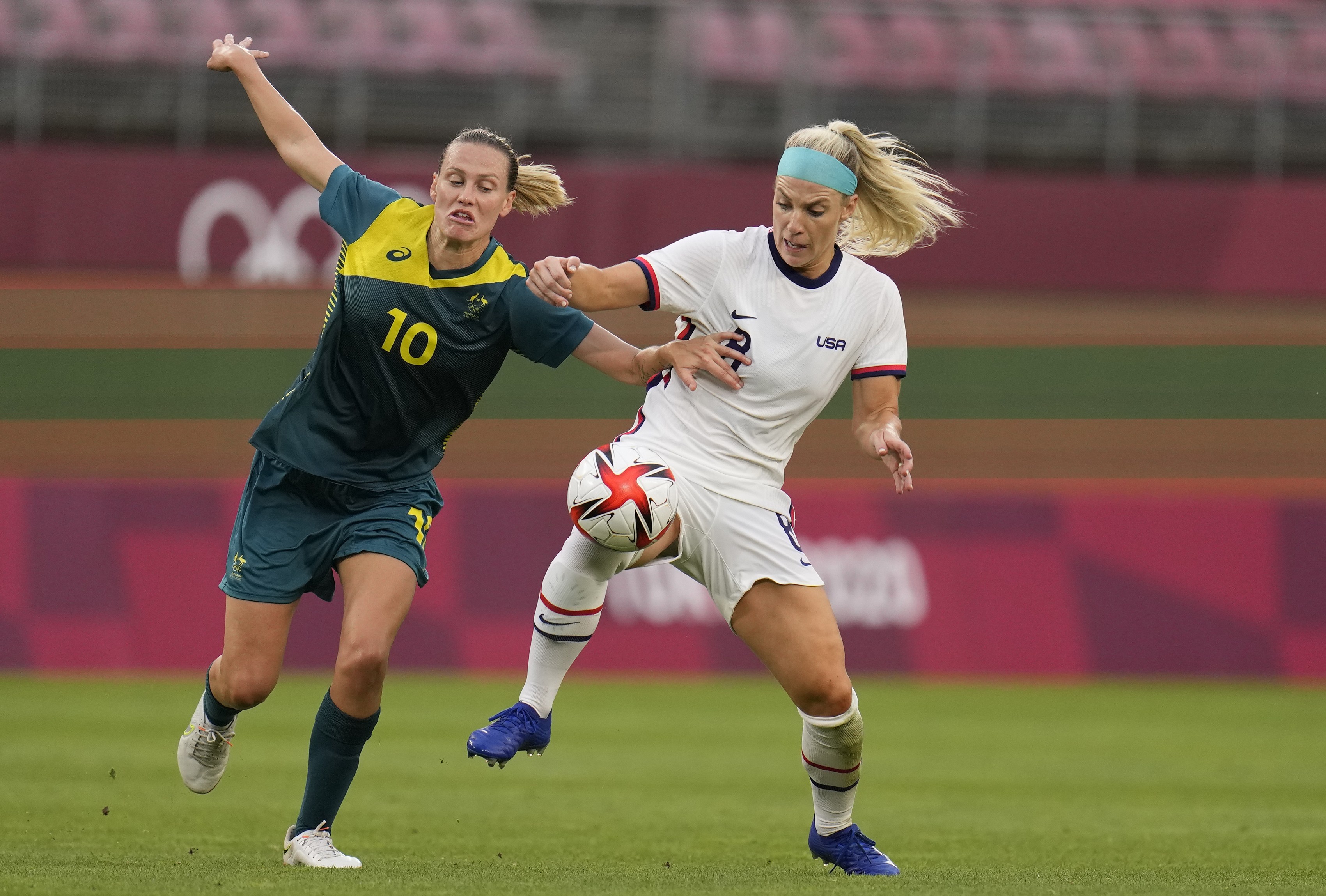 Both the United States and Australia lost by identical 1-0 scores in the semifinals, with both teams feeling bitter after those games.
Andonovski: 'We will always aim for gold'
For the US, any loss comes as a shock. But in Tokyo, Team USA has shown itself to be all too human. Officially, the team has only won one of five matches: even its penalty shootout victory over the Netherlands in the quarterfinals technically counts as a draw.
Now the Americans must refocus if they want to take a spot on the podium.
"We were aiming for gold and we will always aim for gold, and that will never change," United States coach Vlatko Andonovski told reporters. "Just because it didn't happen doesn't mean it stops there. We go into every game to win it. At the end of the day, it's a medal at the Olympics. We're going to do anything possible."
The Australians have made it further than they ever have in a major international women's soccer competition. Yet there's still a sense of disappointment for Australia, which thought it had taken a 1-0 lead over Sweden late in the first half of its semifinal. Officials disallowed Sam Kerr's apparent goal for a foul that few commentators seem to understand.
Just complete referee incompetence that. Modern directive is to NOT blow the whistle and allow a goal to be possibly scored, then allow VAR to analyse.
Horrendous mistake. #Matildas #Tokyo2020 #AUSSWE

— Rory Flanagan (@Rory_Flanagan) August 2, 2021
Sweden ultimately won that match 1-0. Now, Australia will look to earn its first Olympic medal in women's soccer in the bronze medal match.
"Unless we go home with something around our neck, it's going to be a disappointment for us," Kerr told reporters.
US, Australia fought to draw in pool play
The US and Australia have already played once in the tournament. The two teams reached a 0-0 draw in the last game of pool play, a result that the Americans knew – and the Australians were all but certain – would send them through to the quarterfinals.
---
Olympic Women's Soccer Odds – Bronze Medal Match (via FanDuel Sportsbook)
Australia: +380
Draw: +260
USA: -135
---
The rematch should be a more active affair, with both teams playing to win bronze. FanDuel Sportsbook rates Team USA as a -135 favorite to win in regulation, with Australia at +380 to take the match in 90 minutes.
Some bettors might fade the US, suspecting that a team used to collecting gold medals won't be up for playing for the bronze. But goalkeeper Adrianna Franch says that Team USA will treat Thursday's match as seriously as any other. "The bronze is just as important because it's what we have to fight for," Franch told reporters.