Last week, the golfing world focused on the battle between the PGA Tour and LIV Golf. This week, all of the world's top players will be in one place as they descend on The Country Club in Brookline, Massachusetts for the US Open.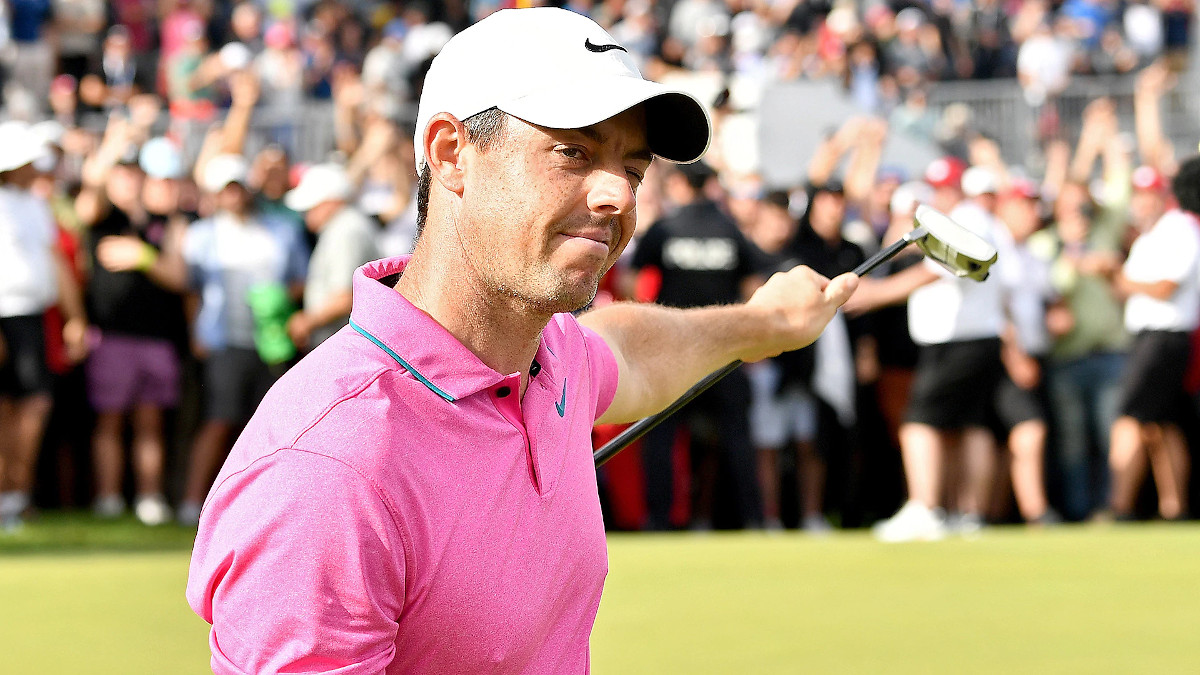 Rory McIlroy comes in off his win at the RBC Canadian Open last weekend as the +1000 favorite to win the US Open, according to DraftKings Sportsbook.
Recent win, major success gives McIlroy confidence
McIlroy won the US Open in 2011 and has won four major titles in total. He also has three tour titles in the past two seasons and seems to be rounding into form at the perfect time.
"It gives you a lot of confidence," McIlroy said of his win last week. "My last two showings in major championships have been pretty good. So I'm getting back to a place where I'm feeling a lot more comfortable with my game and a lot more comfortable at the biggest, not really the biggest championships in the world, but it's more the biggest and toughest tests in the world."
McIlroy will contend with all of the world's best this week. That starts with PGA Championship winner Justin Thomas, who comes in as a +1100 pick to win in Brookline.
Thomas is among the many players who have opined on the LIV Golf split. Like everyone in the top 10 of the Official World Golf Ranking, Thomas has stayed with the PGA Tour. And while he's blasted LIV Golf at times, he expressed disappointment in it being such a big topic this week.
"You can't go anywhere without somebody bringing it up. It's sad," Thomas told reporters. "That's not right for the US Open. That's not right for us players. But that's, unfortunately, where we're at right now."
US Open accepting LIV Golf players, for now
While the PGA Tour suspended those players who took part in the first LIV Golf event, the USGA has invited everyone to the US Open – at least for now. USGA CEO Mike Whan said it's possible that the situation could change in the future.
"We're not going to be a knee-jerk reaction to kind of what we do," Whan told reporters. "We definitely feel responsibility to this game, and we feel a responsibility to the competitors that play it. We did sit down and have a long conversation about a week before the US Open. Did where somebody else play and what promoter they played it with disqualify them for this event? We decided no on that."
---
2022 US Open Odds (via DraftKings Sportsbook)
Rory McIlroy: +1000
Justin Thomas: +1100
Jon Rahm: +1300
Scottie Scheffler: +1400
Xander Schauffele: +2000
Patrick Cantlay: +2000
Cameron Smith: +2200
Will Zalatoris: +2500
Jordan Spieth: +2500
Shane Lowry: +2500
---
Defending US Open champion Jon Rahm (+1300) hasn't had the best year on tour, but he's still among the favorites to win this weekend. Rahm is another player who's dismissed the idea of playing with LIV Golf, and said that this weekend's major shows the difference between golf's biggest events and simply having a big prize fund.
"I've always been interested in history and legacy, and right now, the PGA Tour has that," Rahm told reporters. "Nobody is talking about winning that event in London with the essence that some other events have. And that to me is what's attractive, being able to consider yourself a champion of this with a history that comes with it."