The Michigan faithful are screaming NO NEVER!, but the odds are out on who might replace Jim Harbaugh in Ann Arbor. High on the list is long-time Ohio State coach and arch-nemesis, Urban Meyer.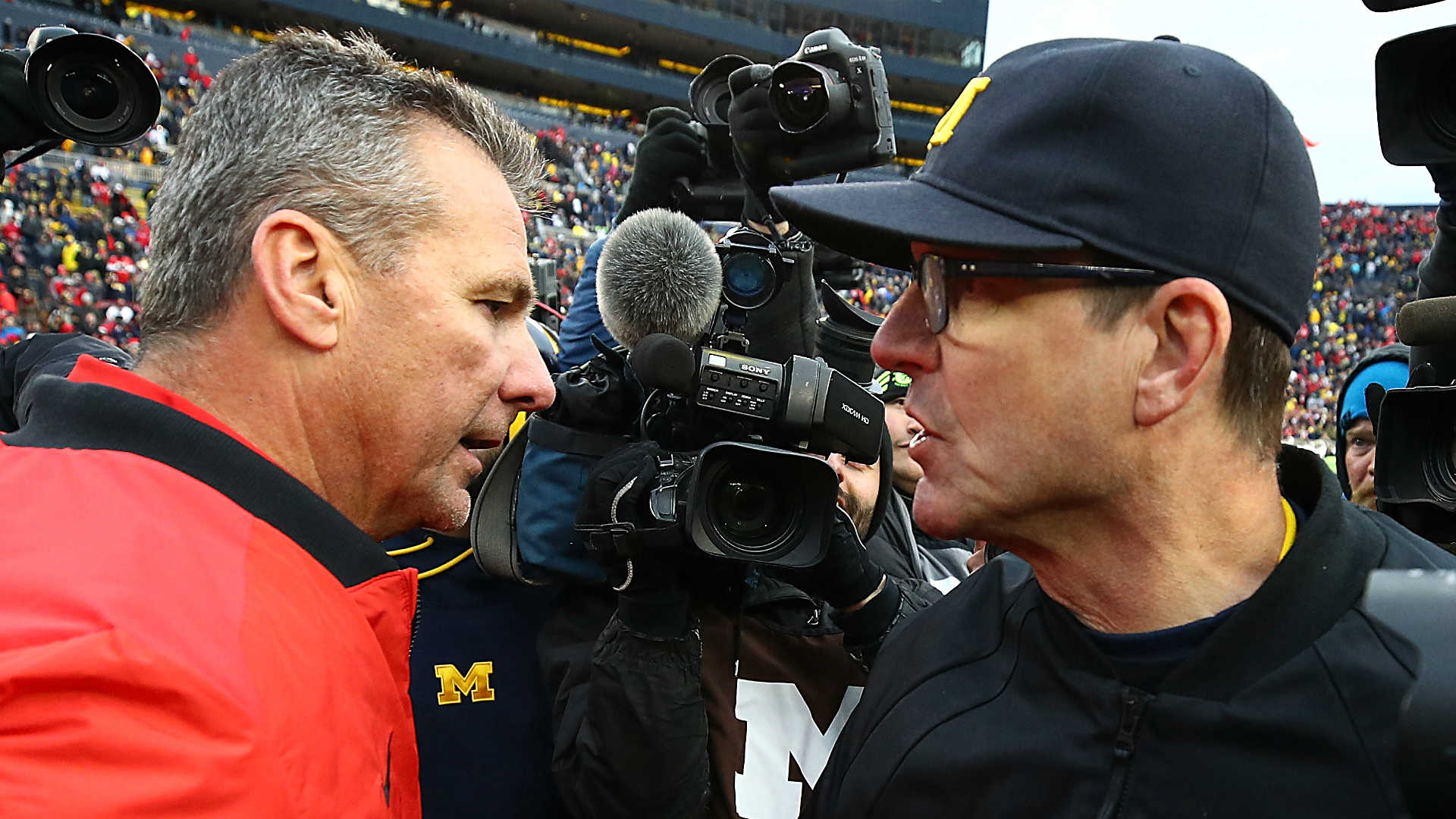 Michigan hasn't fired head coach Jim Harbaugh. The football winds aren't actually even blowing in that direction up in Ann Arbor, but still, the rumors are flying. Adding to the rumors is Harbaugh's history of short tenures. He left Stanford, and he left the San Francisco 49ers; both of those after only four years. This is his fifth year as Michigan's sideline general, but Harbaugh seems content at Michigan. He grew up there, and he played there. And Michigan is looking for some stability in this position after what are acknowledged as two ill-advised hires in Rich Rodriguez and Brady Hoke.
Still, the odds are out on who would replace Harbaugh if he walks away or is let go.
Odds on Michigan's Next Head Coach

David Shaw, Stanford Head Coach  3-1
Bronco Mendenhall, Virginia  3.5-1
Kyle Whittingham, Utah  4-1
Dino Babers, Syracuse  5-1
Urban Meyer, College Game Day  7-1

(odds: BetOnline)
Meyer is also in the rumor mill for the USC job, which is also not vacant as of yet. Despite that, the consensus is that Meyer will be coaching somewhere next season. Those same whispers have Jim Harbaugh coaching somewhere as well, just not at Michigan.
Urban Meyer Coaching History
Meyer began his head coaching career at Bowling Green (2001-02). He moved on to Utah (2003-03), then the Florida Gators (2005-10). At Florida, he won two BCS championships during the 2006 and 2008 seasons. Ohio State was next for Meyer, from 2011 until his retirement after the 2019 Rose Bowl. In 2014, Ohio State won the Big Ten conference title and the national championship title, first defeating #1 Alabama (42-35) in the semifinal round. Against #2 Oregon in the title game, the Buckeyes prevailed 42-20 for OSU's eighth national title, and a third for Meyer.
Meyer's coaching career hasn't been without controversy. Both at Florida and Ohio State, there were concerns about recruiting and later, at OSU, around an assistant coach and domestic abuse. These might be stumbling blocks to the head coaching job at squeaky clean Michigan.
Jim Harbaugh History

Coach Harbaugh has a history of leaving programs after short tenures. Four years at Stanford, followed by another four with the 49ers. However, he seems happy back at home in Ann Arbor, and he says all the right things about staying and building the football program. Michigan is still unsettled about the last two coaching hires and fires. The university is likely to stick with Harbaugh for now. The question is, will Harbaugh stick with the university? Several NFL teams will be looking for new head coaches this year, and Harbaugh is a tantalizing candidate.
Meyer vs. Harbaugh Heads Up
The head-to-head numbers are clear. In Harbaugh's first four years at Michigan, he lost the last regular season game to Ohio State and Meyer all four times. Last year's 62-39 thumping was particularly painful. Harbaugh is also 1-3 against instate rival Michigan State, and Michigan has lost its last three bowl appearances.
Critics believe Harbaugh is primed for another coaching move. It would seem that frustrations on the field have led to Harbaugh leaving programs in the past. The question is, will loyalty to his alma mater temper his coaching wanderlust? If not, would Michigan actually offer the job to Meyer?