Deiveson Figueiredo last defended his flyweight title three weeks ago, but he's back in action tonight against challenger Brandon Moreno in the main event of UFC 256. That's the headliner of a pay-per-view main card containing five fights, along with five more preliminary bouts on free and streaming television.
If you're not watching UFC 256, that doesn't mean you have to miss out on the action. I'll be providing live updates and unofficial scoring throughout the main card, which begins at 10:00 pm Eastern.
MAIN EVENT: Deiveson Figueiredo vs. Brandon Moreno
Aaaaaaannd STILL!

🏆 @Daico_Deiveson retains his title in a majority draw. #UFC256 pic.twitter.com/zPJzAPvvFe

— UFC (@ufc) December 13, 2020
Round 1
Figueiredo opens the fight with a spinning back kick, though it doesn't land clean. After Moreno lands a nice jab, Figueiredo goes in for a takedown, but Moreno defends, getting his own takedown and briefly taking the back before a scramble that sees the fighters back on their feet.
A high pace early, with both men landing. But Moreno getting more clean jabs in for the moment. Figueiredo lands a big left hook to the body about two minutes into the fight. Figueiredo looks to be settling in at the midpoint of the round.
Moreno just misses with a kick to the head, then slips to the ground. Figueiredo won't let him up right away, but threatened upkicks keep him away until Moreno gets back to his feet.
As usual, Figueiredo looks bigger and appears to be landing more damaging shots, while almost ignoring Moreno's blows. A Moreno head kick gets his attention in the final minute, though. Moreno gives a good account of himself in the first round, but Figueiredo walked down the challenger for most of the round, controlling the action and looking like easily the more dangerous of the two.
Unofficial Scorecard: 10-9 Figueiredo
Round 2
Figueiredo lands a spinning kick to the body about 20 seconds into the round. Moreno staying patient, using his jab in an attempt to keep the champion at bay. The challenger throws a number of effective left hands, but Figueiredo responds with a combination that had to do a little damage. He's also done some damage to Moreno's calf with a series of kicks.
Moreno lands a takedown just under two minutes into the round, but can't quite control Figueiredo. As they scramble, the referee stops the fight, as Figueiredo caught Moreno with a finger in the eye.
The fight resumes in under a minute, with Moreno back in top position. It quickly gets back to the feet, and the two willingly trade in the pocket before getting back to a more technical striking pace. A big left by Moreno with about 90 seconds left gives Figueiredo some pause. But in the final minute, Figueiredo lands a combination to the head that leaves Moreno grabbing his eye. The referee allows the action to continue – no eye poke this time – and Moreno avoids further damage by landing another takedown. Incredible action, and a very close round!
They're are just trading through the first two 👀 #UFC256 pic.twitter.com/YQ2TjbyWuc

— UFC (@ufc) December 13, 2020
Unofficial Scorecard: 10-9 Figueiredo (20-18 Figueiredo)
Round 3
Figueiredo opens the round by landing a big looping right, and the champion moves in with thoughts of finishing the fight! He lands big, but Moreno hangs in there, and doesn't even seem hurt after a minute of taking shots from the champion.
Moreno takes control of the clinch, but doesn't get a takedown immediately, settling for control against the cage. The two separate without much action.
Figueiredo throwing some wild punches, and is clearly looking to finish Moreno. But the challenger is still in the fight, and finding opportunities to throw combinations of his own, even if they're apparently not hurting Figueiredo.
Figueiredo lands a hard knee to Moreno's groin, and the action stops. Figueiredo immediately reacts with disgust, understanding what he did. Moreno has yet to get off the ground, and the commentators say they've potentially never seen a low blow this damaging. After about 90 seconds, Moreno is up, though he's taking his time. The referee deducts a point from Figueiredo, and restarts the fight after a two-minute break.
Moreno looks okay as the action resumes with 90 seconds left in the round, though it's hard to know what the long-term effects will be. Figueiredo lands a takedown, then tries to set up a guillotine as Moreno gets back to his feet. No dice: we're back to stand up. In the dying seconds, Moreno lands a huge right followed by a nice left hand. This was a close round, but Moreno might have pipped it with the late strikes.
Unofficial Scorecard: 10-8 Moreno (28-28)
Round 4
Is Figueiredo slowing down? Moreno is the one landing combinations in the first minute of the fight, lefts and rights that might be doing damage. At the minute mark, a kick appears to wobble Figueiredo momentarily, though the Champion quickly recovers.
Moreno scores a takedown and takes top position against the cage. Figueiredo might be content to take a break against the cage. After maybe 45 seconds, Figueiredo gets back to his feet and lands a big shot on his way up. He's now the one pressing the action, throwing lead elbows.
But at the halfway point, Moreno lands flush to the head, and Figueiredo is wobbled again! Moreno tries to follow up and finish the job, but the champion won't go down easily, and circles back to the center of the Octagon. He's still landing, but his hands are low and Moreno's punches are landing hard and often.
WE ARE NOT WORTHY OF THIS FIGHT 🤯 WHAT IS HAPPENING!? #UCF256 pic.twitter.com/WFYWDxLOmY

— UFC (@ufc) December 13, 2020
After Figueiredo throws some more haymakers – a couple of which land to the body – Moreno counters by taking Figueiredo down. He's in top position, and while he initially looked to be in mounts, Figueiredo ends up in half guard. The champion pushed Moreno off of him and eventually gets back to his feet, but eats punches in the process. What a round for the challenger, who looks fresh heading into the final round, while Figueiredo is fading!
Unofficial Scorecard: 10-9 Moreno (38-37 Moreno)
Round 5
A fight of the year contender heads into the final round. The two men feel each other out for 40 seconds before Figueiredo throws, one, two, three left high kicks. Moreno blocks them all, but isn't throwing much offense here in the fifth just yet. Figueiredo looked like he was in trouble at the end of the fourth, but looks much better now.
Those kicks may have done something: Moreno's left forearm looks seriously damaged, and the commentators are speculating that it could be broken – and his right arm isn't looking great, either. Moreno still throwing and blocking with both arms, but his volume is way down. Unsurprisingly, this has been the quietest round of the five, as both men have to be tired.
Of the two, though, Figueiredo is throwing more, which could give him this critical round. Moreno still throwing some stinging jabs, somehow, then clinches the champion up against a corner of the cage. With under 30 seconds, it looks like Moreno might be content to keep a good position here.
In the final 10 seconds, Figueiredo throws Moreno to the ground, and tries to land some hammer blows from a standing position. He's not going to finish Moreno, but that should remove all doubt as to the winner of the final round. What an unbelievable battle, that will be dead even on my scorecard after five rounds!
Unofficial Scorecard: 10-9 Figueiredo (47-47)
Flyweights are a diff breed.

— Israel Adesanya (@stylebender) December 13, 2020
Gods of War!

— Israel Adesanya (@stylebender) December 13, 2020
Official Result: Majority Draw (47-46 Figueiredo, 47-47, 47-47)
WHAT A FIGHT! WE ARE NOT WORTHY 🏆 #UFC256 pic.twitter.com/2HRN9eBhtz

— UFC (@ufc) December 13, 2020
CO-MAIN EVENT: Tony Ferguson vs. Charles Oliveira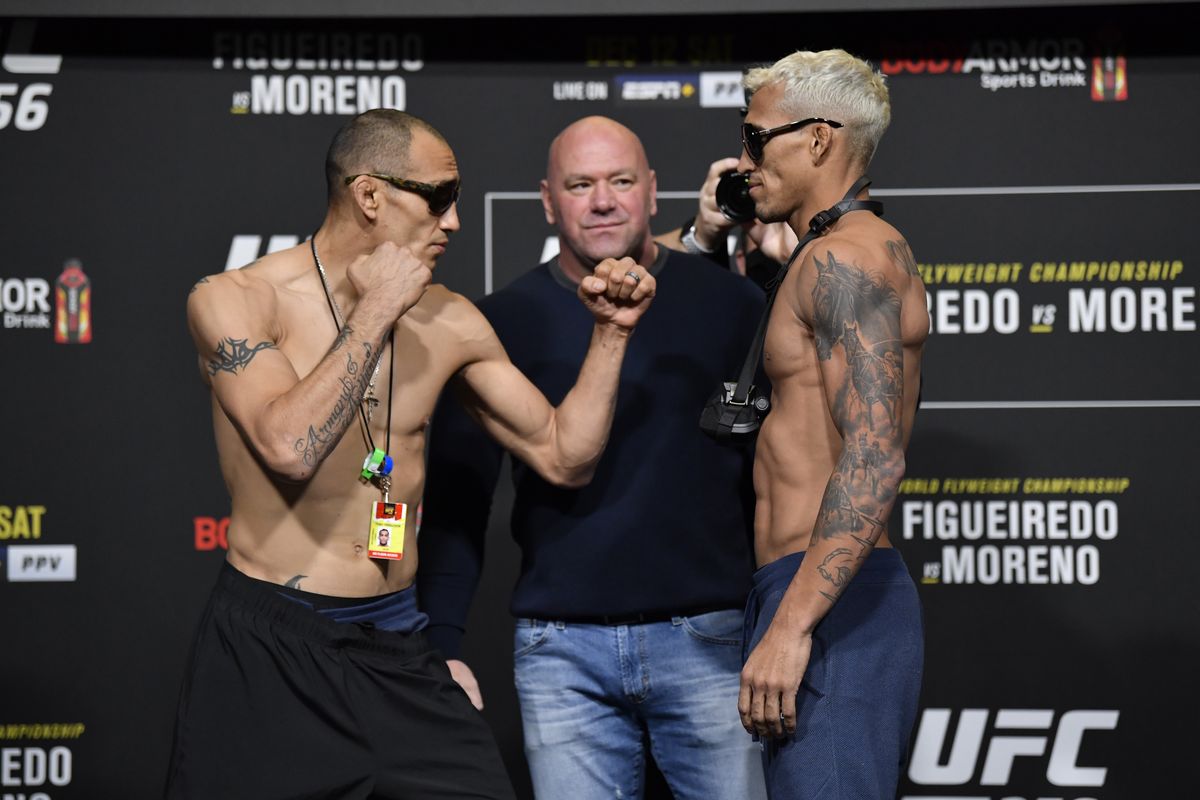 Round 1
Oliveira lands a hard leg kick early for the fight's first significant strike. Oliveira looks like he might be going in for an early finish as he backs Ferguson up against the cage, but a spinning back fist forces Oliveira to back off for just a moment, which is all Ferguson needed to get back into range.
Oliveira lands the first takedown of the fight about 90 seconds in with a body slam. He starts with side control and looks to move to mount, but Ferguson pulls guard. Oliveira threatens to go back to side control, but instead transitions to mount. Ferguson hanging in there by keeping his arms locked behind Oliveira's shoulders.
Tony Ferguson is not human 😱 #UFC256 pic.twitter.com/yAzYH0AIlO

— UFC (@ufc) December 13, 2020
Oliveira manages to maintain mount and occasionally land a punch or hammer fist, though he's been unable to get into a position from which he can land clean ground and pound. With about 10 seconds left, Oliveira manages to lock in an armbar, hyperextending Ferguson's arm! But Ferguson, knowing the round is nearly over, holds out for the bell.
Unofficial Scorecard: 10-8 Oliveira
Round 2
The big question moving into the round: can Ferguson use his left arm? He's throwing absolutely nothing with it in the first minute. Oliveira scores another takedown less than a minute in and gets Ferguson on his back while he remains standing.
A standing elbow from Ferguson opens a cut on Oliveira, and the referee stops the action after Ferguson throws an upkick while Oliveira has one knee on the ground. Referee gives the doctor a moment to look at the cut. After the doctor gives the quick okay, the fight resumes from the position at the time of the pause.
Oliveira has Ferguson smothered, his back against a corner of the Octagon. While Ferguson is throwing from the bottom, Oliveira looks to be in complete control, pushing his weight down on Ferguson and containing Ferguson's legs even if he's not landing any knockout blows.
Ferguson improves to a sort of north-south position and gets at least a faint look at a triangle. It has no chance of getting there, but succeeds in ending the onslaught.
Unofficial Scorecard: 10-9 Oliveira (20-17 Oliveira)
Round 3
Ferguson must throw more volume to try to get back into the fight, as he almost certainly needs a finish to win. A minute in, Oliveira takes advantage by catching a leg and forcing a takedown, landing on top in a mount. Oliveira scrambles around to different positions: side control, north-south, and then back to a mount against.
Just flawless execution 🤯 @CharlesDoBronxs is leaving NO DOUBT. #UFC256 pic.twitter.com/u3XNdD1rcj

— UFC (@ufc) December 13, 2020
As the scramble continues, Oliveira nearly lands an arm triangle, but he escapes – albeit with Oliveira still in a dominant side control position. It is incredible to see anyone work Ferguson like this: Oliveira looks like a future champion. Ferguson looks for chokes from the bottom, as he knows he needs a crafty finish to win the fight. But Oliveira is giving him virtually nothing to work with.
Ferguson gets behind Oliveira and looks like he'll get up, but Oliveira slams him back down to the mat again. In theory, this might have been Ferguson's best round, and it's still closer to 10-8 for Oliveira than 10-9 for Ferguson.
Unofficial Scorecard: 10-9 Oliveira (30-26 Oliveira)
Official Result: Charles Oliveira wins by Unanimous Decision (30-26, 30-26, 30-26)
3️⃣0️⃣-2️⃣6️⃣
3️⃣0️⃣-2️⃣6️⃣
3️⃣0️⃣-2️⃣6️⃣@CharlesDoBronxs wants his title shot! #UFC256 pic.twitter.com/m96CKIAtpX

— UFC (@ufc) December 13, 2020
Mackenzie Dern vs. Virna Jandiroba
Round 1
Dern immediately takes over as the aggressor, throwing flurries of punches and backing up Jandiroba to start the round. Jandiroba looking to counter more than lead the action. Dern ending many of these exchanges with big rights, though nothing seems to have done much damage yet.
With a little over two minutes remaining, Dern chase Jandiroba to the cage behind another combination of punches. Dern then decides to grab a leg, threatening to take the fight between these grappling specialists to the ground. Jandiroba defends well, however, and the standup battle begins again. Dern appears more comfortable and more effective in the striking game; Jandiroba may have to try to get the fight to the ground.
Unofficial Scorecard: 10-9 Dern
Round 2
Dern pours on the pressure to start the second round, throwing a couple big punches to push Jandiroba back again. Jandiroba throwing better jabs than in the first round. Dern clinches Jandiroba up against the way, but Jandiroba circles out and lands a knee as they separate. Dern still throwing – and occasionally landing – the bigger shots.
With just over two minutes remaining in the round, the referee stops the action as Dern pokes Jandiroba in the eye. No protest from Dern, who immediately apologizes. After a delay of just under two minutes, the fight resumes; Jandiroba says she can see fine, but there looks to be visual damage to the right eye.
In a scramble, Jandiroba busts open Dern's nose with a knee. Jandiroba gets a take down and takes top position as Dern pulls guard up against the cage with a minute left in the round. Dern able to keep Jandiroba at bay with her legs, though Jandiroba lands a few weak ground and pound shots before the round ends. A closer round, but Jandiroba probably earned it with the takedown and control time.
Unofficial Scorecard: 10-9 Jandiroba (19-19)
Round 3
Between rounds, Dern said she thought her nose was broken; commentators believe it's likely the case.
The knee that potentially broke @MackenzieDern's nose 😳 #UFC256 pic.twitter.com/f27afgi773

— UFC (@ufc) December 13, 2020
After a few active exchanges to start the round, Dern goes for a single-leg takedown. Jandiroba defends again, and pushes Dern up against the cage before they separate and return to standup striking.
Dern lands a series of jabs and two-punch combinations to Jandiroba's head, and one of them appears to cause damage. Dern pushes Jandiroba back to the cage and looks for a takedown, but instead Jandiroba get on top as they go to the ground. Dern quickly improves position and throws upkicks until Jandiroba backs off and the referee restarts the fight from a standing position.
Both women landing in the final two minutes, but Dern has the most consistent success with her jab. She's also now throwing in some successful kicks to the body. With under a minute left, the two women clinch against the wall. Jandiroba takes a chance by going to the ground, but can't get much out of it, meaning Dern gets the visual bonus of finishing the fight on top. This one could go either way.
Unofficial Scorecard: 10-9 Dern (29-28 Dern)
A unanimous decision and 3rd W in a row for @MackenzieDern! 👏 #UFC256 pic.twitter.com/Mlwq6fnP31

— UFC Canada (@UFC_CA) December 13, 2020
Official Result: Mackenzie Dern wins by Unanimous Decision (29-28, 29-28, 29-28)
FOTN right there#ufc256

— Jamahal "Sweet Dreams" Hill (@JamahalH) December 13, 2020
Kevin Holland vs. Ronaldo Souza
Round 1
Souza shoots in for a takedown early and gets to the top position, though Holland pulls guard. Souza in a dangerous position as Holland shows a potential triangle, then lands a hard elbow to Souza's head. Holland gets back to his feet, but the two men remain clinched against the cage.
Holland looks for a guillotine, but Souza puts him back on the ground, once again taking top position. Holland talking from guard while Souza throws some ground and pound. Holland creates distance using his legs, and now both are on the ground but are no longer grappling. Holland throws a hard right from his back that stuns Souza! He gets up and lands another punch flush to Souza's head to drop him, follows up with some ground and pound, and he's out – the fight is over.
HE KNOCKED HIM OUT FROM THE GROUND #UFC256 pic.twitter.com/GLCyEtNbFE

— Barstool Sports (@barstoolsports) December 13, 2020
OMG!!! I've never seen that before!! #UFC256

— Alan Jouban (@AlanJouban) December 13, 2020
2020 was okay for Kevin Holland 👏🏼 #UFC256 pic.twitter.com/7GA0G9Bt3l

— Volkman (@volkstyles) December 13, 2020
Official Result: Kevin Holland wins by Knockout at 1:45 in Round 1
"Imma bang (Chimaev) up!"

🗣 @Trailblaze2Top is ready for next week. #UFC256 pic.twitter.com/ipkjENWbm5

— UFC (@ufc) December 13, 2020
Junior dos Santos vs. Ciryl Gane
Round 1
After a tentative first 30 seconds, Gane throws a couple kicks before coming in to clinch. That leads to a hold on dos Santos' neck, though there was never much risk of a submission. Gane's kicks are scoring the most of anything for either fighter, including one to the head at the three-minute mark.
With about 2:00 remaining, Gane lands a low left kick to the groin, temporarily stopping the action. Dos Santos is fine, and the action continues seconds later. Gane controlling the range, fighting from the outside and landing kicks to the body. Dos Santos hasn't yet found a reliable way to close the range, but does land a couple big punches in the final 15 seconds.
Unofficial Scorecard: 10-9 Gane
Round 2
The second round starts with the same story: a long-range fight with Gane controlling the action by using a variety of leg and body kicks. When dos Santos does throw, he is swinging for the fences. Midway through the round, the leg kicks look to be taking a toll on dos Santos. Gane lands a jab to the head that hurts dos Santos! Gane pounces on his opportunity, landing heavy elbows, including one that may have been to the back of dos Santos' head as he tried to duck away from it. Dos Santos goes down, Gane follows up with more strikes, and the referee waves this one off!
Hou la la!

🇫🇷 @Ciryl_Gane is forreal, folks! #UFC256 pic.twitter.com/eAlmE9J2OC

— UFC (@ufc) December 13, 2020
Official Result: Ciryl Gane wins by TKO at 2:34 of Round 2
---
UFC 256 Odds (via PointsBet)
Deiveson Figueiredo: -385
Brandon Moreno: +260
Tony Ferguson: -165
Charles Oliveira: +130
Mackenzie Dern: -180
Virna Jandiroba: +142
Kevin Holland: -110
Ronaldo Souza: -115
Junior dos Santos: +320
Ciryl Gane: -450
---
UFC 256 Fight Previews
Flyweights: Champion Deiveson Figueiredo (20-1) vs. No. 1 Brandon Moreno (18-5-1)
Figueiredo goes for his second title defense since taking the vacant crown against Joseph Benavidez in July. Moreno ranks as the No. 1 contender, and is undefeated in his last five fights. Both fighters are turning around after competing just three weeks earlier in UFC 255.
Lightweights: No. 3 Tony Ferguson (25-4) vs. No. 7 Charles Oliveira (29-8)
Tony Ferguson rode a 12-fight winning streak into UFC 249 this May before losing to Justin Gaethje in a fight for the interim UFC lightweight championship. He'll look to rebound against Oliveira, who has won seen straight, last submitting Kevin Lee in March.
Strawweights: No. 11 Mackenzie Dern (9-1) vs. No. 13 Virna Jandiroba (16-1)
Two outstanding grapplers hook up in this women's strawweight battle that could go either way. Dern may try to physically overpower Jandiroba, who has won two straight fights after dropping her UFC debut to Carla Esparza last April.
Middleweights: No. 15 Kevin Holland (20-5) vs. Ronaldo Souza (26-8)
Holland has already won four times during the COVID-19 pandemic, and while none of those victories were over particularly noteworthy competition, the streak has pushed him into the ranks of middleweight contenders. Meanwhile, "Jacare" Souza has lost three of his last four, though two of those defeats have come by split decision, including his last bout in November 2019 against now light heavyweight champion Jan Blachowicz.
Heavyweights: No. 14 Ciryl Gane (6-0) vs. No. 7 Junior dos Santos (21-8)
Undefeated 30-year-old prospect Ciryl Gane faces a serious test against former UFC heavyweight champion Junior dos Santos. Though he remained a top contender for years, dos Santos has lost his last three fights, all by TKO in the first two rounds.