The undefeated UConn Huskies (34-0) enter the Sweet 16 as heavy favorites to win the Albany region of the Women's NCAA Tournament and continue their quest to claim the school's 12th national championship.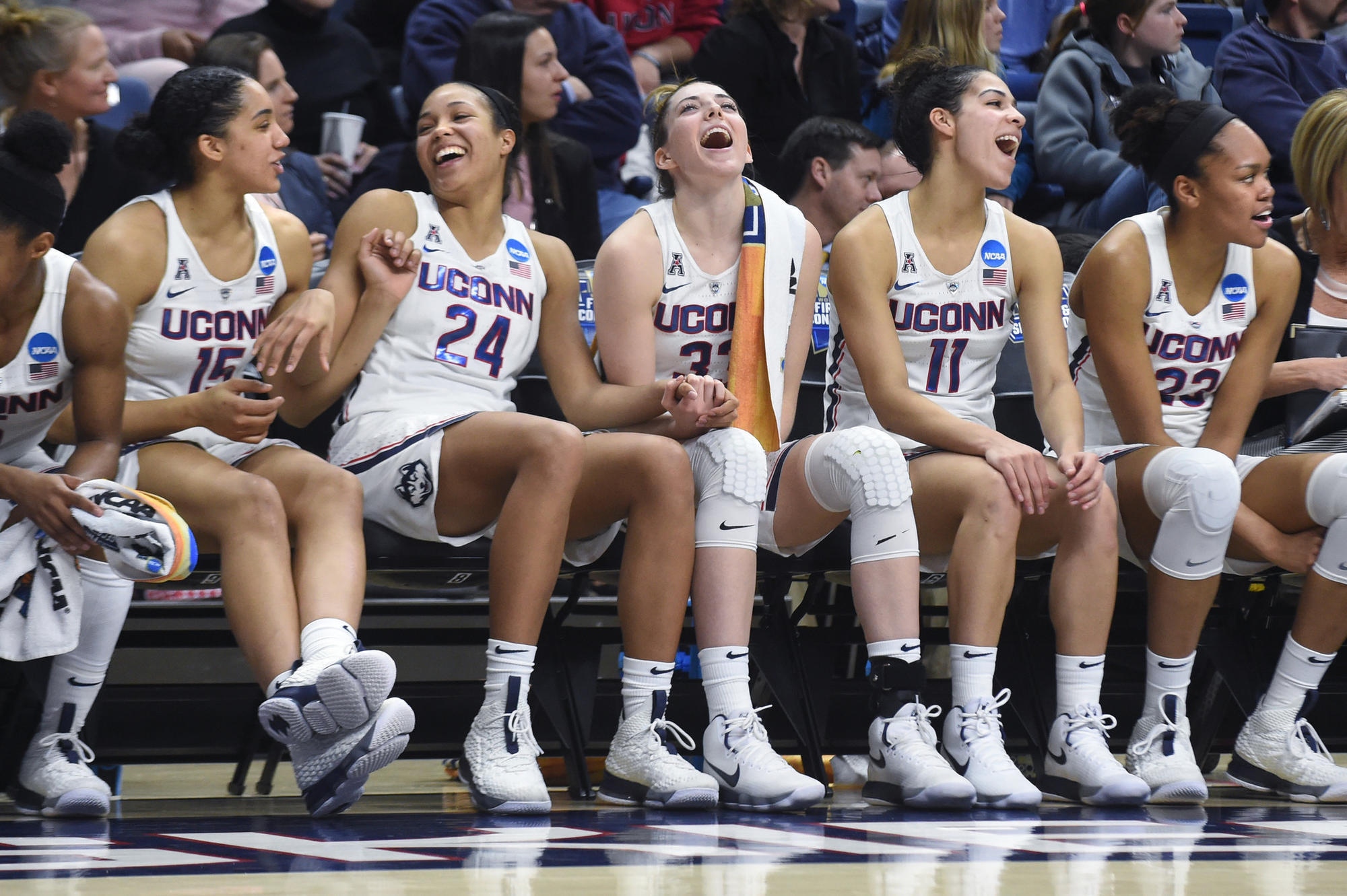 The Duke Blue Devils (24-8) are the next team looking to end the Huskies' perfect season. Duke is coming off a dominating 66-40 win over Georgia in the second round, but they know they're facing an entirely different type of test against the pre-eminent program in women's college basketball.
"[I] love the fact we have the opportunity to play the best team in the country," Duke coach Joanne McCallie told reporters after her team beat Georgia. "This is a great opportunity, to really compete and get after it. That is pretty special and this team has earned it."
Entire Field Underdog to Huskies
According to fivethirtyeight.com, UConn has a 98 percent chance of advancing past Duke. The Huskies are also given a 74 percent chance of winning the entire tournament, a number that shows just how far ahead the field they appear to be.
But there are still a few teams out there that believe they have a realistic chance of defying those odds. The No. 1 seeds are still alive in all four regions, and each has enough firepower to potentially pull off an upset if they run into the Huskies.
In the Spokane region, No. 1 seed Notre Dame (31-3) is looking to make the school's second straight Elite Eight appearance. They'll need to get past fourth-ranked Texas A&M (26-9) to do so. The Fighting Irish have been struggling with injuries, leaving them with a short rotation of just seven healthy scholarship players. Still, the team says they're not worried about their lack of depth.
"We don't have time to be tired," guard Jackie Young told the South Bend Tribune. "This is the best part of the season. We're just living in the moment."
Bulldogs Eyeing Return to Final Four
In the Kansas City region, No. 1 seed Mississippi State (34-1) will take on No. 4 North Carolina State (26-8) in the Sweet 16. Mississippi State is looking to make a second consecutive run to the title game, and they would particularly relish another battle with UConn, whom they beat last year.
Being one of the teams to beat is a new position for the Bulldogs, but coach Vic Schaefer says his team has embraced that role.
"We knew coming into the season we had a target on our back, and our team has responded so well," Schaefer told the Kansas City Star. "It was amazing watching how they went out every night, with teams coming out ready to play against us."
The most vulnerable No. 1 seed may be Louisville (34-2), which has a matchup against a dangerous Stanford (24-10) team in the Lexington region. FiveThirtyEight gives Stanford a 13 percent chance of pulling an upset. The site also projects No. 2 seed Baylor (33-1) as the regional favorite, giving the Lady Bears a 58 percent chance to get to the Final Four, as well as a 10 percent chance of winning the national championship.
While favorites tend to dominate in the Women's NCAA Tournament, two longshots have managed to make it to the Sweet 16. Both Central Michigan (30-4) and Buffalo (29-5) are alive at No. 11 seeds, though they will face their toughest tests yet this round. The Chippweas are up against the second-seeded Oregon Ducks (32-4), while the Bulls face No. 2 seed South Carolina (28-6).