USC coach Clay Helton was the favorite to be the first college football coach fired, but his crosstown contemporary, UCLA's Chip Kelly, might be the one in more trouble. While Helton has managed to win his first two games, Kelly is 0-2.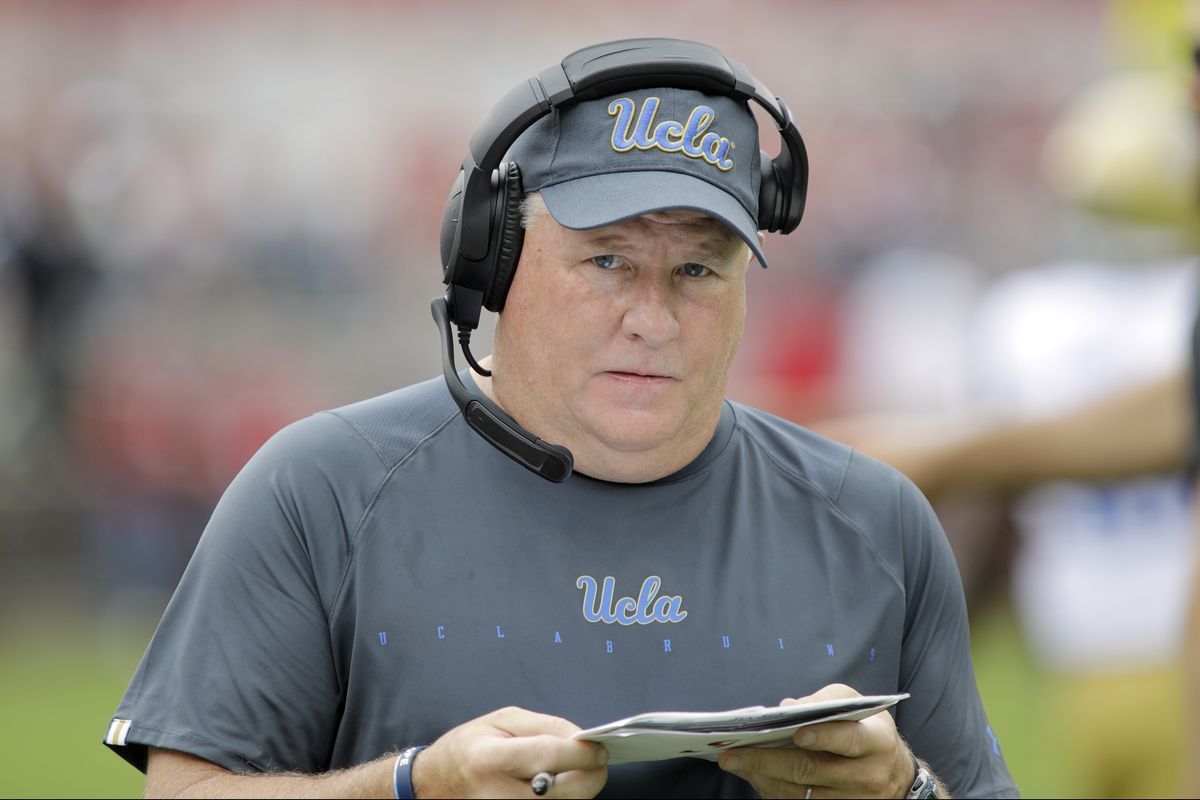 The first loss was on the road to Cincinnati. The Bruins were getting 2.5 points, and lost by 10, 24-14. The second loss was far more serious. They hosted San Diego State, were favored by 7.5, and lost outright, 23-14. The Aztecs had never beaten UCLA in 22 previous meetings.
Kelly told reporters on Monday it's not time to panic.
"You don't tear up the root of the tree to see if it's growing," Kelly said. "You just keep watering it and you keep growing it and doing what you're supposed to do, and that's what happens over the course of time."
If Kelly isn't concerned, he should be. The offense is atrocious. They've scored 28 points in two games, and rank 123rd in total offense.
"We've got young players that are playing for the first time, and they're making mistakes," Kelly said. "Hopefully, they're not making the same mistakes. That's when you have issues, when the same mistakes continue to rear its head."
That statement will get severely tested this Saturday when the Bruins host No. 5 Oklahoma. The line opened at 17 in the Sooners favor, but was pounced on by the sharps, who drove it up to 23 by Monday afternoon.
Still, Kelly is planning on staying the course.
"You just can't say right now, 'Hey, let's run an entirely new offense and an entirely new defense,'" Kelly said. "You do that, and you'd probably lose by a thousand."
Syracuse's Bad Week
Is it possible Syracuse was looking ahead to No. 1 Clemson when they got blown out by Maryland on Saturday, 63-20? The Orange were ranked No. 21 going into last Saturday's contest, but fell out of the poll after the defeat.
They host Clemson Saturday, and find themselves 27.5-point underdogs to the No. 1 Tigers.
The Maryland loss was the most lopsided defeat of a ranked team by an unranked team since Oklahoma beat No. 13 Texas A&M 51-13 in 1999. Syracuse coach Dino Babers said he'll try and get his team to forget the loss and focus on Clemson.
"I think we have a big task," Babers said. "What we just went through, that was big. And now we have an opportunity against the best team in the country, so we'll have to see how we do."
Big Ten Conference Offense Crazy
The Big Ten conference is making over bettors very happy. The conference is averaging 40.5 points a game.
Maryland has hit the over twice with ease. They scored 79 the first week, and 63 last week. Penn State was over in both of their games; 79-7 over Idaho, and, 45-13 over Buffalo.
Wisconsin has scored a combined 120 points in their two games. Ohio State has 87 points in two games. Even Indiana has 86 points in two games.
The Buckeyes face Indiana on Saturday, and are favored by 15.5, with the over/under at 60.5.