We witnessed another wild Wednesday night in the NBA with four players notching triple-doubles, including James Harden in his first game back in Houston to play his old squad, the Rockets. TJ McConnell scored a rare triple-double with 10 steals for the Indiana Pacers. Meanwhile, a pair of teammates posted triple-doubles for the Detroit Pistons, with Mason Plumlee and Dennis Smith Jr. boosting the worst team in the league to a much-needed win.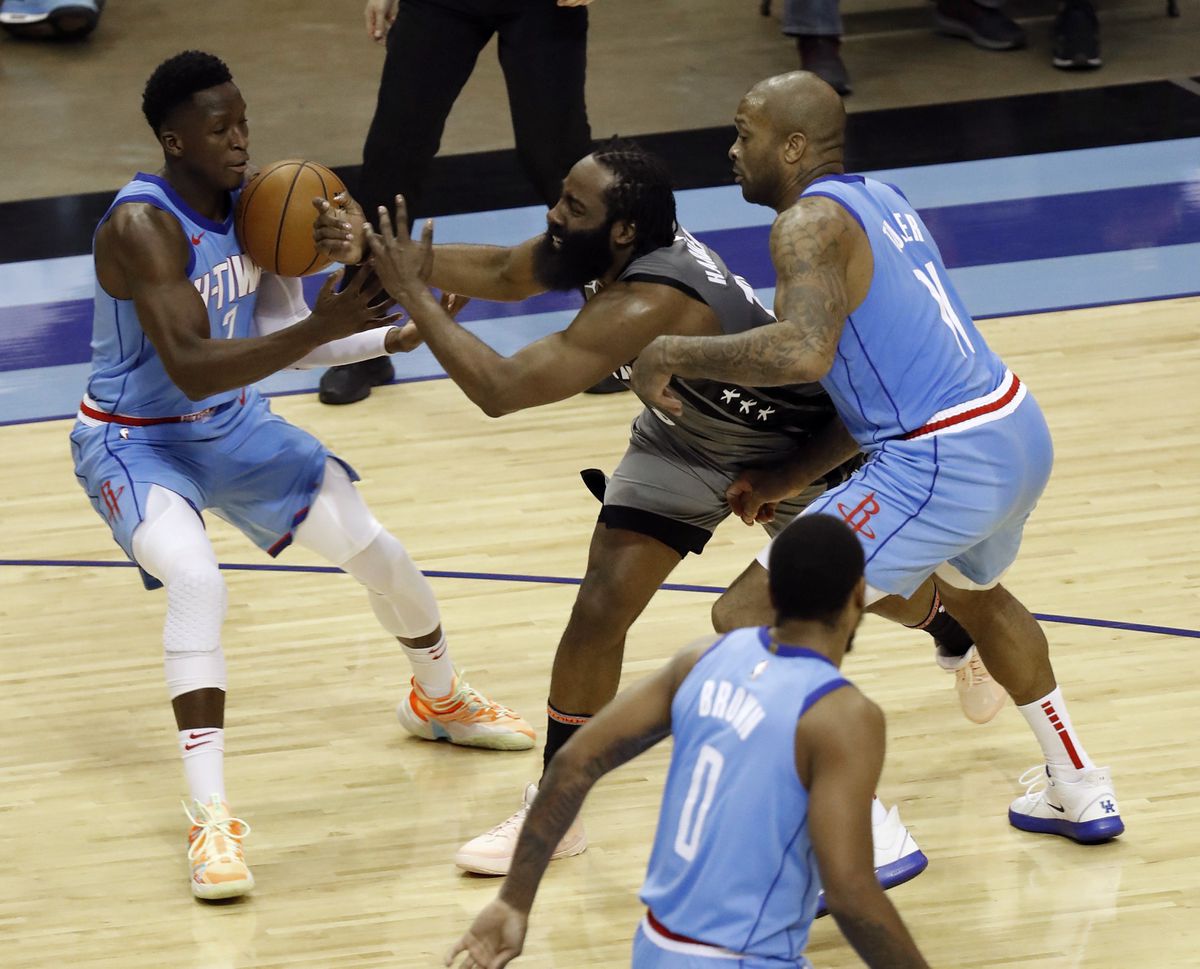 In February, Harden posted three triple-doubles for the Nets, with at least 14 assists in each instance. Over the last 11 games, Harden nearly averages a triple-double with 27.5 points, 10.9 assists, and 9.6 rebounds per game.
McConnell set a new NBA record with nine steals in the first half against the Cleveland Cavs. He also set a new Pacers record with 10 total steals in a game. Oh, and it sounds like we buried the lede here because McConnell achieved this feat off the bench. He was one short of tying the NBA record held by Kendall Gill with 11 steals from the New Jersey Nets back in 1999.
According to StatsMuse on Twitter, Plumlee and Smith became the first teammates in Detroit with a triple-double in the same game since 1964, when Donnie Butcher and Ray Scott pulled off the rare feat for the Pistons.
Dennis Smith Jr and Mason Plumlee are the second teammates to have a triple-double in the same game in Pistons franchise history.

Donnie Butcher and Ray Scott did it in 1964. pic.twitter.com/cypTijT4BR

— StatMuse (@statmuse) March 4, 2021
Another Harden Triple-Double
Harden posted triple-doubles in back-to-back games for the Brooklyn Nets during a road trip to Texas. Those marked his seventh and eighth triple-doubles of the season.
On Monday night, the Brooklyn Nets defeated the San Antonio Spurs in a game in which Harden scored 30 points, and added 15 assists and 14 rebounds in an overtime victory.
Last night, Harden returned to Houston to play his old squad for the first time since the blockbuster four-team trade that sent him to Brooklyn. The Rockets' 12-game losing streak was extended to 13 after the Nets beat them up in an 18-point victory. Harden scored 29 points, and added 14 assists and 10 rebounds. He also added three steals and a rare blocked shot.
McConnell Steals Triple-Double
It's not easy to snag five steals in a game, let alone 10. There were only 11 instances this season when players posted six or more steals in a game. Dejounte Murray from the San Antonio Spurs had the season-high with eight steals in early February against the Golden State Warriors. But McConnell set a new high with 10 last night against the Cavs.
McConnell finished the night with 16 points, 13 assists, and 10 steals.
"That's as good of an all-around game from TJ as you're going to see in the NBA with the multiple ways he affected it," said teammate Malcolm Brogdon. "He's the ultimate teammate, as well, so we were all very happy for him."
"This was very, very big for us and a really impressive game by TJ," said Indiana coach Nate Bjorkgren. "You're always going to get the effort from him at both ends. He's got that look in his eye every night."
McConnell, an undersized point guard at 6-foot-1, has become a fan favorite off the bench. He averages 6.6 points, 6.8 assists, and 3.6 rebounds in 25.2 minutes off the bench this season.
Double Triple-Double in the Big D
The New York Knicks passed the buck on Dennis Smith, Jr. He came to NYC via the Dallas Mavericks in a trade for the Unicorn. Smith didn't crack Tom Thibodeau's rotation with the revamped Knicks this season and was exiled to the end of the bench. The Knicks sent him down to the G League to stay fresh before they traded him to the Detroit Pistons as part of the Derrick Rose deal.
Smith took advantage of the change of scenery and a fresh start. In one of his best performances this season, Smith tallied a triple-double. Smith only scored 10 points, but he added 12 rebounds and 11 assists.
The Pistons knocked off the short-handed Toronto Raptors, who were playing their first game back since they contained a COVID-19 outbreak that struck down their coaching staff.
"My thing as of late has been trying to get to the ball, and making a play to help us win," said Smith. "We were making shots tonight and we kept the energy in the game from start to finish. I think that was the main thing."
The Pistons, the worst team in the NBA, finally reached the 10-win mark.
Mason Plumlee, the Pistons' starting center, added a triple-double of his own with 14 points, 11 rebounds, and 10 assists. Plumlee and Smith notched the first dual triple-double for the Pistons in 57 years.
Check out more highlights and videos of epic performances in our series titled NBA High Guys.