OG's favorite NBA player, OG Anunoby, will miss an undetermined amount of time with the Toronto Raptors due to an injury on his right hand's ring finger.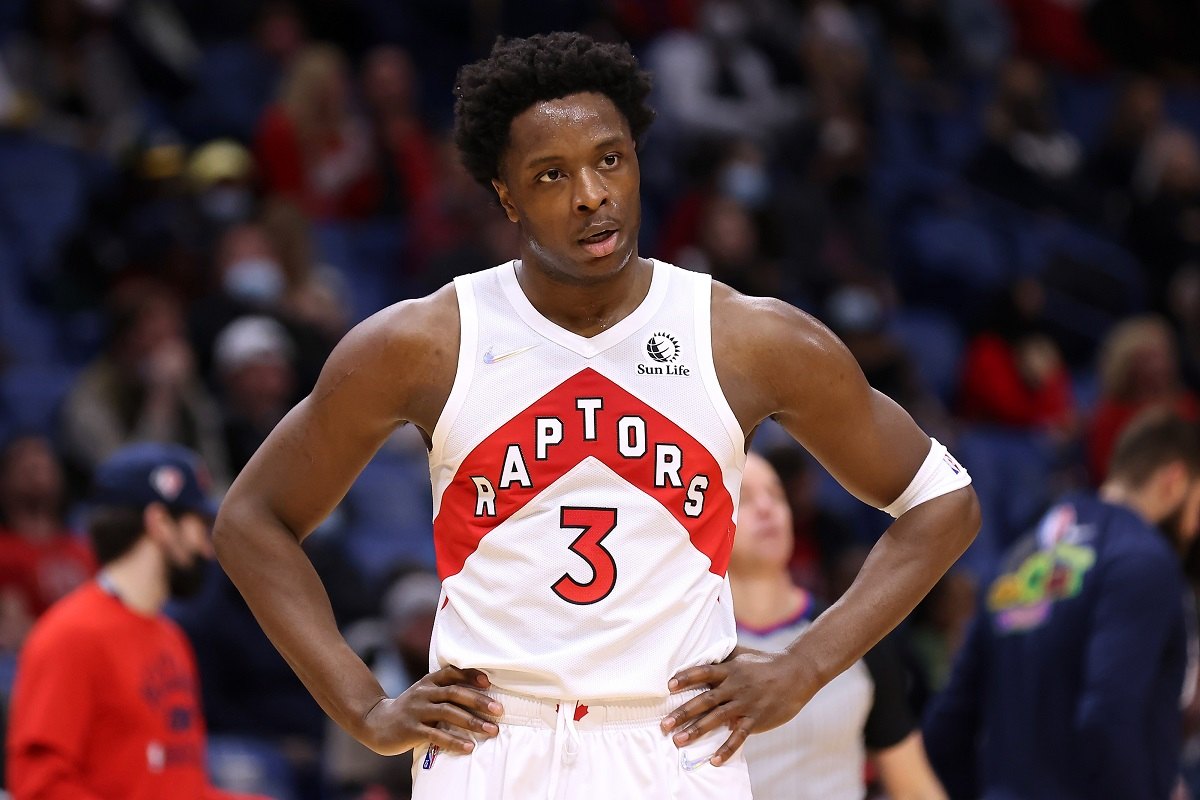 Anunoby is the Raptors fourth-best scorer averaging a career-high 17.2 points, 5.5 rebounds, and 2.6 assists per game. He started in all 42 games he appeared in this season with the Raptors.
At the start of the season in November, Anunoby missed 13 games with a hip pointer. Last season, Anunoby missed 25 total games including 18 combined games with a calf strain injury.
Without Anunoby in the lineup last night, the Raptors (32-26) lost to the Charlotte Hornets in a 32-point blowout. The Raptors are in the thick of the Eastern Conference playoff hunt. They still hold down the #7 seed in the Eastern Conference, but would like to avoid the play-in tournament. They trail the surging Boston Celtics (35-26) in the #6 seed by 1.5 games. The Brooklyn Nets (31-29) sit in the #8 seed, but the Raptors hold a two-game edge over the new-look Nets. The Hornets (30-31) currently occupy the #9 seed, but they're just 3.5 games behind the Raptors.
OG's Injury Happened Before All-Star Break
Anunoby was in a shooting slump before the All-Star Break because of a lingering finger injury on his shooting hand. An x-ray confirmed he had a fractured ring finger. Team officials said Anunoby had an undisplaced fracture, but there's no specific timetable for his return. Anunoby will seek a second opinion to determine whether he needs to rest, or if he can play the rest of the regular season with the injury.
"I think it is probably something he can play through," said head coach Nick Nurse. "But he and we need reassurance of that."
In the three games before the All-Star Break, Anunoby played through the pain and injury, but it was clearly altering his shot. He connected on a dismal 28% from the field including 16% from 3-point range. In the ten games prior to the injury, Anunoby had been on a heater averaging 50% from the floor including a sizzling 43% from 3-point range.
Nurse will rely on rookie Scottie Barnes and veteran Thaddeus Young to pick up some of the scoring slack. Barnes led the Raptors with 28 points last night in a loss against the Hornets. During his first season with the Raptors, Barnes averages 14.7 points, 7.4 rebounds, and 3.3 assists per game. Young joined the Raptors after they acquired him in a trade with the San Antonio Spurs before the trade deadline. Young averages 6.1 points, 3.7 rebounds, and 2.2 assists this season.