The 2019 NFL Draft class does not have a deep class of quarterbacks like last year's draft, but they still have a couple top-notch prospects such as Heisman Trophy winner Kyler Murray (Oklahoma), Dwyane Haskins (Ohio State), Drew Lock (Missouri), and Daniel Jones (Duke).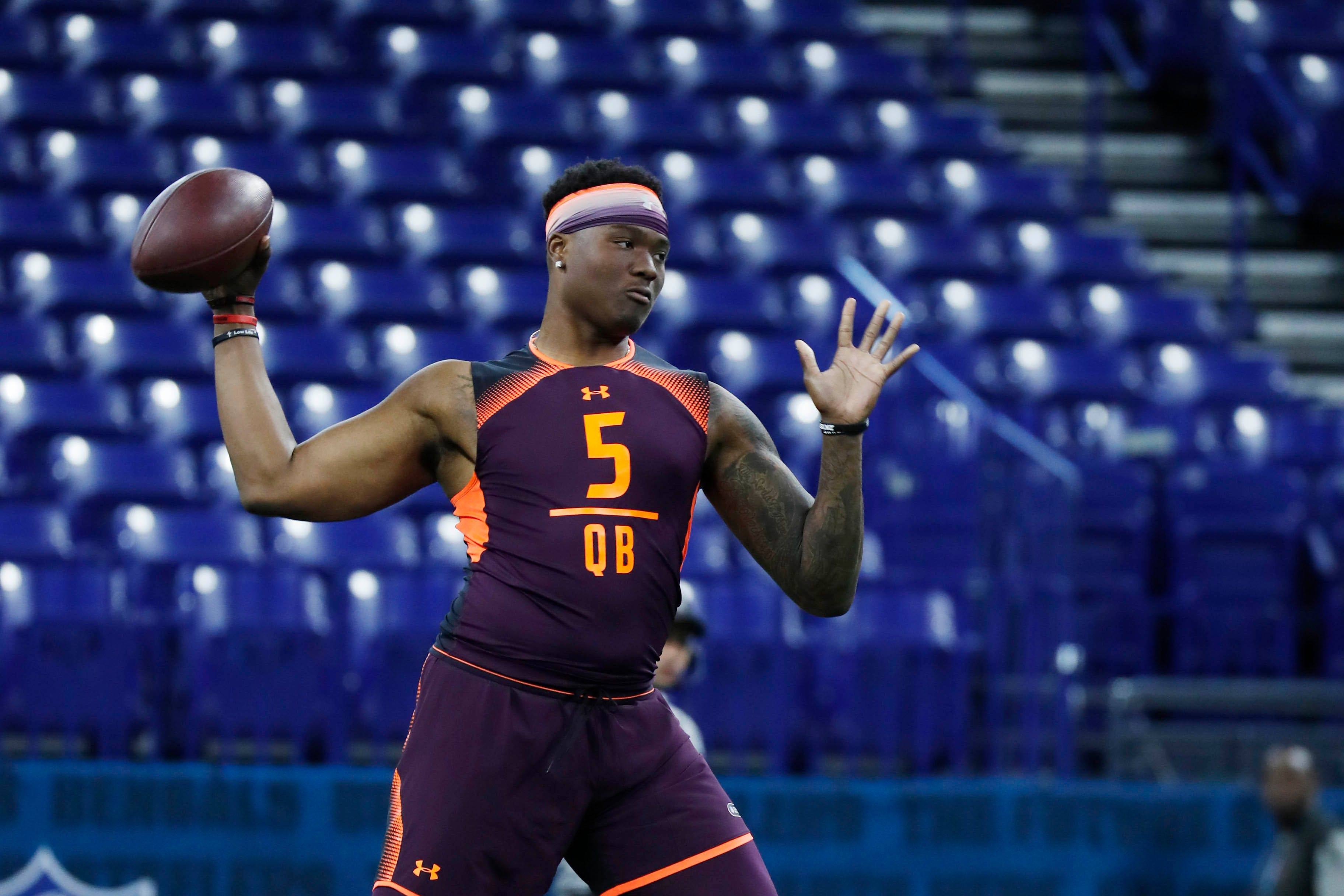 Other notable quarterbacks in the upcoming draft include Ryan Finley (NC State), Will Grier (West Virginia), Brett Rypien (Boise State), Jordan Ta'Amu (Ole Miss), Tyree Jackson (Buffalo), and Jarrett Stidham (Auburn).
The top QB prospect in America decided to return to school next season. Justin Herbert, QB from the Oregon Ducks, opted to remain in Eugene for his senior season. Word got out that he wanted to avoid playing for Jon Gruden and the Oakland (soon-to-be Vegas) Raiders.
2019 NFL DRAFT – TOP 10 QB PROSPECTS
Kyler Murray (Oklahoma)
Dwyane Haskins (Ohio State)
Drew Lock (Missouri)
Daniel Jones (Duke)
Ryan Finley (NC State)
Will Grier (West Virginia)
Brett Rypien (Boise State)
Jordan Ta'Amu (Ole Miss)
Tyree Jackson (Buffalo)
Jarrett Stidham (Auburn)
When Kyler Murray won the Heisman Trophy, most draft experts expected him to pursue professional baseball as a career. The two-sport wunderkind is a top outfielder prospect for the Oakland A's. The A's drafted Murray last year and they hoped he would've joined them in Spring Training. Instead, Murray picked pro football as his career. He spent time at various workouts preparing for the upcoming NFL Draft instead of shagging fly balls.
Big Dogs: Haskins and Murray
Murray won the Heisman with sensational numbers out of Oklahoma. He threw 42 touchdowns (ranked #2 in the nation) and passed for 4,361 yards (ranked #3 overall). Murray only tossed seven interceptions and posted a 69 percent completion rate. He also rushed for 12 touchdowns.
The Arizona Cardinals have the top pick. Kliff Kingsbury's Air Raid offense will work perfectly with Murray, but they already have Josh Rosen. Who knows if the Cardinals go with Murray or possibly trade down?
At Ohio State last season, Dwyane Haskins led the NCAA with 50 touchdown passes and 4,831 passing yards. He only threw 8 picks too. His finished with a 174.1 rating. Haskins grew up in New Jersey as a NY Giants fan. He left school early when he saw an opportunity to become one of the first quarterbacks selected. He has no qualms about playing for the Giants as a possible replacement for Eli Manning.
The Jan Brady: Lock and Jones
Drew Lock played four seasons with Missouri and faced some of the best defenses in the country. He threw 99 touchdowns over his career. Lock had a sensational 2017 with 44 touchdowns and just missed 4,000 passing yards. In 2018, Lock tossed 28 touchdowns for 3,498 yards. He completed 62.9 percent of his passes and finished with a 147.7 rating.
Daniel Jones has the prototypical quarterback size. He also had the benefit of playing under the guy who also coached both Eli Manning and Peyton Manning. Jones played three seasons as Duke and started as a freshman. He has 52 touchdowns in his career, but he's also tossed 29 interceptions. He completed 60.5 percent of his passes this season for a Duke squad that went 8-5 in the ACC.
Best of the Rest: Grier, Finley, and Rypien
Will Grier came out of high school in North Carolina as a dual-threat quarterback. He initially signed with Florida. He played 6 games with the Gators before he got suspended for PEDs. Grier left school and transferred to West Virginia. He sat out a season before becoming the starter for West Virginia.
In his first 11 games with the team in 2017, he tossed 34 touchdowns and ran for two more. In 2018, Grier threw 37 touchdowns and only eight interceptions. He completed 67 percent of his passes and rushed for three more scores.
Ryan Finley started out at Boise State, but transferred after playing in only 7 games in two seasons. He was eligible to play three seasons with North Carolina State. In 39 games at NC State, Finley threw 60 touchdowns, including 25 in his senior year. He completed 67.4 percent of his passes and finished the season with a 148.0 rating.
Brett Rypien, the nephew of Super Bowl champion Mark Rypien from the Washington Redskins, played four seasons at Boise State. He's the reason why Finley transferred to Raleigh. In four seasons in Boise, Rypien threw 90 touchdowns and led them to a 40-13 record. In his senior season, Rypien threw 30 touchdowns and only 7 interceptions. He completed 67.3 percent of his passes.