Tiz the Bomb may still go to the UK for either the Epsom or Irish derbies. But before he does – if he does – the recent winner of the Grade 3 Jeff Ruby Steaks has a Kentucky Derby date on the first Saturday in May.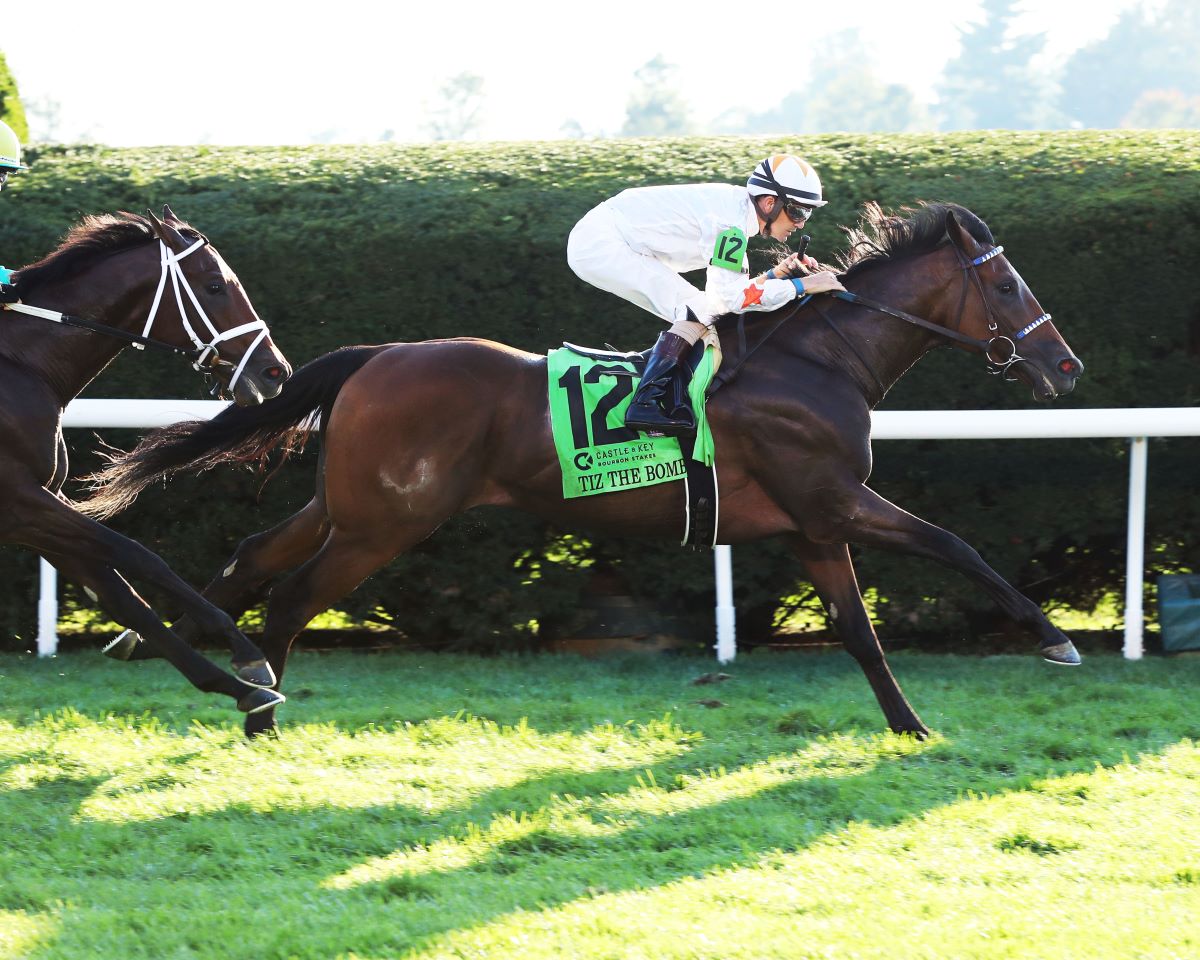 Trainer Kenny McPeek told Steve Byk's "At the Races" radio show Monday that the talented Tapeta runner and his 110 Derby qualifying points will run the May 7 Kentucky Derby.
"He was ultra-impressive," McPeek told Byk. "He seems to be a horse that certainly is very adaptable. The initial reaction after the race, and there are some logistics issues taking him to Europe initially, but I think he's going to run in the Kentucky Derby. This horse has done well, he's here, he's gonna get in, and he punched his ticket."
This became a storyline because Tiz the Bomb has been dynamite on synthetic and turf. He is 2-1-0 in three turf starts and 2-0-0 on synthetic. That latter figure, courtesy of Tiz the Bomb's sweep of Turfway Park's two Derby preps, the John Battaglia Memorial last month, and last Saturday's 2 ¼-length victory as the 8/5 favorite in the Jeff Ruby.
Tiz the Bomb takes to turf
The turf wins came in the Kentucky Downs Juvenile Mile and the Grade 2 Bourbon Stakes at Keeneland, both last fall. He also has a second in the Breeders' Cup Juvenile Turf.
Tiz the Bomb has five career wins in eight starts. Only one of those came on dirt — an Ellis Park maiden special weight last July in his second start. His last dirt run sticks in the minds of horseplayers, a miserable seventh in January's Holy Bull. Tiz the Bomb never factored, finishing 20 ¼ lengths behind White Abarrio.
In those eight starts, Tiz the Bomb has two triple-digit Equibase Speed Figures, including a 109 in the Breeders' Cup Juvenile Turf and a 105 in the Jeff Ruby.
European Derby options exist after the Kentucky Derby
"Churchill is a different surface," McPeek said. "The Gulfstream surface is a heavy sand and the kickback is pretty significant, and he didn't handle that at all. I've had a list of horses over my career that have run on anything and I think sometimes, we suffer from analysis paralysis when you pigeonhole a horse that he's strictly a grass horse or a dirt horse or a synthetic horse. Sometimes, it's more class level than it is surface."
It was that seemingly decisive trend toward turf that prompted the questions about running Tiz the Bomb in one of the UK's turf classics for 3-year-olds. There are the 2,000 Guineas at Newmarket, the Epsom Derby, and the Irish Derby. McPeek has options that complement his willingness to send a charge across the Atlantic.
McPeek hasn't ruled out the Epsom or Irish derbies.
"The 2,000 Guineas is a race that I would have loved to have attempted, but there were some problems with logistics and licensing and things like that," McPeek told Byk. "If he were to run well in the Kentucky Derby and he justifies it, I would love to take him to the English Derby and the Irish Derby. I think he's a horse that will handle even more ground."