Tim Tebow is the most famous minor league baseball player since Michael Jordan, but unlike the basketball icon, the former NFL player is holding on to dreams of getting called up to the major leagues. BetOnline believes it will happen.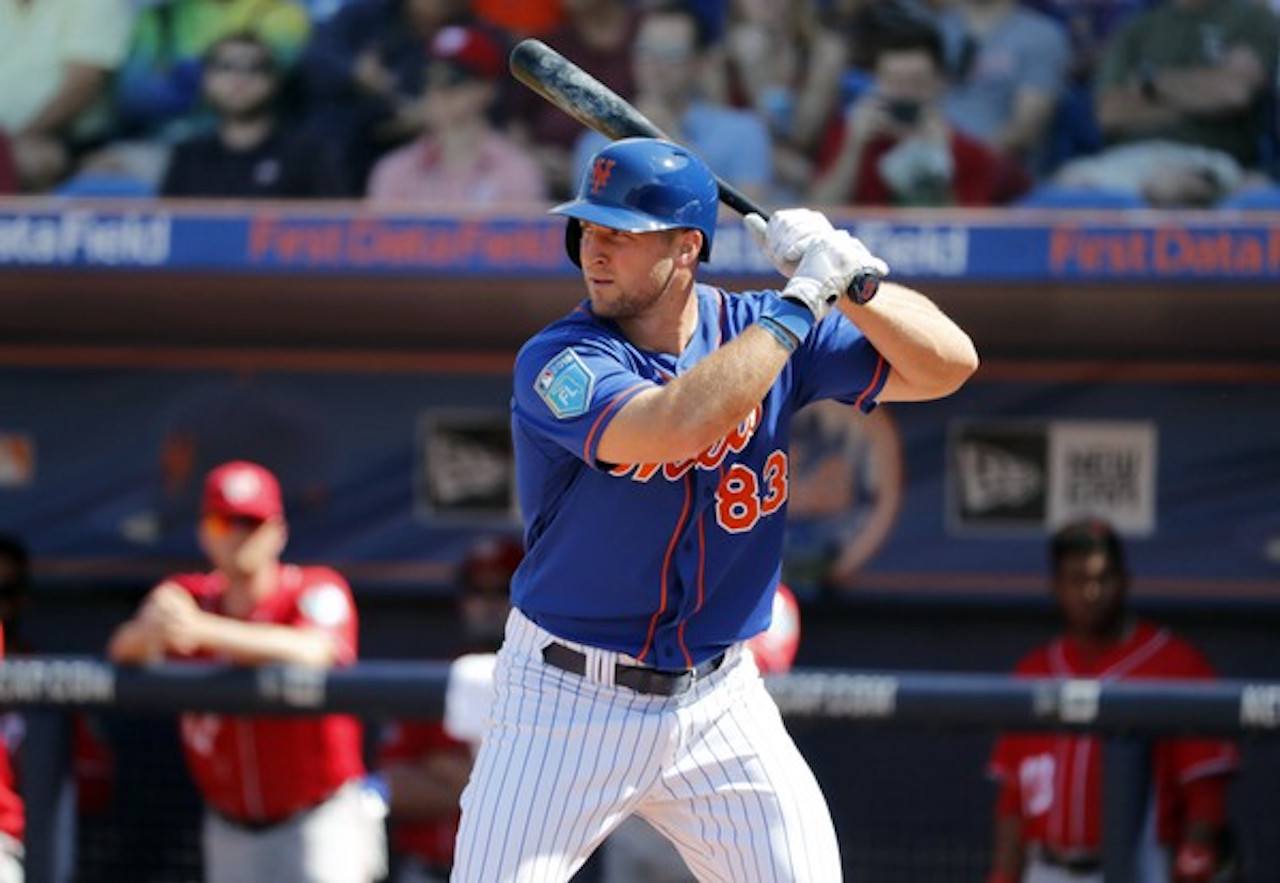 The internet sportsbook has a prop bet on whether the 30-year-old will play in the major leagues before 2019. With the no set at -350, the belief is Tebow won't make the jump, but with a yes at +240, it's not beyond the stretch of imagination.
Tebow has put the talk aside, preferring to focus on his current team, the Binghamton Rumble Ponies, a Double A affiliate of the New York Mets. He told The Sporting News that the decision is not his to make.
"I think for me, I can't worry about any of that," Tebow said. "I have to stay focused on the process and not the maybes, not the hypothetical, not the what-ifs. I don't think that's a place that an athlete can live. I don't think you can let your mind go into places like that."
Votes Mixed on Promotion
If Tebow's mother had her way, her son would be playing for the Mets right now. She was stopped by TMZ at Los Angeles International Airport and shared her thoughts.
"We're partial, so we would vote for him to go up to the majors," Pam Tebow said. "But, it's not up to us."
Her mom's remarks were ridiculed by some on social media and Tebow was quick to defend his mom's comments.
"She's just trying to be sweet and the good thing is my parents will always believe in me no matter what," Tebow told the Fort Lauderdale Sun-Sentinel. "I love that. Whether it's my dad across the world in the Philippines right now or my mom getting caught off guard at the airport, they will always believe in me."
One person who has a bit more weight in the matter didn't actually say Tebow was a major leaguer, but said it is very possible he could get called up to the Big Show. Former Mets general manager Sandy Alderson was asked back in March about Tebow's future and he was somewhat positive.
"Somebody asked me whether I think he'll be a major league player at some point," Alderson said. "I think he will play in the major leagues. That's my guess. That's my hope, and to some extent now after a year and a half, a modest expectation."
Bat Doing Some Persuading
Assistant general manager John Ricco, who is one of three executives that are taking over for Alderson after he left to fight a cancer diagnosis, said at the moment the club has no plans on promoting Tebow.
That might change as the end of the summer nears. Tebow has made huge improvements offensively. He had a batting average of .234 at the end of May, but hit .305 in June, and is at .390 in July. He now has a batting average of .270.
That was good enough to get a spot on the Eastern League All-Star team. His appearance at that game spurred ticket sales, and secondary markets were selling for well over list price.
That might be an incentive for the Mets to bring him up to Citi Field. The team began red hot, but has faltered at the mid-way point. As the team falls further and further from playoff contention, Tebow might put some butts in the seats as a novelty draw. He has proven he can do that on the minor league level. He remains optimistic it will happen.
"I would say if you have a dream and you're passionate about something, then don't be afraid to go and live that out," Tebow said. "There will always be naysayers and people that want to bring you down, but let your passions speak louder than the critics will ever speak."