Tiger Woods' win at the Zozo Championship was his 82nd career victory, tying him for most on the PGA Tour with Sam Snead. It also dropped his odds for the 2020 Masters.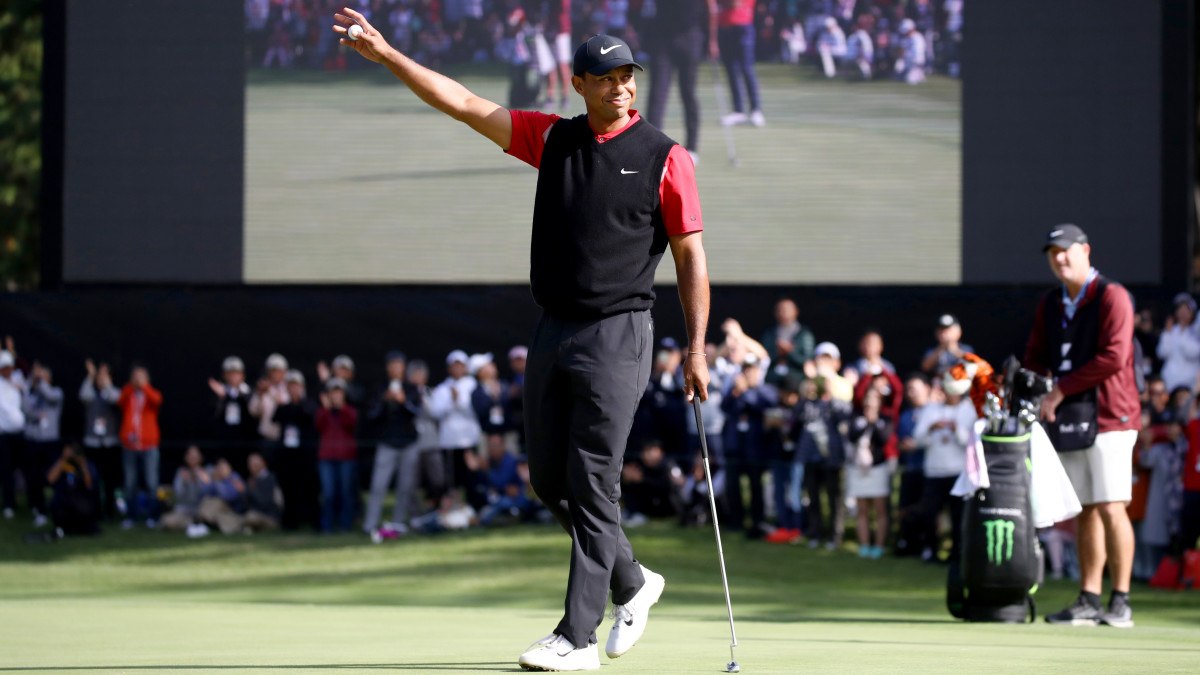 The first of Woods' wins was 23 years ago at in Las Vegas, when a 20-year-old won in a playoff with Davis Love III for his first victory. Woods said after the win on Sunday in Japan that it has been quite a ride.
"Well, it's a big number," Woods said of his 82nd victory. "It's about consistency and doing it for a long period of time. … I'm very fortunate to have had the career I've had so far."
To put 82 victories it in perspective, Woods' win is more than the other nine players in the Official World Golf Rankings combined. They have a combined PGA Tour victory total of 79, two short of No. 6-ranked Woods' win total of 82. Koepka is No. 1 and has seven, No. 2 Rory McIlroy, 17, No. 3 Dustin Johnson, 20, No. 4 Justin Thomas, 11, No. 5 Jon Rahm, three, No. 7 Patrick Cantlay, two, No. 8 Justin Rose, 10, No. 9 Xander Schauffele, four, and No. 10 Bryson DeChambeau, five.
Woods' Win Makes Him Masters Favorite
There were so many other perks for Woods' win other than the check that put him over $120 million in career earnings. It was his third victory in 14 starts. His other two were the 2018 Tour Championship and the 2019 Masters, his 15th major championship.
Winning at Zozo pushed Woods to the top of the betting board for the 2020 Masters at some sportsbooks. While Las Vegas sportsbooks like the Westgate Las Vegas SuperBook, and the Golden Nugget had Woods at 12/1 or 16/1, he has already dropped at the internet and overseas sportsbooks.
Bet 365 has him at 11/1, while BetOnline has Woods at 10/1. That is still behind favorite Brooks Koepka, who is at 8/1. At PointsBet, however, he is the 9/1 favorite. Koepka is next at 10/1.
Another possible perk is Woods might have played his way onto the President's Cup team. Being the captain, Woods had entertained the possibility of naming himself as a pick. Now it seems selecting himself would be almost a no-brainer.
Golfers Show Amazement at Tiger
Woods' win was the No. 1 topic of conversation after the Zozo Championship, especially among his fellow tour pros. Most were blown away by the accomplishment of 82 career victories.
"In this era to win even 50 times on the PGA Tour is an unbelievable achievement in itself," McIlroy said on Sunday to reporters. "Even Phil's number [44 Tour victories], but to get to 82. I feel like I've had a decent career, [but] if I win six times a year for the next 10 years I still wouldn't get there."
US Open champion Gary Woodland played with Woods for the final two rounds, and had a front row seat for the victory.
"The majors speak for themselves, but 82's just a crazy number," Woodland said. "You look at the guys that have won 10 times and it's pretty special, let alone to come out here and win 82 times. To battle through the injuries he's dealt with, gosh, he's young and he's playing unbelievable."
Woods Determined to Win More
Fresh off his fifth knee surgery, Woods said he hasn't felt this good in years. He also said, much to the chagrin of his fellow golfers, that he feels like he can stay competitive for a few more years.
Snead was 52 when he won the 1965 Greensboro event to set the victory record and Woods, 43, was asked if he can imagine himself still competing at 52 years old.
"I hope that's the case," Woods said. "If you would have asked me a few years ago, I would have given you a different answer, but certainly the future looks brighter than it has and hopefully I can be as consistent as he was well into my 40s and early 50s."