Tiger Woods hasn't played in a golf tournament since a Feb. 23 car crash sent him to the hospital with serious injuries to his right leg. But the 15-time major champion will return to action earlier than almost anyone expected, as Woods says he will play at the PNC Championship next weekend.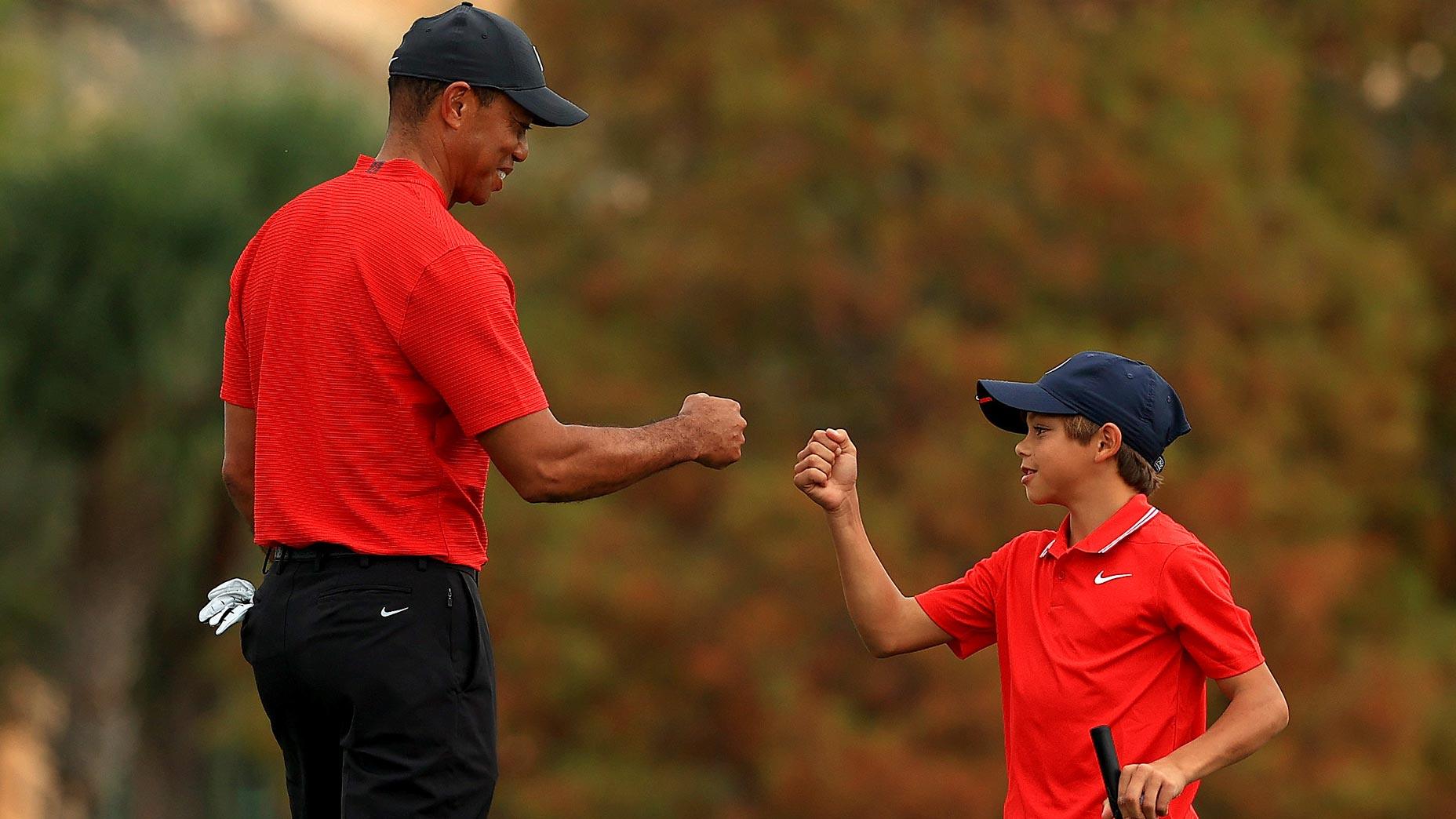 Woods played with his son, Charlie, at last year's PNC Championship.
Woods 'excited and proud' to play with son
The two will team up again this year. Organizers once called the tournament the Father-Son Challenge, but have changed the name to reflect the fact that many different sets of family members now play in the event.
"Although it's been a long and challenging year, I am very excited to close it out by competing in the PNC Championship with my son Charlie," Woods wrote in a tweet. "I'm playing as a Dad and couldn't be more excited and proud."
Woods says that he's still far away from playing in tour-level events, but says he's recovered to the point where he can golf for fun, or in what he calls "hit and giggle" events. The PNC Championship will allow Woods to use a golf cart during the event.
WHAT. A. SHOT. 👀

Charlie Woods gets within four feet to make the first eagle for Team Woods at the PNC Championship.pic.twitter.com/cMyEqLxhdX

— Golf Digest (@GolfDigest) December 19, 2020
Last year, the then 11-year-old Charlie Woods wowed crowds with his play, showing both length and accuracy around the course.
Thomas team odds-on favorites to win
The Woods team ultimately finished seventh in the PNC Championship last year. Justin Thomas won the event with his father Mike, who is also a PGA teaching pro. The Thomas duo will return to the Ritz Carlton Golf Club Orlando to defend their title.
They'll be part of a field of 20 teams, all headlined by former major-championship winners, including LPGA No. 1 Nella Korda, along with big names like Lee Trevino, Bubba Watson, Jim Furyk, David Duval, and Nick Faldo, among others.
Of course, Woods stands out as the biggest draw in the field for fans of the PNC Championship.
"We have been liaising with Tiger and his team for some time and are delighted that he has now decided to make his return to competitive golf at the PNC Championship," Alastair Johnston, executive chairman of the tournament, said in a statement.
Given the pro-am nature of the event, and the fact that some teams feature children, no regulated sportsbooks are offering odds on the PNC Championship at this time.
It's possible that some offshore sites will offer odds on the event before it starts on Dec. 18. Some books posted odds for the 2020 event, with the Thomas team entering as a favorite in the 36-hole scramble. That will likely continue to be the case in 2021, as the advantage of having two PGA professionals on one team may be too much for anyone else to overcome.