With NFL preseason fully under way, three quarterback competitions have arisen, though all three are in vary states of intensity. They range from foregone conclusion to up in the air.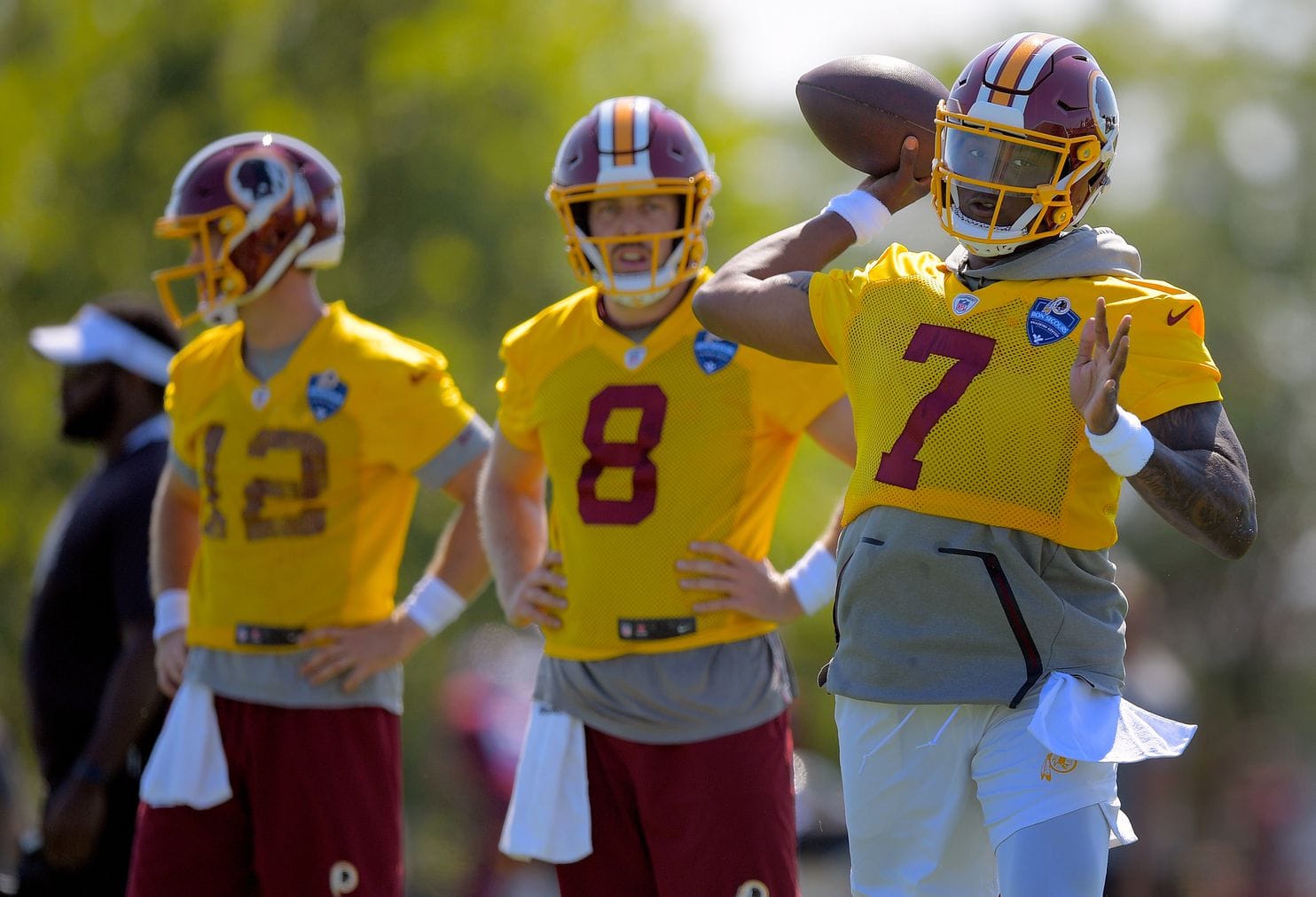 Oddsmakers have put out lines on the battles for signal callers. The proposition bet is "What quarterback will start for their team in the opening game?"
Starting QB on Sept. 1                                                     Odds

New York Giants

Eli Manning                                                                        -1000

Daniel Jones                                                                      +500

Miami Dolphins

Ryan Fitzpatrick                                                                 -250

Josh Rosen                                                                        +170

Washington Redskins

Case Keenum                                                                    +100

Colt McCoy                                                                        +200

Dwayne Haskins                                                                +250

Odds courtesy of Betonline.ag
The three battles in question are New York Giants' Eli Manning and rookie Daniel Jones, Miami Dolphins' Josh Rosen and Ryan Fitzpatrick, or Washington Redskins' Case Keenum, Colt McCoy and Dwayne Haskins.
Three-headed QB Competition
While the other two teams have two players battling it out for the position, the Washington Redskins have three that could legitimately start the first game of the season. Right now it seems like a contest between established veterans Colt McCoy and Case Keenum. Though rookie Dwayne Haskins has been turning some heads.
McCoy took over for starter Alex Smith, who suffered a gruesome leg injury. McCoy played three games, completing 34 passes for three touchdowns, until he suffered a fractured leg the first week of December.
Keenum spent last year in Denver, passing for 3,890 yards and 18 touchdowns. The Broncos didn't think he was their starter, and traded him to the Redskins.
Haskins was the No. 15 pick in the 2019 NFL Draft. He played only one year at Ohio State, but threw for 50 touchdowns.
Coach Jay Gruden put out his team's depth chart for its Thursday game against the Cleveland Browns. Keenum is No. 1, McCoy is No. 2 and Haskins is third. Gruden, though, said not to read too much into it.
"It's early and I was forced to make it," Gruden told the media on Monday. "I wouldn't have made a depth chart right now. There's no reason to, it's silly.  But that's for the media and for me to come up and answer these questions. But really, that's all it is. Words on a piece of paper, names on a piece of paper and an order that means nothing at this point."
Manning Staying Atop Throne
Though the New York media loves a good controversy, there doesn't seem to be one regarding the quarterback position for the Giants. Eli Manning is the incumbent and unless injured, should be under center when New York travels to Dallas to play the Cowboys on September 8.
Coach Pat Shurmur, as well as general manager Dave Gettleman have said that Manning is the starter. Assistant offensive coach Ryan Roeder said he was impressed at what the 38-year-old is doing.
"I think Eli has done a wonderful job taking care of himself," Roeder said. "He works at it endlessly and I think the things he does on the field, you can't just say, 'Oh, he's done that because he's been here so long.' It's just really impressive the way he can diagnose a defense. Physically, I think he's done an unbelievable job taking care of his himself. He's just a phenomenal teammate. It's really a great room. It's really a great room for guys to learn and grow and just be a part of."
If Daniel Jones does take over, it would be later in the season if the Giants are out of the playoffs, but they are committed to getting back to the postseason for the first time since 2016.They are -700 to not make it, and +500 to go.
Fitzpatrick Favorite for Now
The competition between Josh Rosen and Ryan Fitzpatrick has been the biggest one in the NFL so far this training camp. Rosen, who was traded to the Dolphins by the Arizona Cardinals, is currently No. 2 to free agent signee Fitzpatrick.
But first-year coach Brian Flores said he probably won't decide until late in the preseason.
"I like some of the things Ryan did," Flores said. "I like some of the things Josh did. This is a good quarterback competition."
It should only get more intense as the season gets closer. It appears by Flores' words that neither player has the upper hand.