The 2018 season is one day old and one of the biggest topics is where Washington Nationals free agent-to-be Bryce Harper will play next year. The 25-year-old is expected to be one of the most coveted offseason acquisitions in recent memory.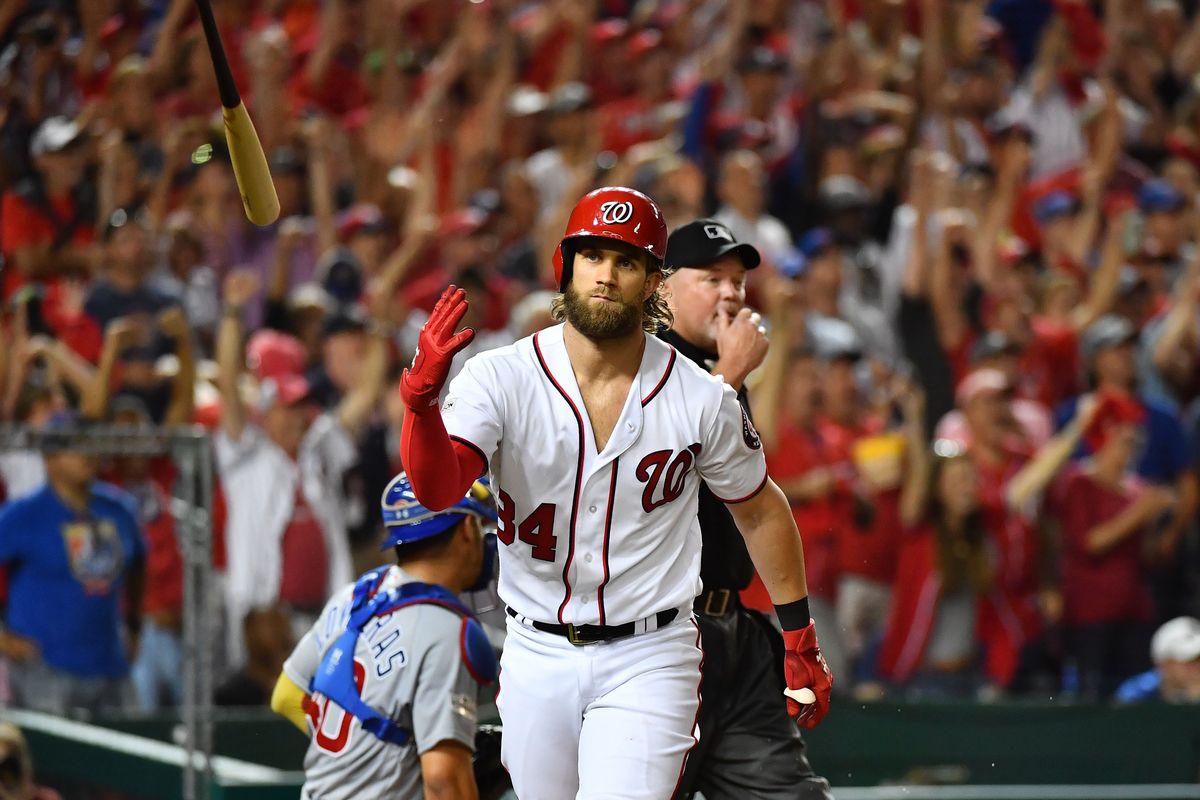 Bad news for fans of his current team — Washington is not the sportsbooks' first choice. That honor goes to the Chicago Cubs, who according to BetDSI is listed at +150 to sign Harper. The Nationals are next at +250, with the Dodgers at +350 and the Giants at +500.
The New York Yankees were rumored to be the frontrunner before they received Giancarlo Stanton in a trade with Miami. Now that they have last year's home run leader, it is assumed the team doesn't have as much interest in Harper.
Numbers Speak
But plenty of other teams do, and for good reason. The former MVP winner is in the prime of his career and will bolster any lineup, especially ones with playoff aspirations.
Since his rookie season in 2012, Harper has a .285 batting average in those six seasons and had 20 or more home runs in all but one year. Last season he hit .319 with 29 homers and 87 RBI.
His most productive season was 2015 when he won the MVP award. He hit .330 and led the National League in on base percentage (.460), slugging percentage (.649), home runs (42), and runs scored (118).
This year he is listed at 15/1 to win the home run title, behind Giancarlo Stanton and Aaron Judge of the New York Yankees. Stanton is at 4/1 and Judge is at 6/1.
The team is 9/1 to win the World Series and 4/1 to win the National League pennant.
Negotiations Bear No Fruit
Washington supposedly was eager to get Harper under contract and offered an extension in the offseason. But talks soon broke down.
Harper was reportedly seeking a deal in the neighborhood of $400 million for 10 years.
The Nationals might not have that kind of money to spend. But GM Mike Rizzo told Bob Nightengale of USA Today that they remain committed to resigning the all-star outfielder.
"I look forward to many, many more years with him," Rizzo said. "He's dear to my heart. We'll keep talking. Hey, we did the same with (Stephen) Strasburg, and signed him in May.''
Harper told reporters he wouldn't be talking about anything to do with the 2019 season and threatened to walk out of any press conference or interview if it was brought up. He did give the media one comment before he clammed up on the subject.
"If I'm the organization,'' Harper said, "I want the best players on my team. My fans deserve that. The players deserve that.''
Teammate Gio Gonzalez told USA Today that he hopes he stays in Washington.
"He deserves every penny he gets,'' Gonzalez said. "He's a superstar. Correction, make that a rock star. "[He] and [Mike] Trout are phenomenal for baseball. Those guys are why kids now want to play baseball, and why baseball needs these guys, and why baseball needs to take care of these guys. I guarantee that whatever teams gets him, will be really happy for a long, long time.''