Manchester City vs Borussia Dortmund (2-1) ​was the most heated game of all four played in the first leg of the Champions League quarterfinals.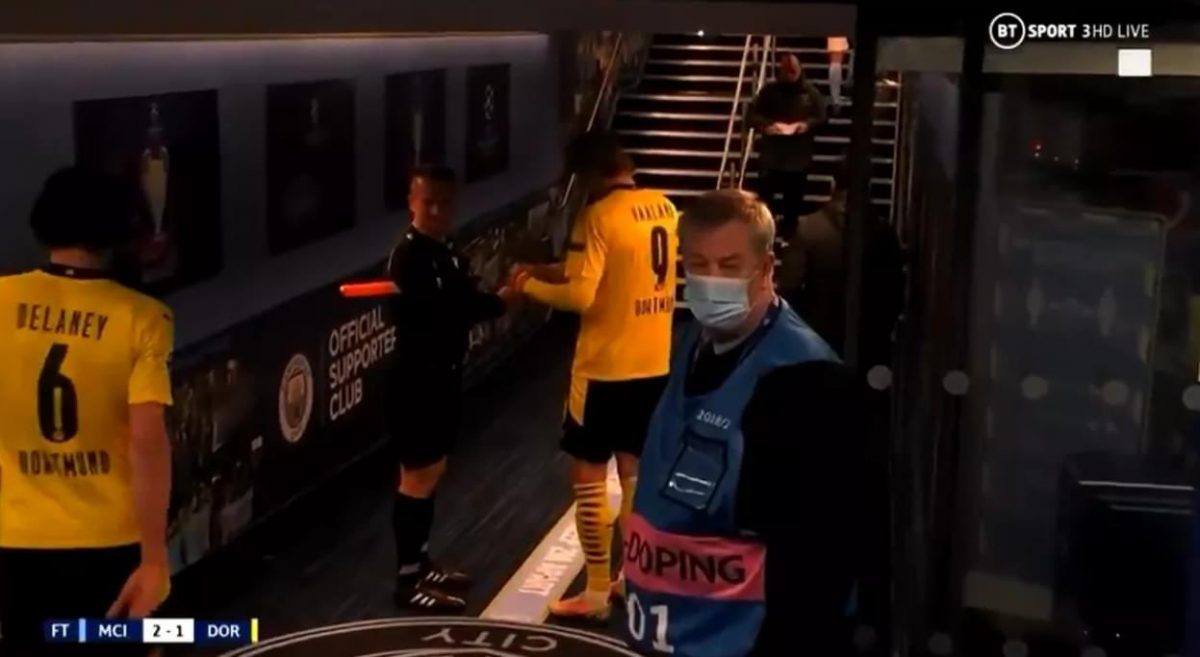 Kevin De Bruyne opened the scoring after 19 minutes. Dortmund equalized six minutes before the game's last whistle thanks to captain Marco Reus, then Foden made it 2-1 for the hosts in the last minute of normal time. But it wasn't just the late drama on the scoreboard, that made people tick.
First-half errors from the match officials created a storm of comments on social media. First, Romanian referee Ovidiu Hategan wrongfully awarded a penalty after 29 minutes for a non-existent foul from Dortmund's Emre Can on Rodri. Fortunately, the VAR stepped in and Hategan overturned his decision.
The virtual assistant couldn't intervene seven minutes later when Hategan sanctioned an offensive foul on City goalkeeper Ederson from Bellingham, who put the ball into the empty net. Instead of allowing a perfectly valid goal to be scored, Hategan blew his whistle, making it impossible for the VAR to help. Replays have shown that the ref got it all wrong. Bellingham attacked the ball and won it without going beyond the rules. Had Hategan not whistled and allowed the play to end, VAR could have checked it.
Ref's assistant chased Haaland for autographs after the game
Once the match finished, assistant referee Octavian Sovre sprinted for one last time at the Etihad in Manchester. He was desperate to catch Dortmund striker Haaland in the tunnel. And it wasn't to discuss something around the game, but to ask for his autograph. Sovre took out his cards and pen for the in-form Norwegian to sign. Social media heavily judged the linesman's gesture. The consensus among pundits, journalists, and fans was that the request was highly inappropriate.
Haaland signing the yellow card of one of the officials in the tunnel after the match. Terrible @UEFA. https://t.co/p4xUe0q9UV

— Tom McDermott (@MrTomMcDermott) April 7, 2021
As BT Sport broadcast it in England, former Bayern and Manchester City midfielder Owen Hargreaves observed: "They had a difficult first-half and they got a lot of things wrong. You can be a fan, but you can't do that in front of the other players. It just doesn't look right."
City's manager Pep Guardiola was also asked for comment.
"Maybe he's a fan [of Haaland]," Guardiola said. "The referees were brilliant. The game was not a problem. Maybe he [the referee] wanted the autograph for his son, for his daughter, I don't know. I've never seen it happen, but it happened before. They did a good job, isn't it? Nothing happened."
Pep Guardiola thought the referees were perfect 😯 pic.twitter.com/Ve4JCYCNbt

— ESPN FC (@ESPNFC) April 7, 2021
The cards signed by Haaland went to a charity fighting autism
The whole case was put in a different context on Wednesday, once people learned the reason for Sovre's gesture. The assistant referee is working with a charity fighting autism in his hometown, Oradea, on Romania's Western border. Sovre has been gathering memorabilia from his European games for almost six years. Every object he donated gets auctioned off to raise money so that SOS Autism Bihor can continue working. The charity takes care of children and adults with severe forms of autism. The charity's financing only comes from donations and auctions similar to the one Sovre's cards will be part of.
Simona Zlibut, the charity's president, wanted to thank Sovre through a public message. "He's now a member of honor in our association. We want to thank him for all his donations throughout the years." Talking to Romanian outlet Gazeta Sporturilor, Zlibut added, "I have no words to describe Octavian Sovre's help. He was a constant support. I've known him since we were in kindergarten. In the past, the great Gheorghe Hagi helped us too."
SOS Autism Bihor supports around 30 patients each month. Ten of them are younger than 18. "The cases we get here are extreme. You can't realize what the costs are. We need constant funding and objects like the ones Octavian Sovre is giving us are of massive importance," Zlibut added.
Sovre has been an international referee for 17 years and he's supposed to be part of Ovidiu Hategan's team at the Euro finals this summer
Haaland's signed cards will go to an auction to help people with autism.
That's why Romanian ref Sovre was running after Erling last night at the Etihad. #MCIBVB #bvb pic.twitter.com/QcOcNh90jQ

— Emanuel Roşu (@Emishor) April 7, 2021