The National Horseplayers Championship begins Friday at Bally's in Las Vegas with a different vibe, new tracks, and fewer competitors. Changes aside, the biggest handicapping tournament in North America is moving forward 18 months after the 2020 NHC got in just under the COVID wire.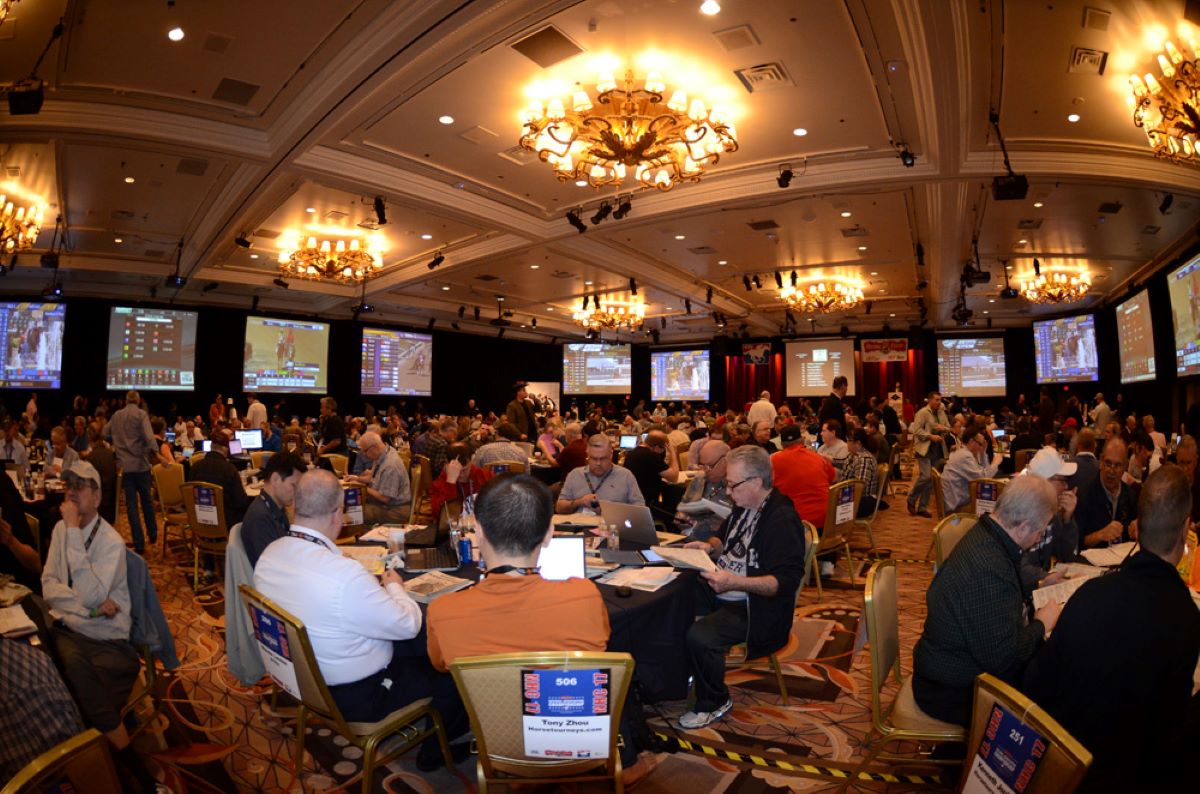 Sponsored by the National Thoroughbred Racing Association and normally held in early February, this year's NHC moved to August due to the pandemic. That brings tracks such as Saratoga, Del Mar, Monmouth Park, Woodbine, and Ellis Park into the handicapping equation. Along with Gulfstream and Golden Gate Fields, which were part of past NHC's, this gives this year's 449 competitors and 550 entries a deep roster of races.
The discrepancy between competitors and entries is due to 101 of the players qualifying with the maximum of two entries. Another 15 spots go to horseplayers qualifying in a "Last Chance/Next Chance" Thursday tournament at Bally's. That figure is down from the nearly 600 participants in the 2020 NHC. The drop is due to the pandemic-related cancellation of many on-track qualifying contests.
In turn, that caused a purse reduction from nearly $3 million to $2.01 million. This knocked the first-prize check from $800,000 to $700,000.
Winning the NHC comes with an Eclipse Award
"The 2021 NHC has been a long time coming, but will be worth the wait," NTRA Chief Operating Officer and NHC Tournament Director, Keith Chamblin said in a statement. "I want everyone involved — horseplayers, sponsors, and contest partners — to know how much we appreciate their patience and cooperation as we navigated having to reschedule the event. Having world-class summer racing from Del Mar and Saratoga, including the star-studded Runhappy Travers Day card, as well as the addition of new tracks Monmouth Park, Ellis Park, and Woodbine, is going to make this an exciting and memorable NHC."
The NHC remains the pinnacle contest for horse handicappers. Win the NHC and you not only earn a berth for the 2022 NHC, but you pick up an Eclipse Award as "Horseplayer of the Year." That was last earned by 2020 NHC winner Thomas Goldsmith. As an NHC rookie last year, Goldsmith rolled up a winning bankroll of $404.10 over the three-day tournament. He banked that amount via 53 mythical $2 Win and Place bets.
Pandemic or not, the tournament format remains the same. Designed to test handicapping ability, players begin with mythical $144 bankrolls. They must make a single $2 Win/Place wager on 18 Friday races. Eight of those races are mandatory for all competitors. Those are selected by a tournament committee.
Final table: Seven races, everyone into the pool
After Friday and Saturday, only the top 10% of players will remain to tangle in Sunday morning's semifinal round. The top 10 players will meet at the Final Table on Sunday afternoon, where seven mandatory races that decide the NHC champion await.
Goldsmith is one of nine past NHC champions in the field, all of whom are seeking a heretofore elusive second title. Nobody has won the NHC more than once.
A few players have more riding on victory than all of the above. Marshall Gramm, who won the Breeders' Cup Betting Challenge (BCBC) last fall, will earn a $3 million BCBC/NHC bonus if he captures the 2021 NHC. And Sally Goodall, a 20-time NHC qualifier, will earn a $5 million bonus if she wins the 2021 NHC. That, courtesy of her victory in the 2020 NHC Tour, a series of handicapping contests.