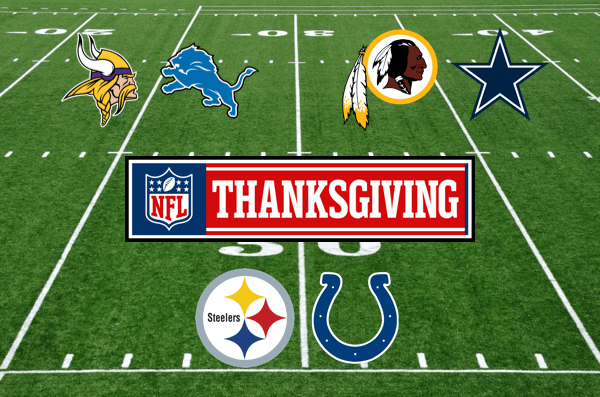 The Thanksgiving weekend sports table is set.
As families and friends gather today for a feast of turkey, stuffing, mashed potatoes, pumpkin pie and more, the sports world has lined up its own smorgasbord.
After the morning turkey trot and afternoon meal, countless sports fans take their tryptophan yawns to the couch. And fortunately, there will be plenty of excitement on the tube.
The NFL, NHL, and NCAA football are all plating up a delicious bounty of exciting matchups.
For the sports bettor or daily fantasy sports (DFS) fan, the action will be nonstop throughout the Thanksgiving weekend. And if you're in Nevada or Las Vegas for the Thanksgiving holiday, oddsmakers are ready for your sports bet.
NFL Gobbles Up Primetime
Thanksgiving and NFL go hand-in-hand, and in 2016 the slate of games will certainly attract huge audiences.
The day gets going at 12:30 pm ET with the Minnesota Vikings traveling to Detroit to take on the Lions. It should be a nail biter between two NFC North teams still in the playoff hunt.
Next up, the Washington Redskins play the Dallas Cowboys at Jerry World in Arlington, Texas, at 4:30 pm. The Cowboys look to keep their hold on the NFC East, while the Redskins look to play the role of spoiler.
The NFL nightcap comes in Indianapolis with the Pittsburgh Steelers and Colts. Colts quarterback Andrew Luck will compete for his first win over the Steelers and outpace Big Ben's high-octane offense.
For DFS fans, there are plenty of superstars playing on Thanksgiving. And DraftKings and FanDuel are once again running special Thanksgiving contests.
College Classic
The only game on the NCAAF schedule is one of the oldest rivalries in college football.
Texas A&M will welcome LSU at 7:30 pm. The ninth-oldest rivalry in college football, LSU leads the matchup all-time 31-20-3.
Icing on the Turkey
For fans tired of watching the gridiron, hockey's got you covered with two games hosted in Canada.
The Carolina Hurricanes travel to play the Montreal Canadiens at 7:30 pm. Meanwhile, the Boston Bruins play the Ottawa Senators at the same time.
Hockey fans have long called for the NHL to hold an outdoor game on Thanksgiving. But the league hasn't been able to persuade a major network to broadcast such an event.
CBS, FOX, and NBC will air the three NFL games. NBC will also broadcast the 90th Macy's Day Parade in the morning.
Thankful for Thanksgiving
Thanksgiving is a reliable holiday for television networks, as strong viewership is spread throughout the day. But the NFL always takes the pie on Thanksgiving, and that couldn't be coming at a better time for the league.
Overall viewership is been down more than 10 percent this year. The NFL will look for a bountiful ratings feast today and on Sunday.