Unified super lightweight champion Josh Taylor will put his belts on the line when he battles the undefeated Jack Catterall on Saturday night in Glasgow, Scotland.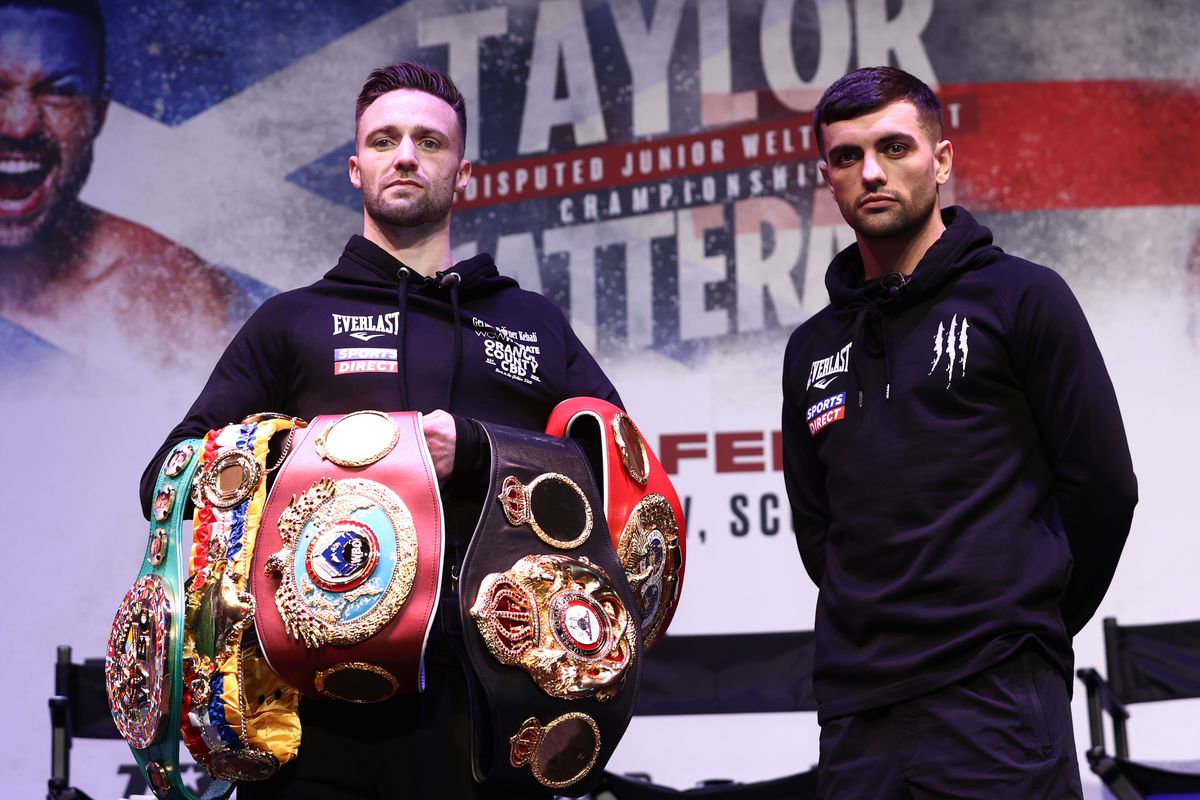 The fight has already generated significant heat, with both men vowing to finish the other during a fiery weigh-in on Friday.
War of words heats up at weigh-in
Catterall (26-0, 13 KOs) put his hands on the neck of Taylor (18-0, 13 KOs) during an intense stare down after both made weight for their title clash.
"I knew I'd get a rise out of him," Taylor told Sky Sports. "I knew I'd get a reaction. Tomorrow he will be flat on his back."
Both Taylor and Catterall fight out of the United Kingdom. But Taylor hails from Scotland, and was born in Edinburgh, giving him something of a hometown advantage. Still, Catterall says he'll have plenty of support on Saturday.
"I have more support here than he does!" Catterall exclaimed after the weigh-in.
Taylor comes in as an imposing favorite. The unified champion rates as a -1600 pick over Catterall (+850) at DraftKings Sportsbook. While neither man has lost, Taylor has faced elite competition, while this is arguably Catterall's first major fight.
In pre-fight comments, Taylor dismissed Catterall for his comparatively easy path to potentially becoming a unified champion.
"It has been years, my whole life, dedicated to this. Collecting these belts," Taylor said. "I have cleared out the division to acquire them but he is coming along, thinking he can get them in one fight. It makes me angry that he is getting a shortcut when I had to do it the hard way."
Catterall sees upset potential in Taylor fight
Catterall may be aware that the odds are against him on Saturday night. But he has vowed to give Taylor a fight, and says he has the potential to spring an upset on the champion.
"I believe Josh is experienced enough to take me as a serious threat and I am going to be that," Catterall told reporters. "Josh has talked about his big aspirations of being a two-weight world champion and this is his big homecoming bringing all his titles back, but I'm a real threat and I'm going to show that."
Taylor acknowledges that Catterall is a good fighter – after all, he remains undefeated to this day. But he says he's on a level that the challenger just can't match.
"We'll find out on Saturday, but he's in for a long night," Taylor said. "A long, painful methodical beatdown on Saturday. I just don't see a way that he can beat me in this fight. I don't know how he's going to do it, but I'm prepared for every single way."